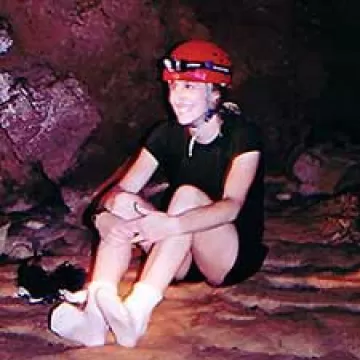 My husband Aaron (also a fellow Adventure Lifer) and I had not been on a husband/wife-only vacation since our trip to Mexico two years earlier and I was SOOO excited. We flew from Missoula to Minneapolis and dropped our daughter off with the grandparents and then flew to Dallas, and a quick little jump to Belize City. It was literally a five-minute wait through customs at the tiny Belize airport and we promptly found our driver, Mike, waiting for us just outside the terminal. Mike was delightful. He was as quick to smile as he was to share with us his knowledge of the area. As we drove, the landscape quickly changed from lush flat fields, to dense rainforest as we made our way to the foothills of the Maya Mountains. Aaron and I were staying at Pook's Hill; it was roughly an hour and a half drive until Mike turned off the highway onto a small village road that would eventually take us to Pook's. A number of Pook's staff come from this local village, including Mike. He had a friendly wave to offer people as we drove through the village. "There's the tourist tree," Mike laughed just as we entered the lodge and pointed to a tall tree with red bark that was peeling from the trunk (otherwise known as the Gumbo Limbo). Aaron sheepishly smiled -- with Irish grandparents, he has a lot of experience with redness and peeling.
We were greeted by Vicki Snadden and her husband Ray, owners of Pook's Hill. I liked them immediately. Vicki showed us around the grounds while Mike brought our bags to our cabana. (Aaron and I were able to pack in just two backpack -- this included our snorkeling gear for the Cayes and our camera gear. I highly recommend you pack light; it makes for very efficient and easy travel.) We visited the iguana rescue project on the grounds, and cooled off with a drink at the lounge and watched humming birds breeze by. With some time before dinner, we walked the nearby paths into the surrounding jungle and tried our luck at a little bird watching. I even had time for a well-desired nap while Aaron photographed the grounds.
That evening we had dinner with Vicki and Ray and other guests of the lodge. Being a vegetarian, I am always prepared to live on bread and butter, but Pook's did an excellent job offering dishes for all diners. The food was great and served home-style. It made for easy conversation and a charming atmosphere. That evening we were also introduced to our guide, Ben. Ben and Aaron share the same sense of humor, extremely dry, and -- gullible as I am -- I knew I was in for it. By the end of our time with Ben I was finally on to him, but not before I fell for many erroneous "facts" and sly sarcasm. For example: there is no such thing as a double-billed toucan, no matter what Ben may tell you (Yes, I fell for this). I'll get you yet Ben Cruz! Ben would turn out to be a phenomenal guide and friend. That night, Ben gave us a briefing on tomorrow's tour of the Actun Tunichil Cave.
We also shared dinner that night with a group of archaeologists, headed by Christophe Helmke. They were an interesting and smart grouping of Germans, French, Australians and I believe an Englishman or two. They had been working on a dig in the middle of the grounds at Pook's -- an ancient Maya sweatbath, extremely rare and extremely fascinating. Earlier that day the archaeologists let Aaron and I poke our heads in on the dig. I was a little awestruck and could offer nothing better than to comment, "Wow, this is so amazing." Well, it was amazing.
That night, it stormed and I slept like a baby.