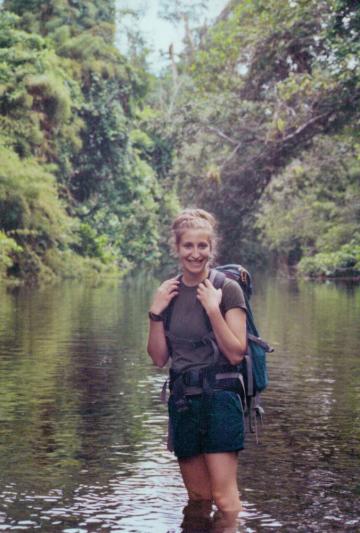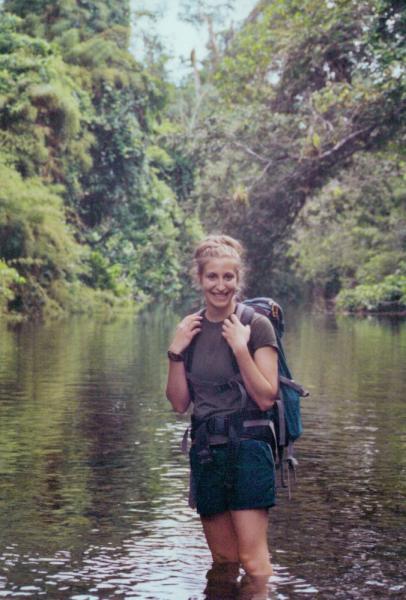 We rose early to try and beat the river's rising water. You have to cross the Roaring River on four separate occasions on the hike to the Actun Tunichil Cave; it was a very wet season in Belize and the storm the previous night left our tour in question. Thankfully, Ben had surveyed the river and gave the OK.
We had breakfast of eggs, oatmeal, toast, beans, granola and juice. Wonderful. I was also looking forward to a cup of coffee (like any good American). Cup full to the rip, I took a deep sip and I commented, "This is fantastic coffee!" Ben laughed, "It's just Folgers." Aaron thought that was pretty funny as well. So maybe Folgers tastes better in Belize... Now that I think of it, this could have been one of Ben's little jokes.
From Pook's, the three of us hiked through the foothills of the Maya Mountains, into the jungle. I carried a backpack full of our lunch and dry pack, Ben carried our spelunking gear, and Aaron carried our camera equipment. We spotted a number of birds including a couple toucans and a tiger crane -- we also spotted a fat toad and a number of millipedes along the path. It was a beautiful morning -- mist was rising off the hillsides. Ben pointed out that the mist helped to indicate where there are caves. The caves are scattered throughout the region; their numbers are quite impressive. It was an easy hour and 45-minute hike to the mouth of Actun Tunichil Cave. I was totally excited!!!!
To enter the cave you must swim across a pool roughly 30 feet wide. It was chilly, but growing up swimming in Lake Superior I had no problem with the water temperature. Aaron, on the other hand, was not as forthcoming. But he put on the brave face and jumped in. Dress as you like for this tour, but just note that you will be wet for essentially 6 hours. I wore a cotton t-shirt and a pair of swim trunks. For the most part I stayed warm, but did get a little chilly near the end of the tour. To do it again, I may opt for a quick-dry synthetic top. An excellent pair of water shoes is also a must for this trip. At times we were climbing over rock, other times we were wading in thigh-high water or clutching to the sides of rock as the water reached 8+ feet deep. As we made our way through the cave, we were spoiled with fantastic cave formations: hanging stalactites and towering stalagmites that literally sparkled in the light from our helmets. Ben showed us exactly were to step, where to lay our hands, to prevent further disruption of the cave formations. As delicate as they are beautiful, it is important to respect your surroundings. Guides require a special license to lead tours in Actun Tunichil. Ben has been leading tours in the cave for years, and his experience shows. Man-made figures also decorated the cave; ancient carvings of a jaguar and a woman with child came to life as Ben shined his spotlight over the rock formations, casting a dramatic shadow within the cave. Aaron and I would have never noticed them without Ben's thoughtful eye.
It took us about two hours to reach "The Cathedral," the central area of Actun Tunichil. The Mayan believed that caves were the entrance to the underworld, and as such, sacred. Entering "The Cathedral," I could completely understand this; there is definitely a spirit, an essence, to the cave. You have to climb up to the entrance. We left our shoes at the entrance of "The Cathedral" stocking feet are required to explore this area to keep you literally on your toes and prevent -- as much as possible -- disturbance to the area. Unfortunately, not everyone has been so careful. Broken artifacts attest this fact. Again, Ben did an excellent job guiding us through the area; we shadowed his footsteps as close as possible.
We were carefully guided to the skeleton remains of a seven-year-old boy, as well as a number of infant skeletons. We passed clusters of ancient clay pots. Aaron, a ceramist himself, was particularly fascinated with these Mayan artifacts. I was speechless; Ben did well answer my questions before they even reached my lips. On our hand and knees we crawled into secluded regions where enormous clay pots lay hidden for centuries. Ben told us that 13 skeletal remains have been found so far in Actun Tunichil. We saw five of these, including the "Crystal Maiden" who once graced the cover of National Geographic. Her remains are of particular interest because they have been remarkably well preserved. And unlike the other skeletons within the cave whose remains are in pool-like forms ("pool-like" is a very accurate description, because it was actual pools of water that filled the cave and drained away, leaving the bodies in small-circular gatherings) the Maiden is still lying in the position of her death. Her body easily distinguishable -- arms, legs, fingers -- that remind her visitors of their own mortality. This tour is very raw, very authentic. There is nothing "Disney" about it. We were completely alone in the cave, I felt almost as if we were the very first people to stumble on these remains. All except a roped-off region protecting the Crystal Maiden there is little evidence of modern-day visitors.
Before leaving The Cathedral we checked our shoes for spider-scorpions. Ugly little cave dwellers, Ben pointed one out just to my right, who got a little to close for comfort.
It is hard to give an accurate description of Actun Tunichil without becoming overly romantic. We spent nearly two hours exploring The Cathedral, and almost six hours within the cave itself. I could have easily spent another six. This tour is very dramatic and mysterious, and very exciting. Ben is of Mayan descent and I could feel his sense of respect for the cave and his ancestors. I was privileged by the experience.
Before hiking back to Pook's the three of us enjoyed a picnic lunch. Back at the lodge, Aaron and I poked around the tiny library and enjoyed our surroundings until dinner. A completely excellent day.