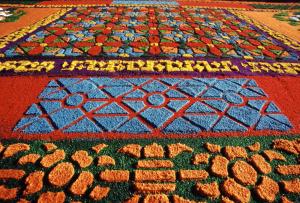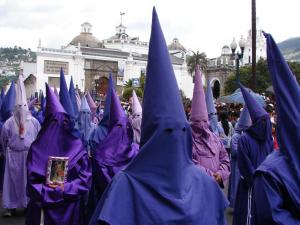 Discover the energy of a local Latin America celebration over the Easter holiday. Providing an insider's look, these trips are designed coincide with Semana Santa and filled with spirituality, artistry and tradition. This year the Easter holiday lands on April 24th.
Guatemala Easter Festival
Antigua, Guatemala is home to the largest Easter celebration in the world in which the Passion, the Crucifix and the Resurrection of Jesus are commemorated. The procession is rooted in Andalusian tradition and was brought over by Spanish missionaries in the 16th Century. The entire city takes part in the event and travelers from around the world come to experience the energy of Holy Week.
I invite you to experience one of our most popular culture-rich itineraries, our
Guatemala Easter Festiva
l. Arrive in Antigua in the middle of the festival, when the streets come alive in celebration of this Holy Week. This itinerary is designed to coincide with the Easter festivities in colonial Antigua, but also offers so many other opportunities to discover Guatemala. Journey into the highlands and explore the commanding temples and other remnants of the Mayan past. Wander through rows of vendors at Chichi's magnificent market, and spend a few nights along the shores of the volcano-fringed Lake Atitlan.
One of the most impressive aspects of the Easter Festival in Antigua are the "carpets" that adorn the processional route. Residents along the streets begin preparations weeks and even months in advance creating these beautifully intricate offerings. Sand is first laid to level the cobblestone, followed by sawdust that has been collected and dyed to bright shades of red, yellow, blue, purple, green and black. Pine needles, flowers and native plants are also used for decoration and fragrance.
The carpet designs reflect Maya tradition, biblical symbolism and scenes from nature. The art of carpet-making is thought of as sacrificial because of the intense detail and amount of time dedicated to their creation, only to be destroyed once the processions pass.
This trip exceeded our expectations. Going to Antigua at Easter (Holy Week) is a treat of a lifetime. - R. Popkin, Easter Festival 2010
Quito Easter Festival
New for 2010, our
Easter Festival in Ecuador
celebrates Holy Week in Quito including the great and colorful procession of Good Friday which takes its 90,000 participants wending through the streets of Quito's Old Town. The hooded
cucuruchos
are a distinctive feature in the procession. Dressed in purple robes from head to toe, the
cucuruchos
symbolize the penitents who are displaying not only their repentance, but also their will to change. During our two night trip during Semana Santa, enjoy the best views of Quito's central square, Plaza de la Independencia.