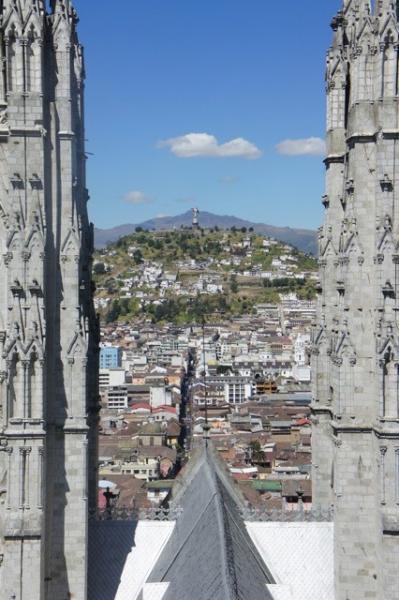 We're not the only ones who think Quito is a great place to visit.
National Geographic Traveler
recognizes Quito, Ecuador as one of the select top-20 destinations to explore in 2013.
I agree;
Quito
is a stand-out city. Set in the shadow of the Andes, Quito offers rich history, local culture, captivating architecture and a thriving business community. Its 'Old Town' is a
UNESCO World Heritage site
. Carefully restored down to the last cobblestone, it boasts inviting plazas, churches, monuments, markets and a fantastic 17-century facade. Quito's welcoming local hospitality beckons travelers to linger a few days longer in the colonial city. Here are some of our favorites ways to spend an afternoon exploring Quito during an
Ecuador tour
.
Cathedrals and Churches
Basilica del Voto Nacional is the largest Gothic Basilica in all the Americas and can be seen from most areas in the city. Its unique gargoyles watch over Old Town. Iglesia de Compania is another that should not be missed. The interior of the church is covered with intricate, gold-plated carvings.
Calle La Ronda
Located in the heart of Old Town, this walking street is one of the oldest and most historic streets in all of Quito. For a great taste of Ecuadorian culture, stroll this street and browse the art galleries, small shops and countless restaurants.
Museums
Quito houses enough museums to fill a week's worth of time. Guayasamin Museum exhibits pre-Columbian, colonial and contemporary art from the private collection of one of Ecuador's most famous artists - Oswaldo Guayasamin. Central Banks Museum offers insight on the region's origin, evolution and history through Ecuadorian art. Kids will enjoy Vivarium. This is a museum of Ecuador's reptiles and amphibians where you will see and learn about live snakes, turtles, frogs and more.
Markets
Many little artisan markets are scattered throughout the city. Test your bargaining skills as you browse the stalls for local artwork, weavings, jewelry and more.
Take in the Views
Drive north to "El mirador de Guápulo" (view point) to admire Quito's nearby valleys. Continue to El Panecillo - the small, rounded hill which dominates Old Town. From its summit there are panoramic views of the city, as well as those of the Quito's surrounding volcanoes.
Aerial Tram
Take an aerial tram to the top of Pinchincha Volcano. Enjoy spectacular views of Quito and the entire valley, and explore trails around the volcanic highlands.
Click here, for more
Quito city tours
.