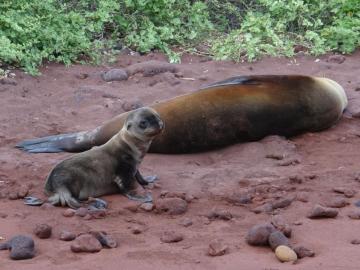 I was happy with my trip overall but a little disappointed that we did not have the opportunity to swim with playful sea lions or with sharks. Those were two of my favorite elements from past adventures in the Galapagos, and I was really excited to share those experiences with my husband. As we prepared for our final snorkel experience of this trip, I prepared myself to only see fish and to not be disappointed.
As we approached the water, there was one little sea lion pup splashing in the waves. Okay, I thought, go ahead and play with this little guy for a second and get your fix. So, I hopped in and did just that. Then, out of the blue, a family of four swam all around us, with mom yelling at the humans to stay back and then rushing her pups out of the water and away from us. As I sadly turned to swim out further, a little teen swam up next to me, and so began the next 45 minutes of me playing with sea lions. I made a few little friends, each one taking time to check out my flippers, blow bubbles at their reflection in my snorkel mask, and simply swirl around me, sometimes stopping to challenge me to a stare-down. It was incredible and every bit the experience I was longing for!
I popped my head up, ready to join the group, only to see that they were already heading back to shore. I started to make my way back to the group, enjoying the array of colorful giant sea stars along the bottom, and the humongous schools of angel fish feeding on a coral, when someone yelled out "shark!!" I tried to swim in their direction, only to discover that the shark was heading straight for me. I popped back underwater, turned on my camera and spotted the white-tipped reef shark swimming right below me. I turned and followed along, just above it. One other snorkeler was swimming along with me, both of us trying to film him as we kept pace with him for over a minute. We reached a small rock cove, and the shark turned and swam directly up at me, then continued along past. It was INCREDIBLE!
What a perfect way to wrap up our snorkeling experiences on this trip!