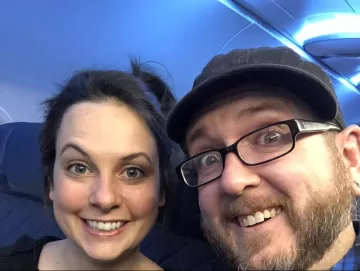 A question that often comes up from travelers is where to stay during their first night in Quito. If you are doing more than one night pre- or post-cruise, there is no question – you should stay downtown. However, where should you stay if you just have a quick overnight?
There are two options located closer to the airport that do not require the full drive into Quito. I used to go back and forth between the two, but after seeing them firsthand on this trip, I think it will be much easier to decide!
If you are doing the late night (after 9 PM) arrival into Quito, and you have an early flight out the next morning, you should definitely stay at the Wyndham. This hotel is right next to the airport, only requiring a 5-10 minute shuttle ride in each direction. You waste the least amount of time getting to/from the airport, giving you the maximum possible time to sleep! While it lacks the local charm of the next option, the convenience absolutely wins out. For any quick turnaround, this should be the go-to hotel!
If you have a slightly longer turn-around, and would actually have a few hours to relax and enjoy the hotel amenities, it is worth the extra ~15 minute drive to Rincon de Puembo. This hotel is located in a small town between Quito and the airport. The drive there takes you through some less-than-desirable-looking areas, so I highly recommend booking a transfer in advance, rather than taking a taxi. Despite the less-than-appealing neighborhood, the hotel is absolutely lovely! The rooms and grounds are beautiful and full of charm, and the staff is incredibly friendly. The hotel has a couple of restaurants, an outdoor pool and hot tub and an open air game room with billiards, foosball and more. If you don't have enough time to make the drive to/from Quito worthwhile, but you have more than time for just sleeping, the Rincon is my top pick!
The great thing is, no matter how much time you have in Quito, there is now a hotel option that is a perfect match!