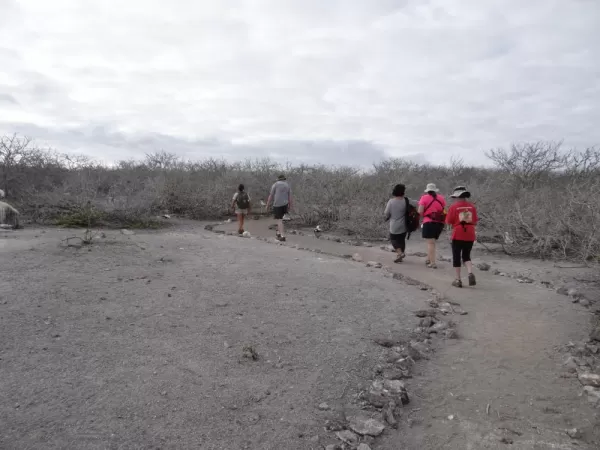 Our first full day was spent exploring the remote island of Genovesa – an island that is not found on my itineraries but is high on every visitor's wish list. We made the transit overnight, awaking to find ourselves anchored inside the volcano's caldera, with giant cliff walls towering overhead.
A day at Genovesa is the perfect 'Classic Galapagos' experience. You get a little bit of everything for a full day of magic! The morning was spent exploring the top of the cliffside. While this area is lush and green in the wet season, we found ourselves in what looked like a post-apocalyptic wasteland, with bare trees, rocks and fragmenting cliffs in every direction. Nazca and red-footed boobies cover the area, so no matter where you look, there is bird life to enjoy. Their constant calls are the only sounds, making this site feel like something out of a movie. As we made our way across the "wasteland," the birders in our group began to rejoice – "Ooooh, a xxx finch," and "Over there!!! A xxx finch AND a storm petrel!" (You can tell by my lack of specific species listed there that I am NOT of the birding affinity). While the birders' enthusiasm was not quite contagious enough for me to start identifying species along with them, the views kept me plenty excited!
After the cliffside walk, we did a quick zodiac cruise along the cliff walls, and then it was time to snorkel. We donned our wetsuits and took to the water, making our way along the cliffside. This is a location where hammerhead sharks can sometimes be spotted, but we did not have luck on this front. We did see a playful sea lion, plenty of parrot fish and a number of other colorful fish species (…I'm also not a fish fanatic, so I apologize for not remembering any of their names).
Post-snorkel, we had the opportunity to kayak. We were dropped off at the opposite side of the caldera from the Origin and were able to make our way back along the walls of the volcano at our own pace. We enjoyed the sun and the views of the birds and crabs we passed, but we did not see much in the water.
Finally, the day ended with a nice walk along the beach and time to just sit and enjoy the shore. We watched male sea lions chasing each other off, marine iguanas pilling on rocks, birds fluttering about and stingrays darting through the water. The highlight, though, was a week-old sea lion pestering his poor mother endlessly. Many of us just planted ourselves on the beach and enjoyed the show.
All-in-all, it was your perfect Galapagos day that had a taste of all of the types of experiences most cruises offer in a week of exploration!