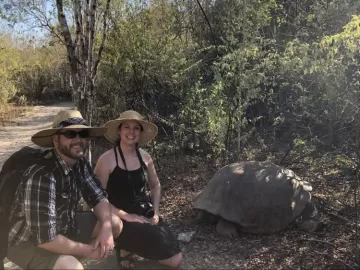 After a rough panga ride this morning (when passengers were getting sick overboard), the snorkeling activity in the same rough waters did not appeal to many on the trip. The guides emphasized that the waters were not suited for most, and you would need to be a strong swimmer in order to participate in the snorkel. Kepler decided to stay behind, but I couldn't pass up the opportunity to MAYBE, just maybe, get to swim with penguins.
I donned my wetsuit and boarded the panga, fully prepared to be seasick, exhausted and disappointed. Only about six of us took part in the snorkel… and we were SO glad we did! Almost immediately after jumping into the water, a penguin zipped by us, like a bullet in the water! We continued to see amazing things – schools of fish, giant turtles having their shells cleaned by beautiful angel fish, bright yellow sea stars and so much more. At one point, I watched a marine iguana jump down off a cliff and swim along the rock face, completely unfazed by me swimming along next to him. We even had a chance to swim into a giant cave!
The absolute topper, for me, was the penguins. Seeing the Galapagos penguin for the first time this morning was a dream come true. Having a chance to then SWIM with them was just… beyond words! At least four came to play – zipping past us, spinning around in circles, and chasing schools of fish for fun. They were graceful, speedy, and simply amazing! While the currents were rough and the waves left me feeling less than pleasant, it was absolutely, beyond a shadow of a doubt, worth it! My Galapagos checklist is complete – the rest of the trip will just be icing on an already perfect cake!