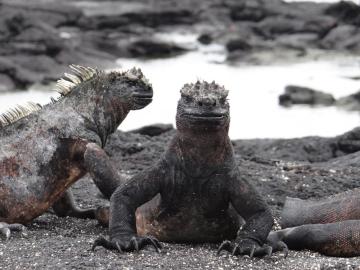 Fernandina, the newest island in the Galapagos archipelago, is mostly a barren black lava wasteland. But if you look closer, you'll start to notice the black rock moving. The lava is alive with iguanas!
As we stepped ashore for our first visit to Fernandina, our guide had to laugh and shoo us along. You see, we had all stopped to snap photos of this adorable pile of marina iguanas laying right at the landing site. We didn't want to miss our opportunity to capture their perfect dinosaur faces, their fat little thighs, their salt-crusted crowns or their wicked grins. As we came around the corner, we realized why she was laughing. Iguanas, by the hundreds of thousands, were piled on just about every inch of ground. Iguanas were laying in heaps on top of the lava, they were creeping up through the cracks in the lava, and they were even down in the waves, munching on algae.
Just in case thousands of iguanas were not enough to hold our interest, we also had baby sea lions to "oooh" and "aaaahhh" over, hundreds of crabs scurrying along the rocks, and flightless cormorants – a perfect example of living evolution – to keep our attention!