When people hear "cruise" they usually envision 1000s of people and lounging on deck chairs with an artificially colored drink topped with a paper umbrella in their hand. If you are considering cruising in the Galapagos, erase those images from your head. While on any of the ships I'm sure you'd be more than welcomed to lounge all day, during our 5 day cruise Kate and I had the opportunity to hike, snorkel, saunter, swim, kayak, and lounge. Our typical schedule was something like this:
7-8am: Breakfast
9am: Morning activity (a hike or a snorkel)
12pm: Return to the ship for lunch an some time to relax
2pm: Afternoon activity (another hike or snorkel)
5pm: Return to the ship for our debrief, cocktail hour and dinner
Here are some of the activities we partook in:
Hiking & Walking:
Anytime we were on land we were moving from point A. to point B. A lot of the terrain was varied with some ups and downs, and many of the landings we made were rocky. Besides the 250 stairs we had to climb up to the top of Rabida there wasn't much else steady uphill hiking. Since the guide is there to share information with all 16 passengers there is a lot of stopping and waiting to make sure everyone is together. We covered a lot of different types of ground, loose sand, packed soil, volcanic rock, sometimes sharp or sometimes rounded. Although I went against the recommend "close toed" shoes and wore my chacos on nearly every excursion (I also regularly hike in these at home) I would recommend bringing a light pair of hikers or even tennis shoes depending on how much ankle/foot support you prefer.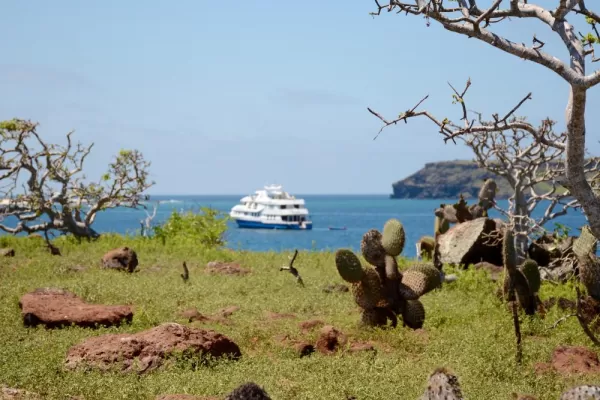 Swimming & Snorkeling:
Every single day, besides the day we disembarked, we had the opportunity to get in the water. Most of the snorkeling we did was considered a deep water snorkel, where we jumped from the motorized pangas directly into the water. At anytime if we were tired or got sick of looking at beautiful fish, guests could simply raise their arm and the panga driver would come pick them up. The other type of snorkeling we did was from beaches, where folks could simply relax on the beach or snorkel at their own leisure. These snorkeling excursions were usually 1-2 hours long. Our ship offered us wet-suits, which was a great option to have. Depending on where we were snorkeling, and the temperature of the currents, I took advantage of them. If you do not plan on wearing a wetsuit I would highly recommend bringing a rashguard or sun shirt with sleeves to protect your back and arms from the sun, it is strong!
Kayaking:
Kate and I were lucky enough to be on a ship with kayaks. On our 5 day cruise there was only one opportunity to use them. For folks on longer cruises the staff will set up opportunities for the kayaks to be used by whomever would like to, weather dependent. We spent an hour or so slowly making our way down the shoreline. It was a fun and unique way to watch the iguanas and birds on the rocks! You can wear any footwear that is comfortable, but it will get wet. So a sandal that will stay on your foot and you don't mind getting wet like Tevas or Chacos are recommended.