The reason people are drawn to the Galapagos is undoubtedly the wildlife. Since the whole archipelago is part of a Galapagos National Park it makes for a unique conservation and wildlife  focused vacation. Our cruise itinerary had us visiting the southeastern islands of the archipelago, which meant we got to visit San Cristobal, North Seymour, South Plaza, Santa Fe, Bartolome, Santa Cruz and Baltra. Most of the main wildlife species on traveler's bucket lists, such as sea lions, blue footed boobies, frigate birds, iguanas and sea turtles, can be seen on a majority of the islands. So if their itinerary has them visiting at least a few islands the likelihood of them spotting their desired animal is high. However, there are some species that only inhabit certain islands or regions of the archipelago. If a traveler has a specific bird species they would like to see it's important to do their research!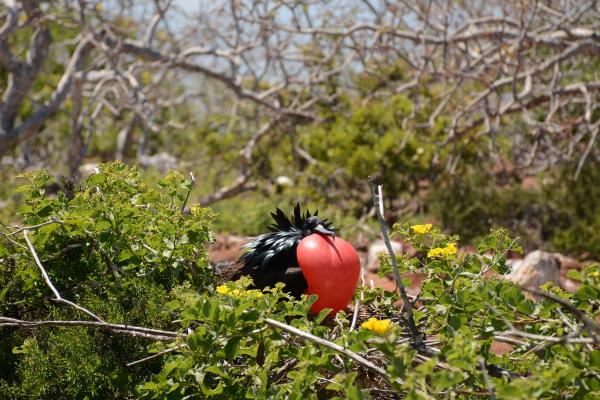 My Galapagos animal bucket list was fairly short, I was excited to see sea lions but I knew swimming with them was inevitable, but I knew my chances of seeing the Galapagos penguin was
slightly lower. The Galapagos penguin is not only the smallest species of penguin that inhabits South America, but it is also the only penguin species that inhabits equatorial waters.  I had my fingers crossed that we would run into the little guys!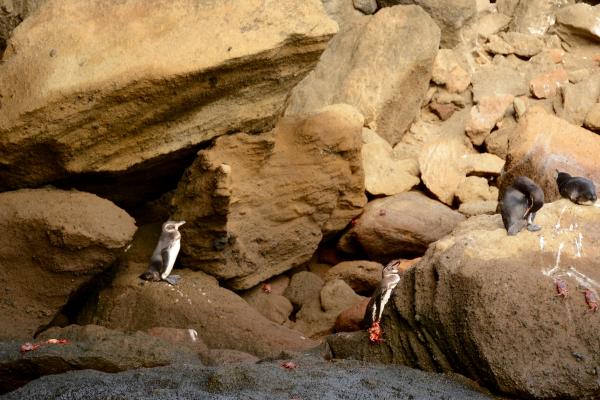 Of the 1000 breeding pairs remaining in the wild, the penguins are primarily found on the western islands of Fernandina and Isabela. Since neither of these were included in our itinerary I was banking on the fact that we would luck out and see them on Bartolome, where there is a smaller population but the can still sometimes be seen. Sure enough, as soon as the pangas dropped us off on the beach on Bartolome to snorkel and we had waded into the water we saw two mini torpedos dart by, penguins on the hunt! They sped past us on multiple occasions chasing their dinner. I even was able to capture a penguin swim past with my non-existent gopro skills. We were lucky enough to see 6 other penguins from the Pangas later that evening on Bartolome. I'm happy to say I can check seeing the pint sized penguin off my bucket list!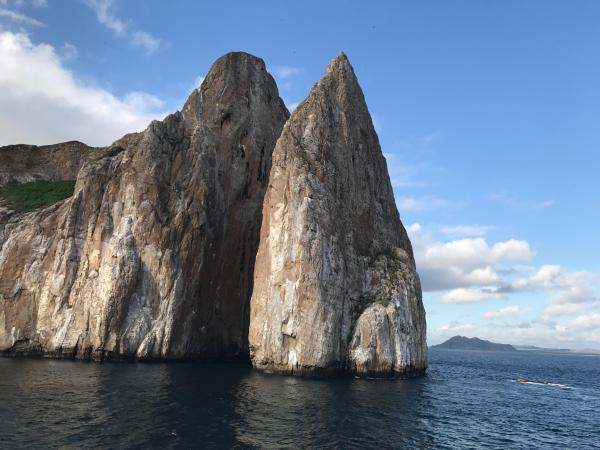 The other wildlife highlight from our trip was snorkeling with sharks. Our first snorkel was a deep water snorkel between the channel of iconic kicker rock. Our guide told us we would certainly see reef sharks at this spot. Kate was thrilled, I was skeptical but knew it was an opportunity I couldn't miss out on! As soon as I got in the water and looked down there were reef sharks everywhere and one giant Galapagos shark! It was like something out of a National Geographic film. I had to remind myself to breathe a few times, but it was certainly a once in a lifetime experience. We were lucky enough to see frigates, boobies, pelicans, iguanas (land and marine), flamingos, sea lions, sea turtles, stingrays, dolphins, and tons and tons of fish. I now know exactly why people are flocking to the Galapagos.