One of my favorite parts of visiting a new place is the moment the plane beings to descend. I will inevitably press my face to the airplane window like a child and try to take it all in. It was dark in Quito when we landed, but I could immediately tell the topography from the way the lit up roads curved around like snakes, it was obviously very hilly, no one would make roads like that unless absolutely necessary. When we woke up the next morning we were spoiled with clear skies and a view of Cotopaxi! At the time we didn't even realize it was Cotopaxi, just an awesomely large volcano.
I quickly learned that having a guide and driver was integral to cramming in as much as possible into the relatively short amount of time we had to explore Quito. With a day and a half we were able to enjoy many highlights of the city. And if the weather would have been a little more cooperative (we got caught in an epic rain storm) we probably could have crammed in even more!
In no particular order, here are my top three recommended Quito highlights:  
Mitad del Mundo Museo
(Middle of the World Museum)
This museum is a great introduction to Ecuador as a whole. It is definitely touristy, but it provides great information about different regions in Ecuador. It even has a real shrunken head from the Huaorani Amazonian tribe! Kate and I had an entertaining and informative guide, it was just the two of us so the experience was very personalized.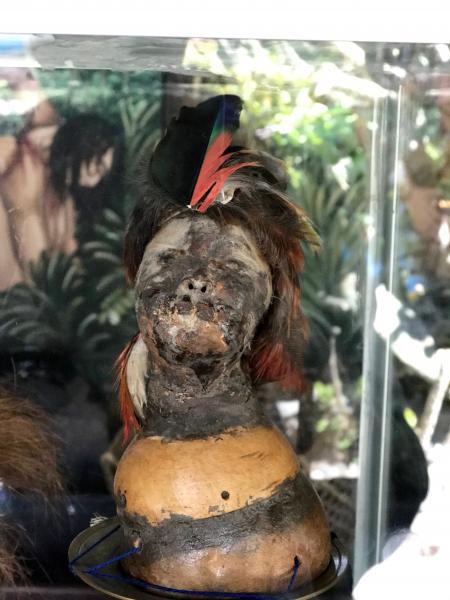 The actual equator runs right through the museum grounds. We were able to conduct different experiments to show the Coriolis effect in the Northern hemisphere and the Southern hemisphere. We watched water drain clockwise on one side of the invisible line and counterclockwise on the other. Our guide even showed us how to balance an egg on a nail directly on the equator. It may have seemed a little corny at first, but to witness firsthand the forces of the earth was pretty incredible.
There was also a newer section where we were able to  learn about the process of making chocolate! Ecuador is one of the prime growing locations for the cacao tree, and it is highly possible the Mayans were trading with Ecuadorians for the resource before the Spaniards came and conquered them, changing the way chocolate was served forever.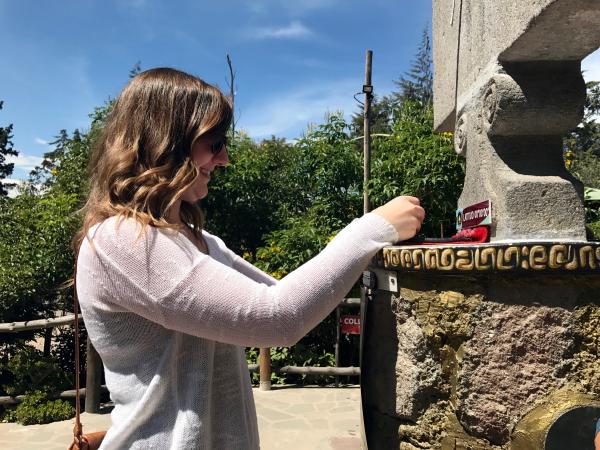 Teleférico
If you're not afraid of heights, or even if you are but you're willing to close your eyes for approximately 20 minutes, the Teleférico is a must do! It is a gondola that takes you to the top of the mountain with an incredible overlook of Quito. In one direction there is a massive city, and in the other there is the massive Pichincha volcano. It was a pretty sublime place to stand and take in the scenery.
At the top of the gondola there is a building with a few small touristy shops where you can buy overpriced snacks, or some flavored oxygen (you are at 15,000ft, afterall!). There are quite a few hiking trails and if the clouds weren't quickly moving in we may have stayed longer or hiked further. After 30 or so minutes of exploring we made our way back to the gondola, just in time for the clouds to open up and the hail to start pounding off our gondola roof.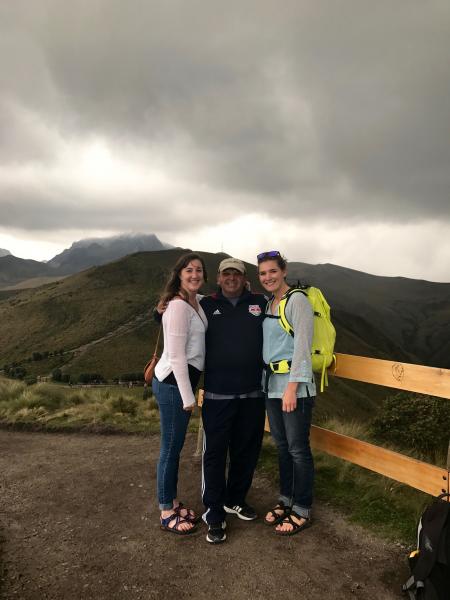 Climbing the Basilica Stairs
​
Although there are many beautiful churches in Quito, my favorite was the Basilica. Not only does it house the most beautiful stained glass I have ever seen, we also were allowed to climb up one of the buttresses to get another incredible view of the city. Given that most cathedrals have very strict policies of where you are allowed to explore it almost felt like we were doing something we shouldn't have been allowed to do!