When we disembarked from our cruise the last morning, we loaded our luggage onto the pangas and headed for Puerto Ayora, one of the Galapagos' more populated towns. We dropped our bags at our hotel and then headed out for the day. We had be warned that we would be tired after our cruise, but little did we know how exhausting cruising can be! I had sea legs (something I'd never experienced) and it took a while to get used to being on land for more than a few hours at once. Puerto Ayora is the largest town on the island of Santa Cruz. And boy is it touristy! Our two days in town were the only days of our whole trip that weren't planned out for us, which meant A. we had to decide what we wanted to do and B. we had to figure out how to get there.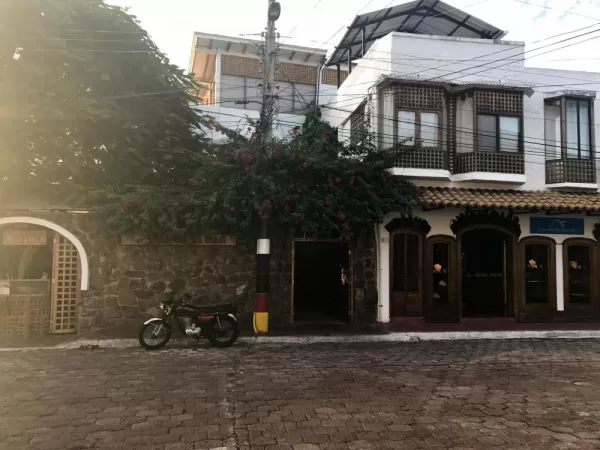 Puerto Ayora was easy to navigate on foot. The main streets follow along the shore line and there are shops and restaurants everywhere. Everyone we talked to had told us that Tortuga Beach was an absolute must see. What better way to spend a free day than at the beach? The beach is closed off to motor vehicles, so there are two ways to get there, you can walk or you can take a water taxi. It's easy to catch a cab anywhere in town that will drop you off at the beach entrance, but we chose to walk from our hotel to the entrance of the trail. At  the entrance there is a small building where guests must sign in. They also have bottled water and a few other beverages and snacks for sale. Whether you bring water from your hotel or you purchase it there, it is a must have.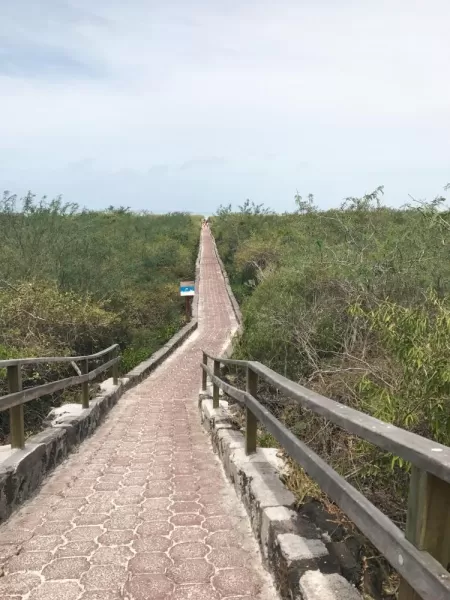 The board walk is nicely paved and easy to walk along, there are a few ups and downs, and it took us about 30 minutes until you reach the waters edge. Because of the way the tide breaks the initial beach you come to is not safe to swim at, but if you walk along the beach for another 15 minutes there is a beautiful lagoon where people can safely swim, snorkel and kayak or simply relax and read a book if they prefer. I would recommend going early in the day. The prime beach spots (especially the ones in the shade) fill up quickly and although the boardwalk is partially shaded it gets HOT.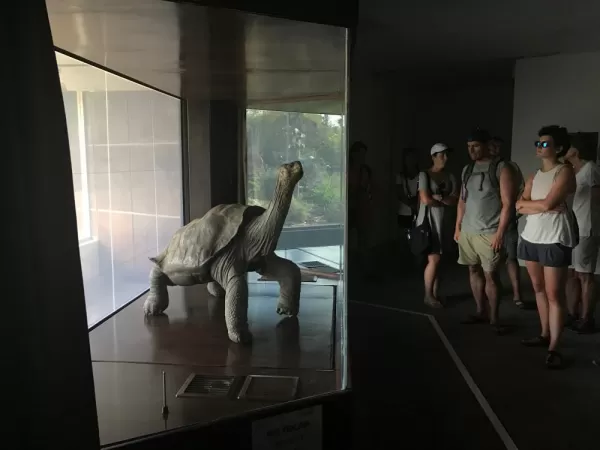 The other activity we knew was a must-do while in Puerto Ayora was visiting the Charles Darwin Center. We were happy to learn it was just a short walk from our hotel. We chose to tour the center on our own. There were plenty of informative signs so even without a guide Kate and I walked away feeling like we were full of newfound knowledge. Since the center is an active breeding center we enjoyed getting to see the tortoises, from tiny babies to mature adults. We were also able to view the famous Lonesome George in his newly opened exhibit. 
As touristy as it was, we really enjoyed the slow pace of Puerto Ayora overall. Relaxing and taking advantage of the all day happy-hours at many of the local restaurants was the perfect way to end our unforgettable time in the Galapagos.