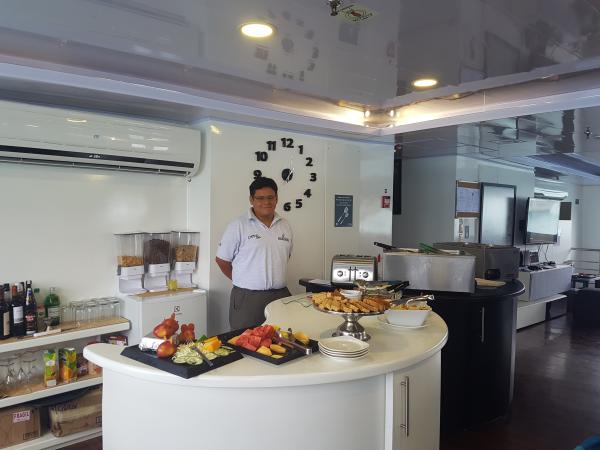 We met our zodiac at the dock and set out for the short trip to the
Petrel!
The
Petrel
is one of the newest catamarans on the island, and it sure lived up to its luxury reputation! Upon boarding we were greeted with fresh juice and a warm snack, something that I quickly became used to as we were offered food and a drink each time we returned from an off-board excursion. After a delicious buffet lunch of fish, vegetables and gourmet tarts, we were shown our cabins and allowed time to rest before the afternoon excursion. 
My room was love at first site. Each cabin on the
Petrel
has a private bath, large twin/queen beds, ample living space and a large viewing balcony. I was torn between wanting to spend time in my lovely cabin and wanting to explore the islands!
Our first excursion was a dry landing on Santa Cruz, where we boarded our private bus and headed to the highlands to see the giant tortoises that the Galapagos are famous for. These are truly magical creatures.
That evening, our guide gathered us all in the living room to prep us for the following day. He gave a short but informative presentation on the geological formation of the Galapagos Islands as well as the animals we could expect to see. We assembled in this fashion each night before dinner, which was a great time to come together and learn about the upcoming activities. Our guide proved to be knowledgeable and approachable; he continually went over and above to ensure we were well-informed and engaged with the islands and the wildlife.
We set off after dinner for our first stop: Santiago Island.