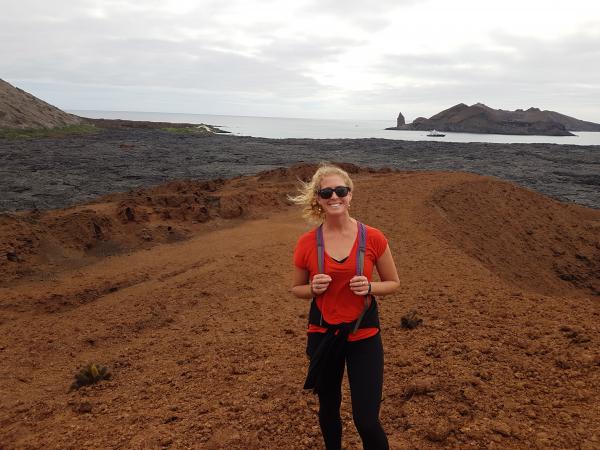 We awoke that morning to our ship manager, Martin's, wakeup call, "Good morning, Petrel mates! It's another beautiful day in paradise. Breakfast will be served at 7:30 in the dining room. Please wear clothing for a hike and shoes for a wet landing. Have a blessed morning!"  Feeling well-rested despite the night journey, I crawled downstairs to meet my shipmates for breakfast. Served buffet style, we were offered the typical selection of eggs, bacon, sausage, pancakes fruit and cereal. I filled up on coffee from the espresso machine and prepared for a day of hiking and site seeing!
We met out on the main deck to board the zodiacs, and set off for the lava island of Santiago, a geologically-young island of hardened lava fields and desolate landscape. It was unlike any place I'd ever been on earth. We trekked around the island for a bit, learning about volcanic explosions and more about the formation of Santiago.
We returned to the boat for lunch and a few hour's rest before again boarding the zodiacs for a dry landing at Pinnacle Rock, the iconic view spot in the islands. The view sure lived up to its fame, and we easily spent an hour admiring the archipelago.