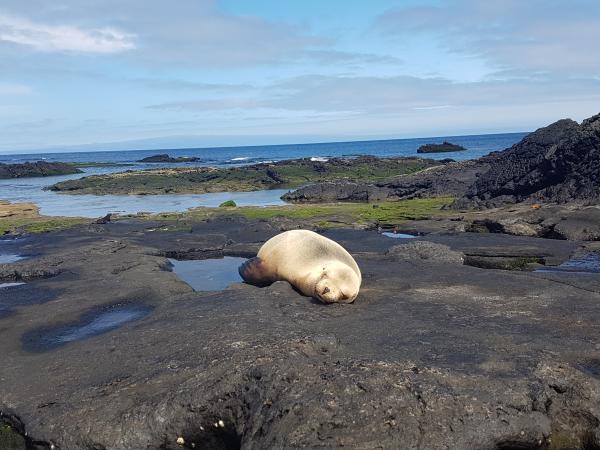 Today was undoubtedly my favorite day of the cruise. We awoke in James Bay to Martin's timely wakeup call and beautiful blue skies outside our cabin windows. The crew assembled us on the outer deck to dress for snorkeling and we set out, encountering not only fish but also sea lions, sharks AND sea turtles! Absolutely incredible.
 
We returned to the yacht for a short rest before our afternoon land excursion, although there was to be no rest that day. I got together with the other 20-somethings on the boat and we spent the break launching ourselves off of the top deck into the chilly water below. The skippers were very helpful in this activity and motored around the collect us from where we jumped in, allowing us to avoid swimming too far without a wetsuit on.
That afternoon we visited Espumilla Beach and Buccaneer Cove. The wildlife here was truly in abundance, and it seemed we spotted a new animal with each step. This is also the home of the furry sea lion, which we found in the caves jumping wildly and splashing wildly in the water. They were putting on quite the show!  This part of Santiago is also full of the ancient-looking iguanas, crabs and of course, more sea lions. I could have spent hours here!
The crew treated us to a pina colada farewell party that night, and realizing our trip was coming to an end was a sad moment indeed. Snorkeling, hiking, exciting dinner conversations with the other 14 passengers, delicious food, luxury cabins and a positive staff; the
Petrel
proved to live up to its reputation!
Our cruise sadly came to an end the following morning. I exchanged contact info with my shipmates and planned to meet a few for dinner back in Quito. 5 days aboard the
Petrel
was not nearly enough time to explore these magical islands… but then again, 15 wouldn't feel like enough either!