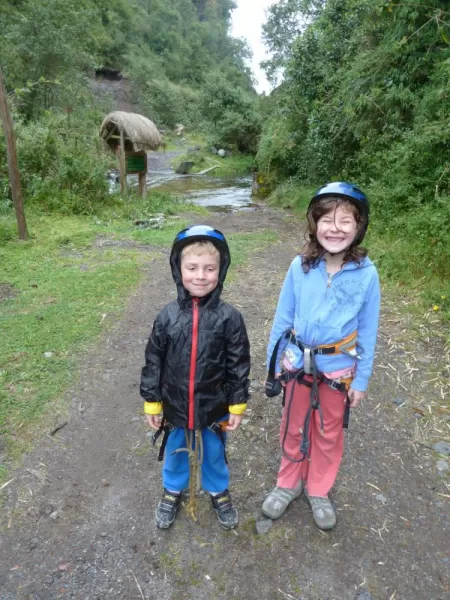 We woke early for the bumpy transfer to our canopy tour near Cotopaxi National Park. We opted for the 5 cable zipline that required a bit of extra hiking. Mom struggled on the walk at such high elevation, but we stopped along the way and snacked on blueberries. Jorge, our guide, told us that they make a special soup of the blueberries to eat with doll shaped bread on the Day of the Dead.
Thankfully, we made it to the zipline just in time to beat the rain as they can't run the cables if it gets too wet.
I was so proud of my mom for powering up the hill. Jorge rode tandem with her and everyone had a great time! Five year old Matthew was so light that he briefly got stuck in the middle of one cable, dangling high over the river. However, he wasn't worried in the slightest and just waited patiently for the guide to come out to him.
We headed on to Hacienda Porvenir for lunch. It has rained a bit in the interim and was too muddy to enjoy much of a walk that afternoon so Jorge suggested that we go to the kitchen where we could make the special bread of the Day of the Dead celebrations. The kids charmed the kitchen staff by using the colors to make all kinds of animals and dolls that they cooked for us and served with our dinner.