We moved locations during the night and it was super rocky. Thanks to my Bonine pills, I never felt even the slightest bit sick! We didn't bring any sort of clock with us, so Miguel was kind enough to knock on our door at 6:30 and by 7:00 we were feasting on omelets, toast, fruit, yogurt, cereal, potatoes, juice and coffee.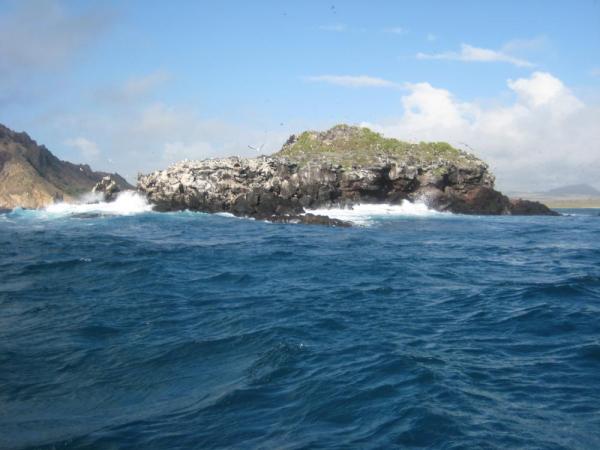 After breakfast we headed to shore at Punta Pitt for a hike to some red footed booby nests and a great overlook. On the way, they took us on another panga tour- that way, people who didn't feel up for the hike still got to see some really neat stuff. On the panga tour we went to the rocks where we would be snorkeling later. The waves were crazy and the sea was rough. We saw a ton of red footed boobies nesting in the trees. In one area, we were able to spot all 3 types of boobies in one tree (red, blue and masked or nazca). All the while, sea lions kept coming up a splashing us.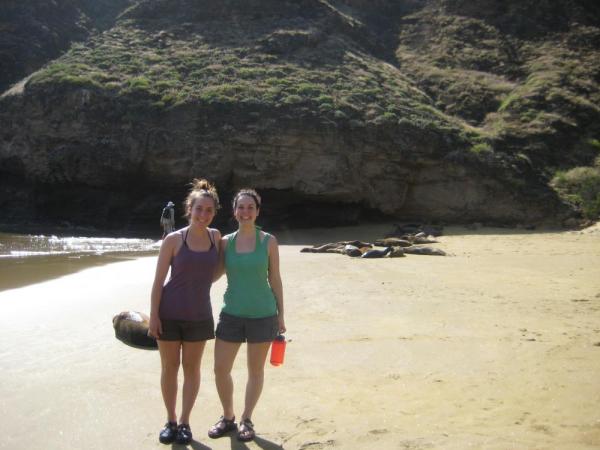 Once we landed at Punta Pitt, we hiked for about an hour over rocks and along the trail.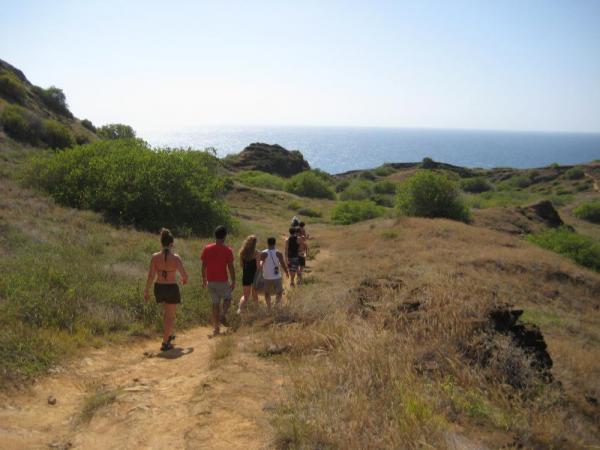 We hiked up to beautiful overlooks and nests of red footed boobies that had giant fluffy babies inside. IT was SO hot out and the stones reflecting the sun made it feel like we were baking in an oven.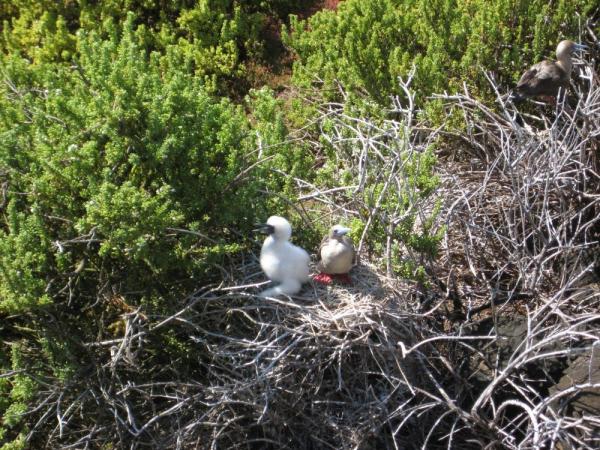 After the hike, we suited up and returned to the rocks for snorkeling. The water was a bit more calm, but still not great. I was nervous, but Javier reassured me and I decided to go for it...you're only in the Galapagos once, right?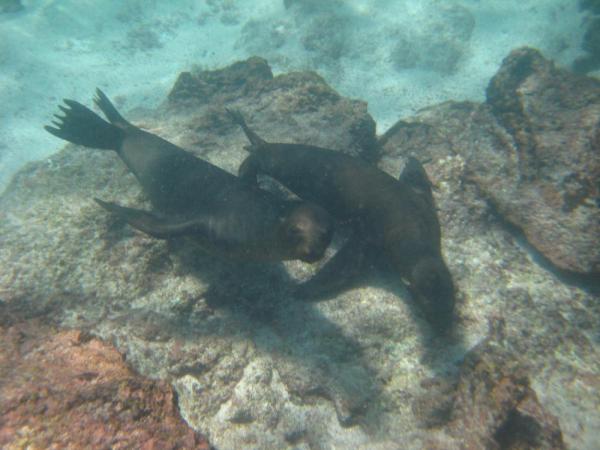 The visibility wasn't great but we saw some giant schools of fish and had the chance to play with sea lions again. There were about 5 that kept chasing us around and swimming with us. They were so playful!! One even grabbed the string on my wetsuit and started tugging on it! We felt a little sick after being tossed in the waves for a while, so we signaled to the panga and Javier picked us up and took us back to the ship.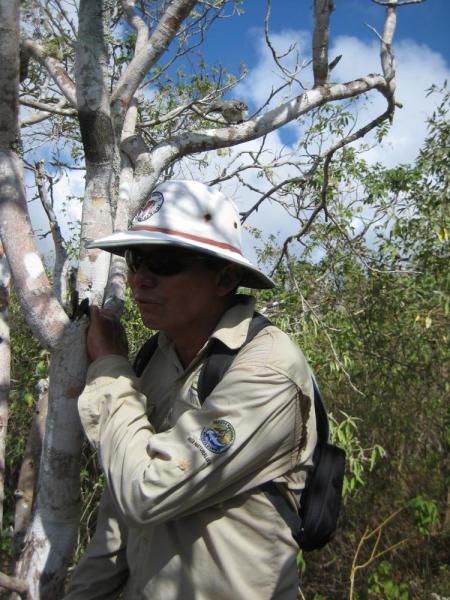 In the afternoon, we headed to La Galapaguera. It felt like it was a thousand degrees out as we started our hike across the island in search of giant tortoises. This area is known for saddleback tortoises- since vegetation grows higher, they need to be able to stretch their necks further and their shells curve up to allow for this. The hike seemed to go on forever and the heat was making me feel faint.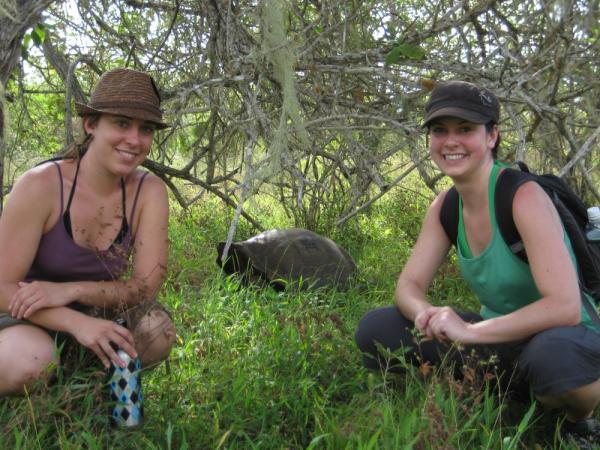 About an hour in, the first person turned back for the beach. After another half hour or so, we finally came upon a giant tortoise hiding in the brush. After another half hour and another 5 or 6 more tortoises, more of the group headed back. Drenched in sweat and feeling exhausted, I refused to stop. Everytime Leonidas said "I stretch you just a little further", more people either headed back to the beach, or decided to stop right there under a tree and wait for the rest of us to return.
I started to feel like one more tortoise just wasn't worth the walk, but my stubbornness and need for adventure kept me going...and I'm glad it did! It was finally down to just 3 of us plus Leo and we were all ready to quit when he pushed us one more time. We sighed and followed him and came upon a giant lagoon in the middle of nowhere. It is sometimes dried up by this time of year, but we lucked out and it was still full of water. Wallowing in the mud were easily 100 giant tortoises!!! They were eating, drinking, relaxing and mating! It was an amazing site and well worth the walk.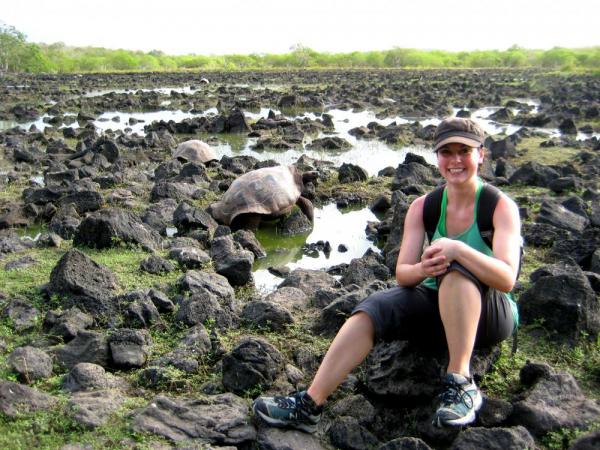 Thankfully, that put a little spring in my step for the long hike back to the beach. After what seemed like forever, we made it back to the beach where the remaining hikers peeled off their sweat-soaked clothes for a refreshing dip in the water.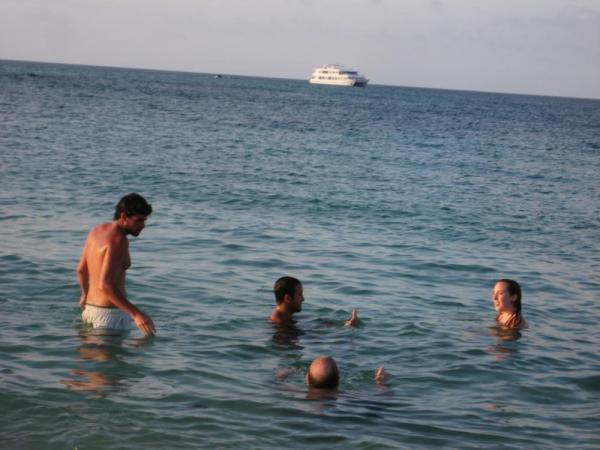 Back on board the ship, we showered up, met to go over the plan for the next day and then ate our fabulous dinner. The spiral cake with caramel sauce for dessert was the perfect ending to the day. We stayed up after dinner for a bit and chatted with the Israelis and learned some really cool stuff about their culture. Then we all piled onto the couches with a couple of the crew members to watch a movie together. Amanda and I made it about 10 minutes this time before falling asleep!