Since last night ended so late, we got a late start to the day. The IGTOA members met again to discuss changes to be made in the coming year. We discussed best practices and what each responsible tour operator should be doing (or not doing) in the Galapagos to help protect the precious archipelago.
After our meeting, we all took a tour of the Ecua-Andino hat factory where the world famous Panama hats are made (this factory supplies stores like J Crew with all of their Panama hats). Each hat is woven by hand and it takes almost a month to make one.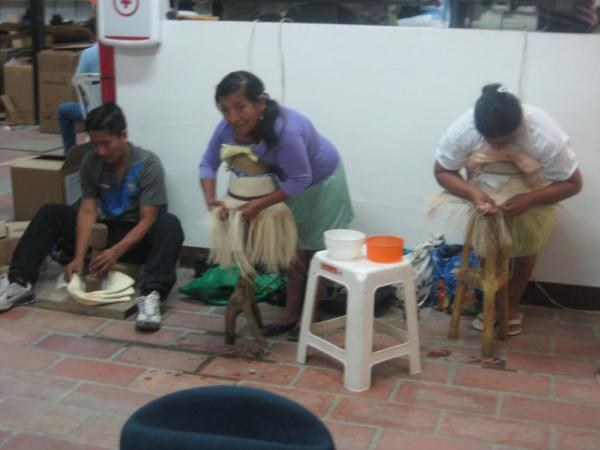 They are the top producers of these hats. They gave each of us a personalized hat with our name in it! It was really neat! We tried on the rest of the collection and ended up buying more for family and friends.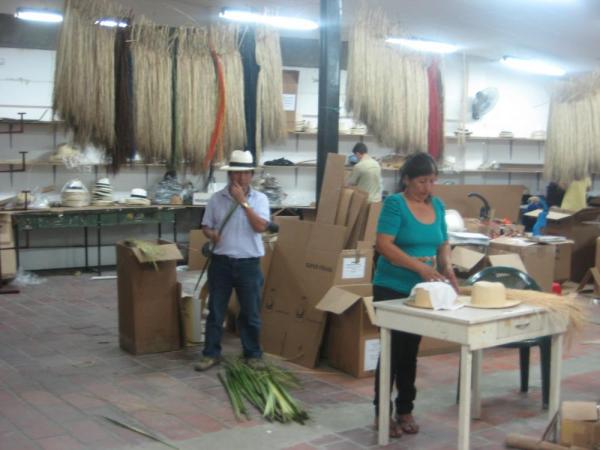 We returned to the hotel and dropped off our hats and headed to the Malecon 2000. This is a beautiful area along the waterfront that has parks, restaurants, shops and much more. It is a nice, safe area to walk around. It was insanely hot and muggy as we grabbed a really inexpensive dinner at the outdoor food booths on the waterfront. Kids kept coming up trying to sell us candy, toys, gum, you name it. One little boy couldn't have been more than 3 or 4 who came up to sell us candy and cigarettes. He simply refused to leave our table. He had really big eyes and was playing the adorable card by sadly saying Comprame! (buy from me) over and over. Finally Matt couldn't handle it and bought a cigarette to get him to leave us alone.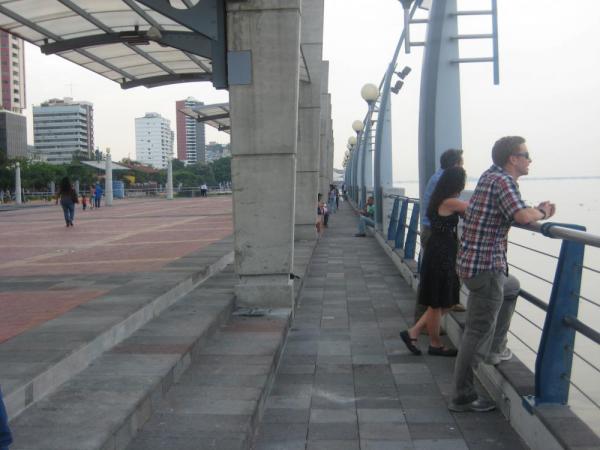 As the rest of the group headed back to the hotel, Amanda and I set out on our own. We explored the malls for a bit, got some ice cream and then decided to head in the direction of Parque de las Iguanas - we were determined to feed the iguanas and I had a purse full of bananas that I had been carrying all day for just that purpose!
We ended up off our path and wandered into a local underground market where it looked a bit like everything had fallen off the back of a truck. We were the only gringos in the market and most people gave us a funny look as we walked through, looking confident (when all else fails, look like you know what you're doing!).
I am amazed at Ecuadorian entrepreneurial skills. You don't really see people begging, but everywhere you turn there is someone walking around selling something- anything- but not to tourists...they are selling it to the locals! Slices of watermelon, bottles of water, candy, cones of meringue, gum...the most interesting thing (and most common) that I saw was people walking around with giant 4 liter bottles of pop and sleeves of plastic cups- like a mobile kool-aid stand run by adults! Betty told us that you can pretty much do all of your grocery shopping for the week by just walking down the street or through a park.
After asking directions from a nice woman who told us it was far too dangerous to be out after dark and told us to immediately get a taxi back to our hotel, we felt safe enough, found a street sign and headed to the park. We ended up getting to the park too late and all of the iguanas were already up in the trees for the evening. It was still a beautiful park, with an AMAZING cathedral across the street, and it was still neat to see the giant iguanas sleeping in the trees, but we were pretty disappointed that our bananas would not be hand-fed to iguanas! (It ended up being perfectly safe, by the way)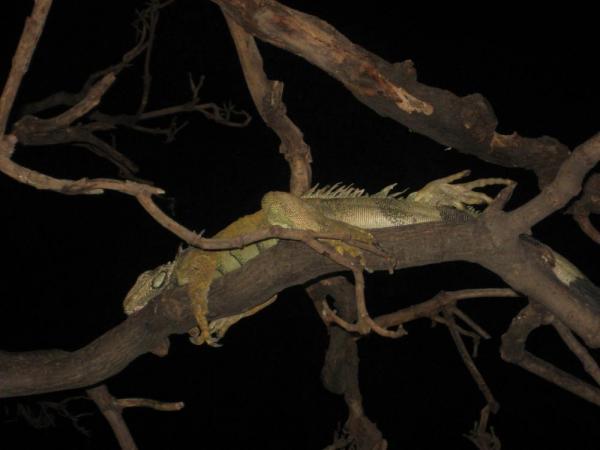 We headed back to the hotel, loaded up on more desserts and headed up to our room to pack for our early flight to Quito. We went down to the bar to bid farewell to the rest of the IGTOA crew who was all flying out late that night.