This morning was so overcast that the sun didn't wake us up...the breakfast bell did! We rushed down and ate super quickly and then ran back up to our cabin to get ready for the landing on Floreana! First, we headed to Punta Cormorant to see the Flamingos. Leonidas warned us that there may not be any but only about a minute into our walk from the beach, we saw our first flamingo.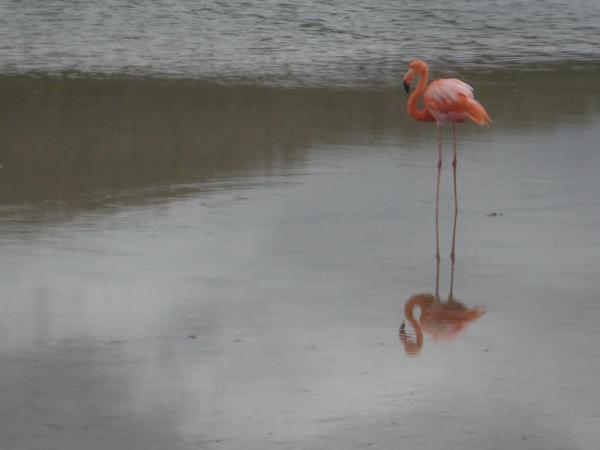 We finished the walk to the edge of the lagoon and saw a few more flamingos next to the first one. They were closer to a different look-out point, so Leonidas led us over there for a better look. It smelled strongly of sulfur at the lagoon, but we were able to see about 5 or 6 flamingos eating and drinking.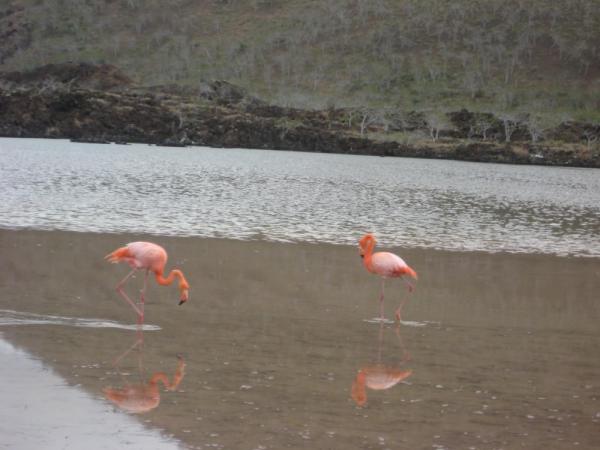 Next we walked to a beach that is a nesting ground for sea turtles. We didn't see any turtles, but we saw their nests all along the top of the sand. It was a beautiful beach area, and as we stood there enjoying it, a big wave receded and we saw dozens of sting rays just hanging out in the surf! After a while, we walked back to the pangas and headed back to the ship.
The ship motored to the next spot while we suited up for snorkeling. We arrived to the rocks with rough seas beneath us and a bit of rain in the air. Nothing about jumping into the water appealed to me and several people decided not to go in. I'm glad I did! Floreana is great for snorkeling, and while visibility wasn't great, we saw thousands of fish- much more than anywhere else we had been (more than in my trip to the Great Barrier Reef!).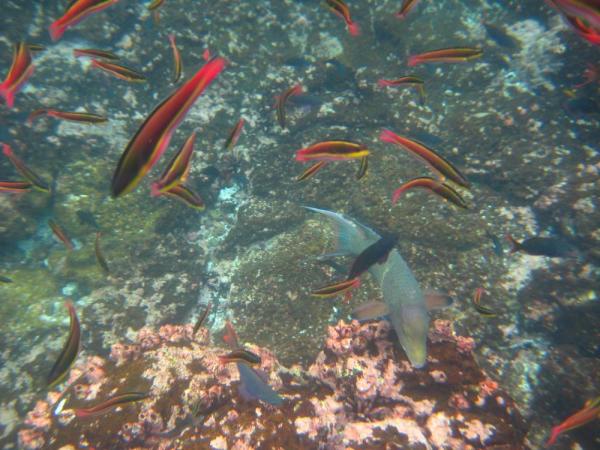 We swam along the cliffs, staying far enough out not to be pummeled by the waves, and were amazed at all the fish. As we came around the point, there was a giant colony of sea lions on the beach that immediately jumped into the water when they saw us. There were lots of babies, so the giant male came along the watch over them. He was huge and very intimidating, but we gave him his space and he left us alone.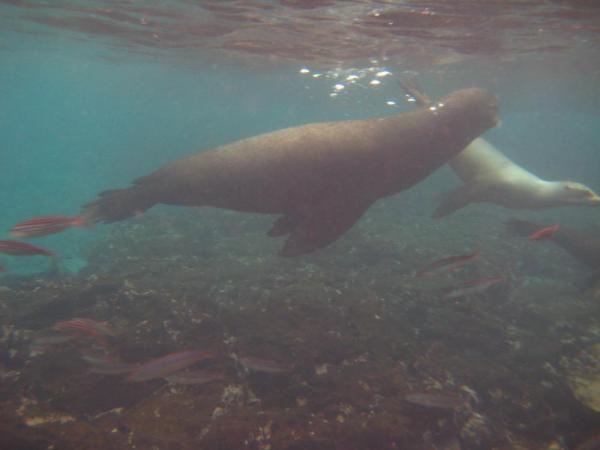 The babies were super playful again and we all had a great time swimming with them. Doug had a blue footed boobie dive into the water to catch a fish right in front of him- it scared him half to death, but was really cool to see. The water was cold and rough, so I barely lasted an hour before climbing back into the panga. Javier took us back to the boat and I hopped in the shower to warm up.
After lunch, we returned to our rooms to write letters for the post office on Floreana. Neither of us had anything nice to write on since we hadn't been to town yet, but Teo showed up at our door and surprised us with postcards to use. He was so sweet and took such good care of Amanda and me! We made our landing at Post Office Bay and made our way to the p.o. box. It is just a really old barrel!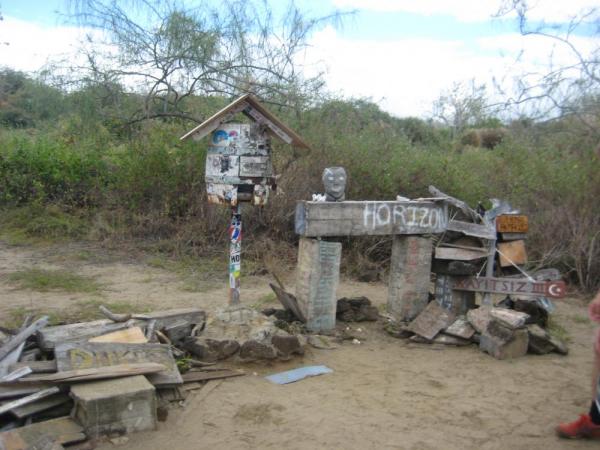 This has been used as a communication means forever! You leave your letters or cards in the barrel, and anyone who comes to the island checks to see if any of the letters are for where they are headed. If they are, the travelers would take them and deliver them! You could also address them as "to be picked up" if you had friends or family you knew would be traveling there later! It was amazing! We looked through all the letters and a few people took some to deliver back home. I sent one to Kepler (my husband) and Laura (my co-worker)...it will be interesting to see if they ever make it to them!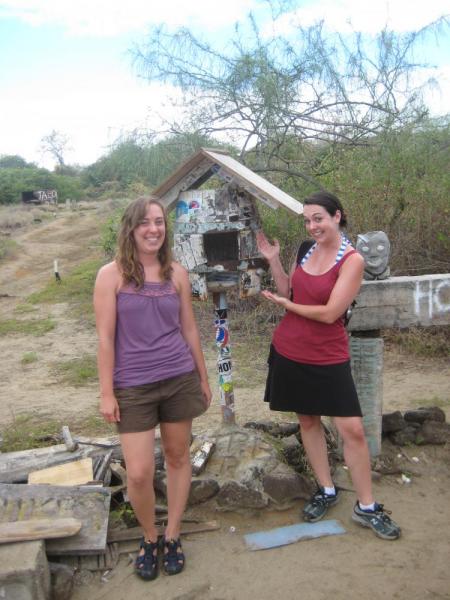 After the post office barrel, we walked to another part of the island where Leo sat us down and told us all about the history of the area. Then, we continued on to a lava tube cave. It was pretty neat, but we didn't have enough flashlights to see a whole lot. Connie didn't want to go in and let us use her light, we were so thankful!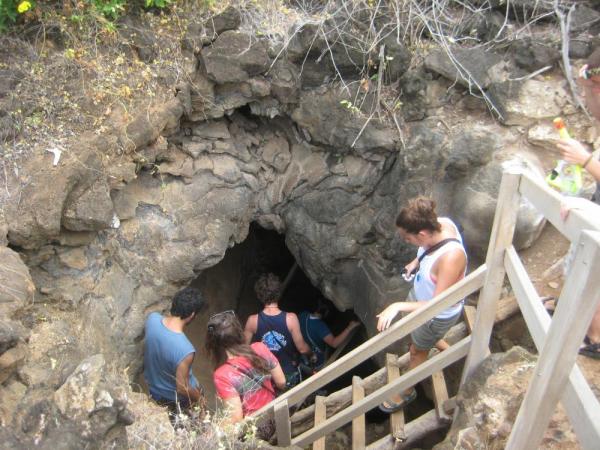 We had fun checking it out, until we spotted a giant roach on one of the walls- at that point I couldn't get out fast enough!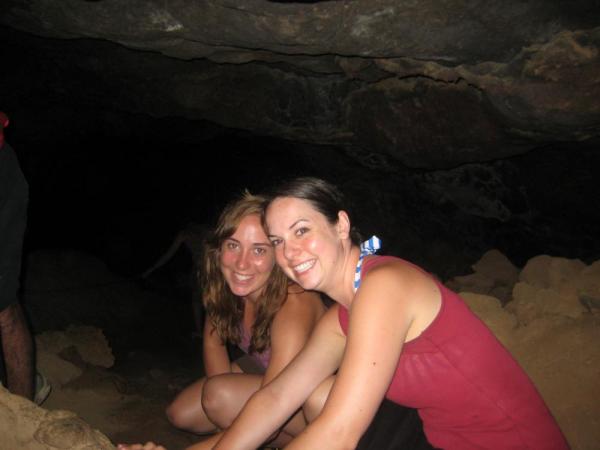 We headed back to the beach and had about an hour to hang out. Some people went swimming and snorkeling and saw another big turtle. Most of the guys ran over to a big sand soccer field and they started up a game- Israelis v. the crew!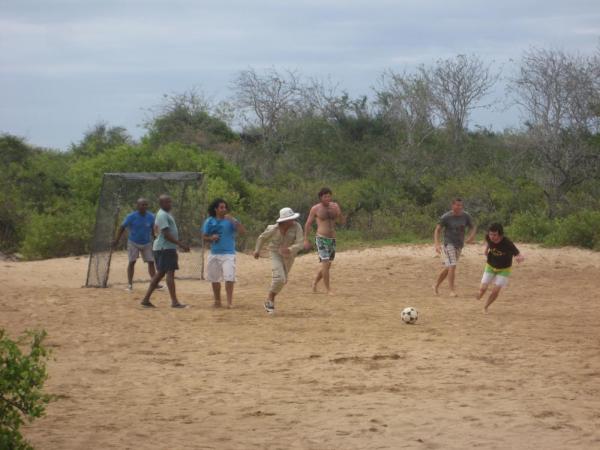 Amanda and I walked along the beach and had a good laugh watching some crabs scurry from rock to rock. The made a hilarious plopping noise and looked pretty funny too!
We returned to the boat and set sail for Santa Cruz. It was a pretty rocky ride, but not quite as bad as the trip to Espanola. Amanda and I both passed the time by napping and then it was time for our meeting and dinner. Right as we sat down for dinner, we dropped our anchor at Santa Cruz and the rocking eased up a bit.
After dinner, the crew took us to the pier and dropped us off to explore Puerto Ayora on our own. The town looked sketchy at night, but it wasn't at all! It was a super cute little family town. As we came off the pier, there was a playground with tons of kids and families hanging out. We wandered through the shops and found souvenirs for our nephew, parents, ourselves and my husband. We got soft serve ice cream from a little cafe and walked around town.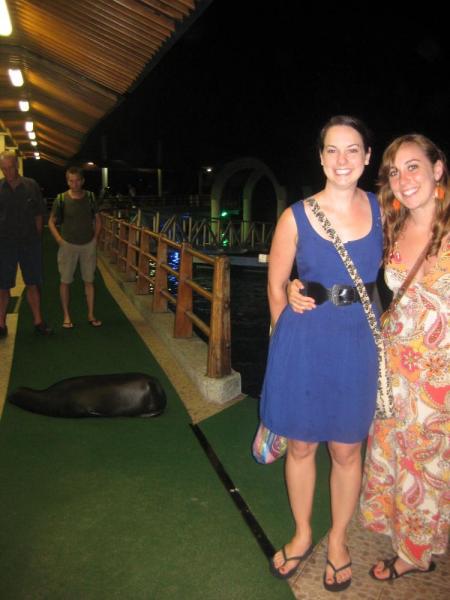 We met back up with everyone else from the ship, just by chance and all shared a water taxi back to the boat. You just tell them the name of your ship and they get you there for $1!
We both packed up our bags for our early morning and then went back up to the deck to star gaze. I was beat, so I headed to bed and Amanda stayed up for a bit longer.