Today was a long but fun day! We woke up at 5:20 AM and returned to the airport for our flight back to Quito. It felt way too early and we both passed out on the flight. When we arrived in Quito, we were met at the airport by Daniel and were immediately off for Otavalo. Along the way north, Daniel stopped to show us great sites and foods. Our first stop was at a fruit stand by the side of the road. We tried a new food called chirimoya. It was big, green and lumpy and you rip it apart with your hands. The inside was creamy white with giant black seeds. It had the texture of an avocado but tasted like a mix of banana, coconut and pineapple. They were so delicious that we bought a couple more to take with us!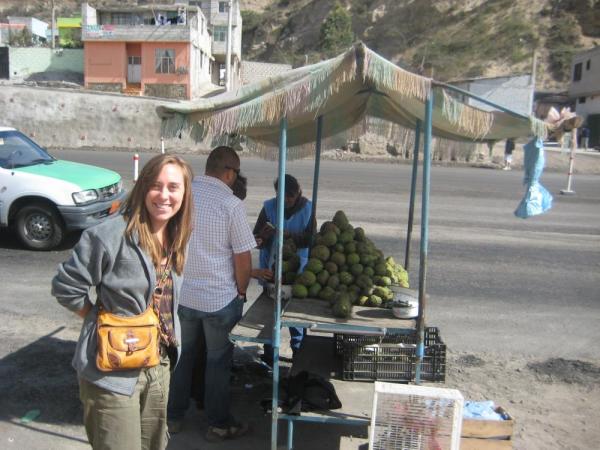 The next stop was a little town famous for bizcochos- a type of breadstick made with bacon fat and then baked twice. Daniel took us to his favorite spot where we had bizcochos, fresh cheese and hot chocolate.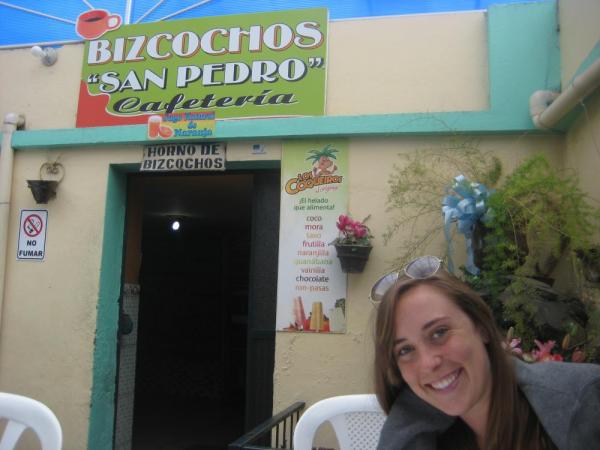 Next, we stopped at Lago San Pablo for a beautiful view. The Imbabura district was beautiful- green fields all along the hills and mountain sides- lots of farms and greenhouses for roses.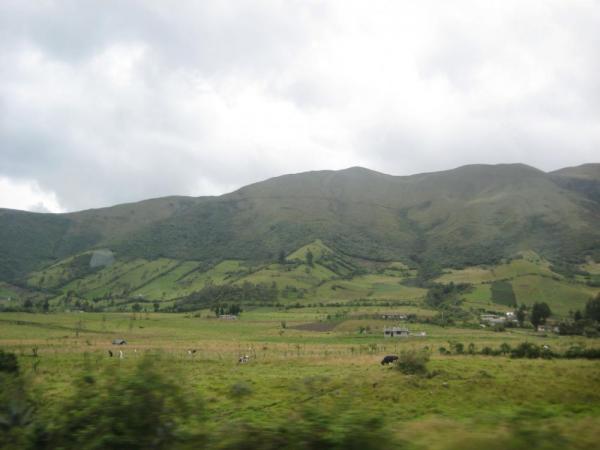 We drove through a small town where dozens of children were gathered in front of the church having just made their first communion. They looked beautiful in their white dresses and suits. Their families were all celebrating.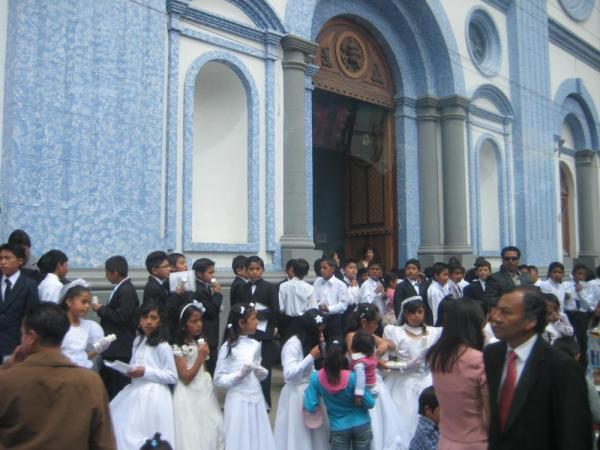 We continued to Otavalo and their Saturday market, one of the largest in Ecuador! Daniel led us through the local food market and then on to the more touristic market. We had to bargain for prices and Daniel stepped in a bit to help (okay...more than a bit!). Amanda and I spent a good amount of time roaming the market and ended up with some great stuff. Daniel had an amazing memory and if we mentioned something we saw earlier in the day that we liked, he took us directly to the right booth!
We stopped to visit Hacienda Pinsaqui for a quick tour. Haciendas are to Ecuador what castles are to Ireland. This one was over 300 years old and was beautiful. The rooms looked so nice, the food smelled delicious and the peacocks strutting around were fun to watch. I wish we had time to stay overnight!
We continued on to Cotacacchi where they specialize in leather. We're not really into leather, so we quickly walked the street lined with shops. If we had more time, it probably would not have taken much convincing to get me to buy one of the beautiful purses or great pairs of boots. We headed back to Quito and slept for most of the drive.
Daniel helped us check in at Hotel Eugenia and pointed out a good restaurant for dinner. We ate at Coffee Tree and then returned to Eugenia where we were met by the staff of our office in Quito. They are all so fabulous!! It was nice to finally meet all of the people I have been working with through the computer for so long! I felt like I was meeting distant family. They took us on a driving tour of the city and we went all the way up to El Panecillo for an amazing view of Quito all lit up.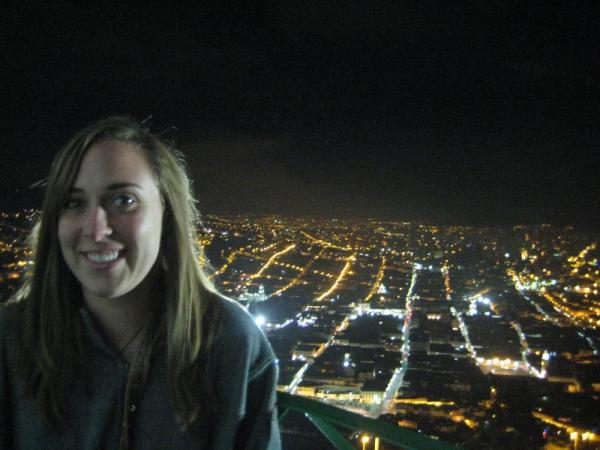 We climbed up into the giant virgin of the city tower for an even better view. After getting some cotton candy from a street vendor at the bottom of the statue,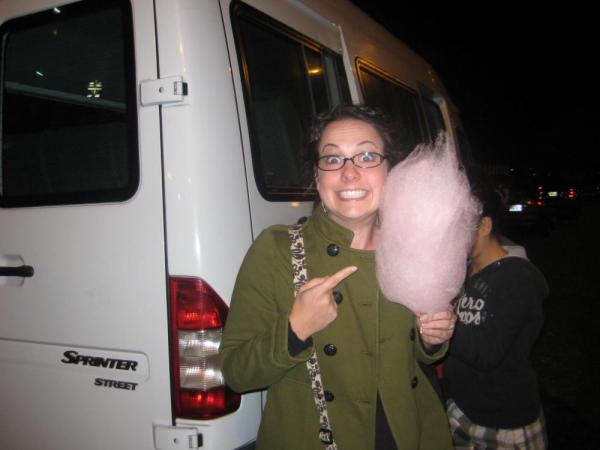 we headed to La Mariscal district which is where Eugenia is located. It is also the main touristic area of the city and we went to the center of it all to see the city really come alive! There were tons of bars and restaurants and discos and the streets were filled with people and street performers. We enjoyed coffee on the heated patio of one of the cafes and chatted for a couple of hours. It was great! As it got late, they took us back to our hotel for the night.