This morning I woke up with the sun by stayed in bed until the breakfast bell. After filling myself up with banana pancakes, I sunblocked up and headed out for Cerro Brujo.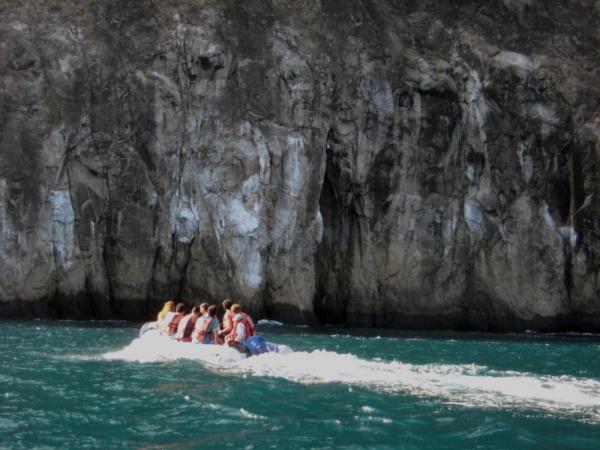 Along the way we did another panga tour along the giant cliffs and even rode into a tiny cave.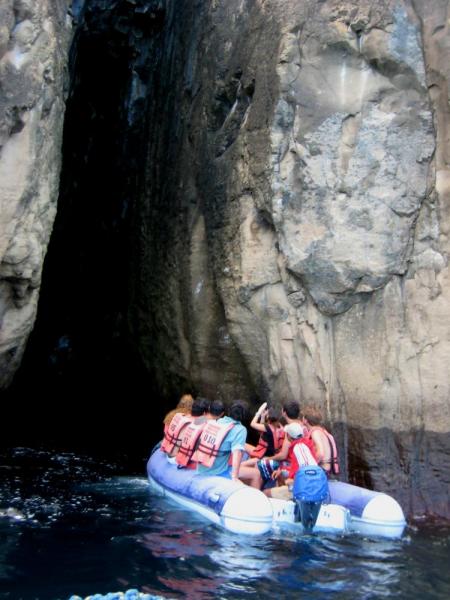 We went into 'the Cathedral', and really cool cove and then went through the 'tunnel of love'.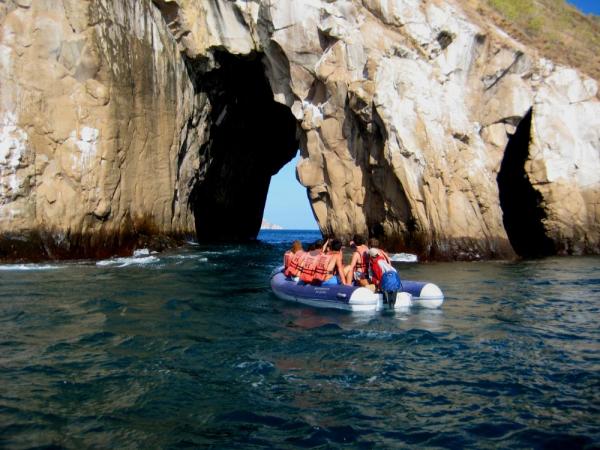 Again, sea lions followed us all over and we even saw one playing fetch with a stick! We made our way to Cerro Brujo, a gorgeous white sand beach.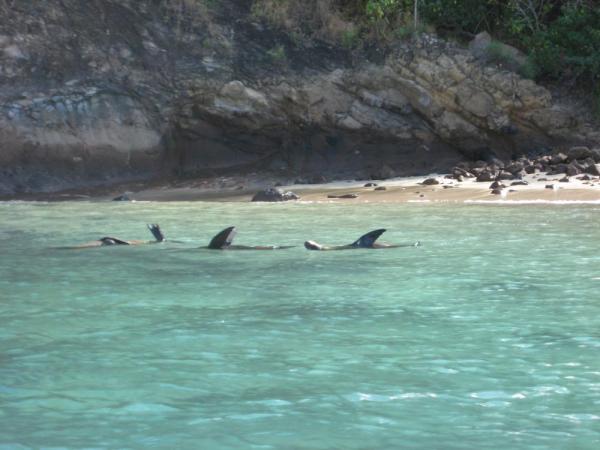 As we approached the beach, we could see dozens of sea lions laying on their backs in the water with only their flippers sticking out above the surface.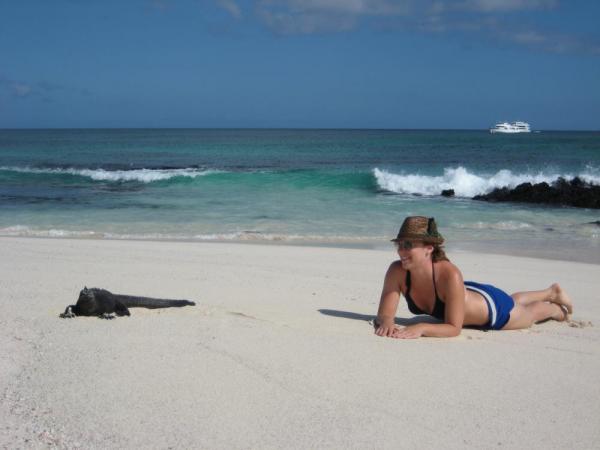 We landed and found a nice spot in the powder soft sand and had a few hours to relax and play. Amanda and I walked the entire length of the beach, stopping to take pictures of the sea lions, marine iguanas and sally lightfoot crabs. We decided to swim for a bit to cool off and found a gorgeous little pool that was only a couple of feet deep and was surrounded on 3 sides by rocks.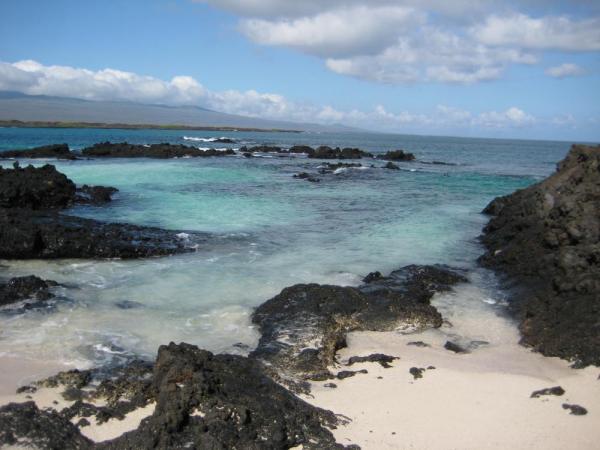 The water was crystal clear and the white sandy bottom made it heavenly. In the little pool, we found some sea lions playing and just watched them for a while. The mother sea lion, who we had watched attack and bite another sea lion, came off the beach and gave us a nasty look. She started to charge us, and we had no where to go- she was blocking our escape! We knew she could out swim us so our only chance was to get around her and to shore where we could out run her. My instant reaction was to yell 'hey!' while pointing at her...I'm not sure what I was thinking, but apparently fight beat out flight in my head. My sister looked at me like I was crazy and we made a run for it, high-stepping through the water until it was shallow enough for us to run! We were completely fine, but that sure got our adrenaline going!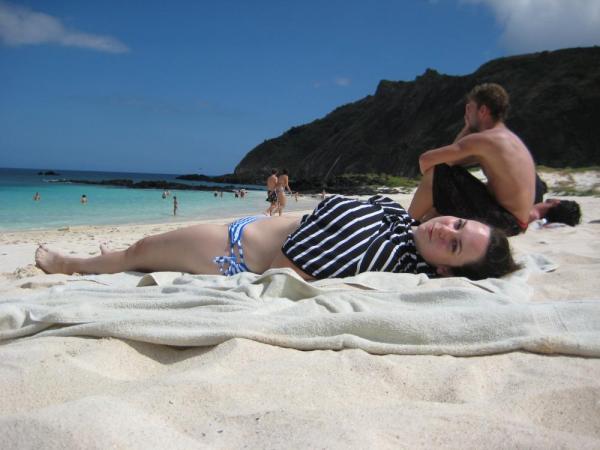 By this point, my already badly burnt skin felt like it was on fire(I'm Irish, the sun and I don't play well together), so I covered up as much of the burn as I could and we relaxed, wandered the beach some more and checked out the wildlife from a distance.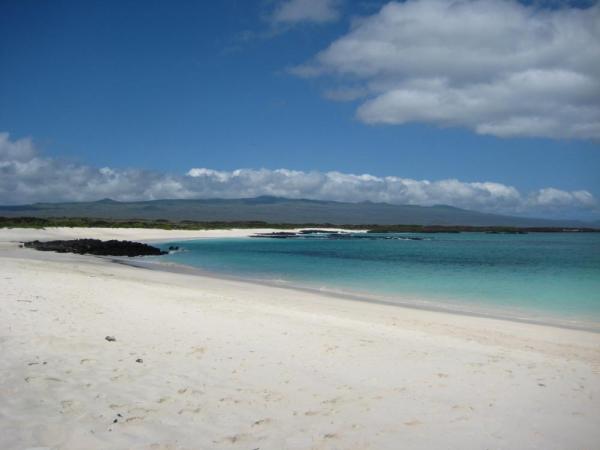 After a couple of hours, we returned to the ship. Miguel was waiting for us on board with cool glasses of juice and we had a little time to kill before lunch. Amanda and I relaxed on our balcony for a bit, and then Amanda joined Miguel and the Israelis for more 'cliff jumping' off the boat.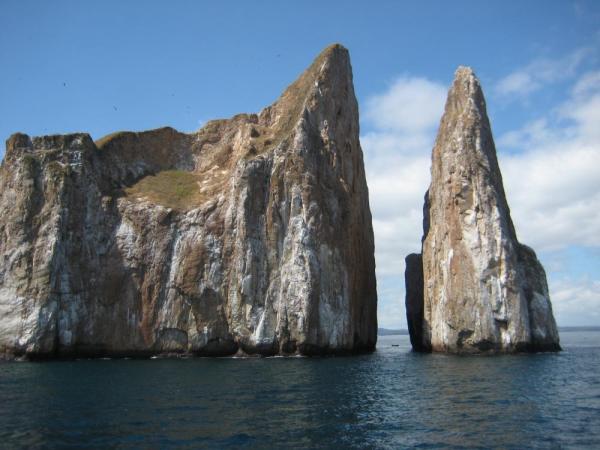 After lunch, the anchor was pulled and we headed to Kicker Rock, or Leon Dormido- the giant rock that had been looming in the background the past few days. We started our excursion there by circling the rock with the ship. We could see birds nesting on top and then we saw a whole group of sea turtles swimming by the ship- my first sea turtle!!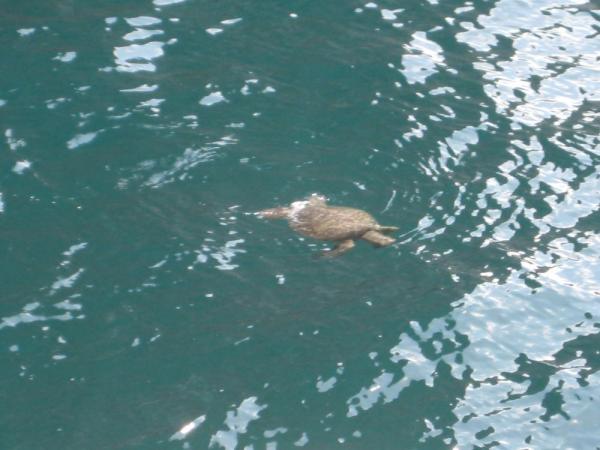 We were told we might see turtles while snorkeling today...any maybe even a shark. Next, we suited up and headed out in pangas to the snorkeling drop spot.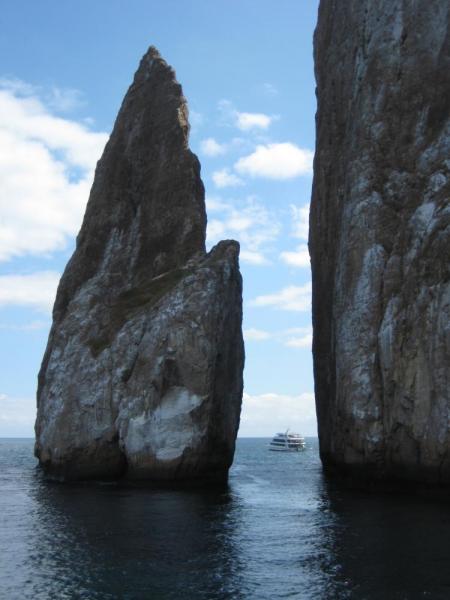 We were going to snorkel through the channel between the rocks and then continue along the outside of the rock. We got into the channel and because of the lack of sunshine inside, the water looked really murky and a bit spooky. All of a sudden, one girl yelled 'shark!'. We all swam over, and sure enough, a shark swam underneath us.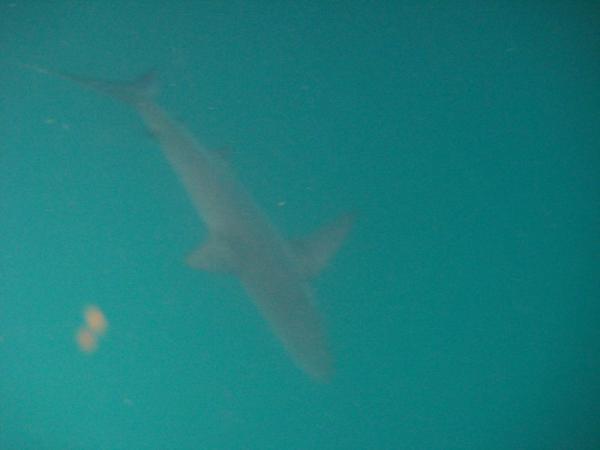 That was just the beginning! Within minutes, there were at least 20 black-tipped reef sharks swimming around us. They were easily 6-8 or more feet long. Just as Leonidas promised, they left us alone and it was a strangely calm feeling considering we were in creepy, murky water with giant sharks!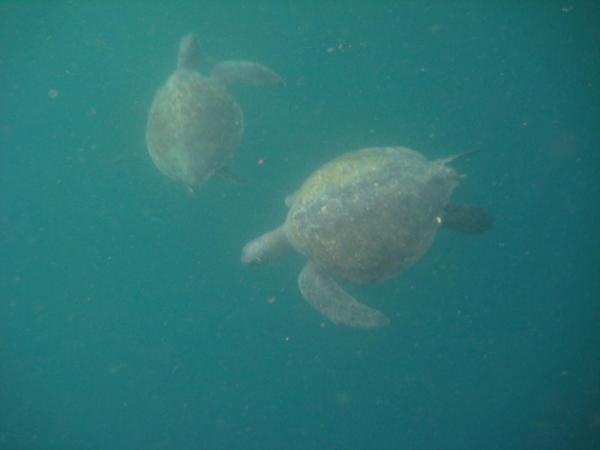 We continued along the reef-covered wall to the outside of the rock and suddenly, as a sea lion swam by, all of the sharks disappeared and were replaced by sea turtles. It was so amazing to watch them swim. Typically, while watching something as amazing as that, you don't pay attention to the tiny specks floating all around you in the water. I happened to focus on one and realized that all of the tiny blobs of goo were in fact thousands of jellyfish.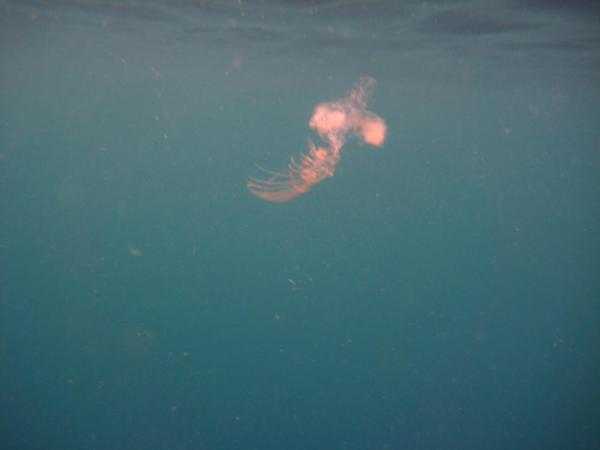 The long stringy things that looked like hair were also jellyfish...that is when I started to feel the stings! I motioned to Amanda and warned her, but it was too late, she was in them too. It didn't matter where we moved, they were everywhere! We calmly swam back to the panga and climbed in. Amanda and I had been a ways ahead of the group, and we had remained calm, so no one else saw what was coming. We watched just in time to see the 'tough' guys from our ship start screaming and yelling. They swam to the other panga and refused to wait their turn on the ladder- they all started climbing over the sides of the panga like their lives depended on it. Despite the stings, it was one of the funniest things I have ever seen!
We got back to the ship and the crew was waiting for us with a type of soy sauce that they poured all over our stings. They were more irritating than painful and we all had a good laugh about it. We were taking turns showering up when someone pounded on our door and yelled 'whale'! We all ran to the top deck and gathered to watch the whale surface over and over, but no big breaches. In one day I saw my first wild sea turtle, shark and whale, AND had my first jelly fish sting!
The crew gathered to watch the big Ecuador v. Colombia soccer match while dinner was being prepared. While this was happening, we switched out some passengers. The group of Israelis returned to shore and we got another group of Israelis along with an Aussie, a Dutch girl and a couple from Barcelona, all in their 20's and early 30's. We had a group meeting, enjoyed another amazing dinner, and then stayed at the tables and chatted for a few hours with all of the new folks- everyone was super nice!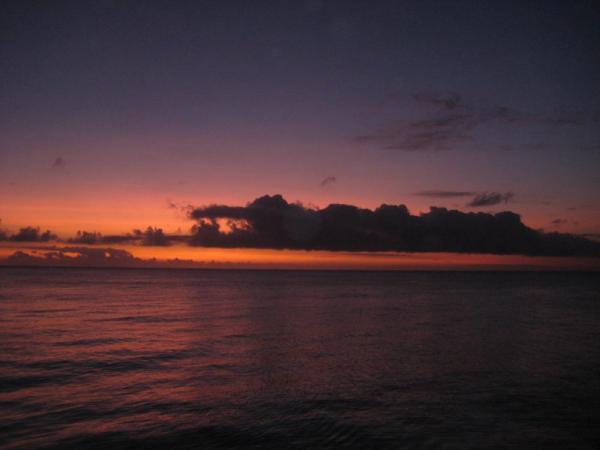 As the ship headed to open sea, it got pretty rough! Amanda and I went to star gaze on the sun deck (you can see stars from both hemispheres in Ecuador!), but the boat rocked so much that Amanda's lounge chair shot all the way across the deck with her still on it. We decided it would be safer to stay below deck and returned to the common room.
We settled in to watch Batman with Adam, one of the new passengers, and Teo, the bartender, but all of us were asleep within minutes. Teo was kind enough to wake us up and send us to bed!