We headed out early this morning with our guide, Luis. We made our way south along the Pan-American Highway to Cotopaxi National Park, enjoying stunning views the whole way.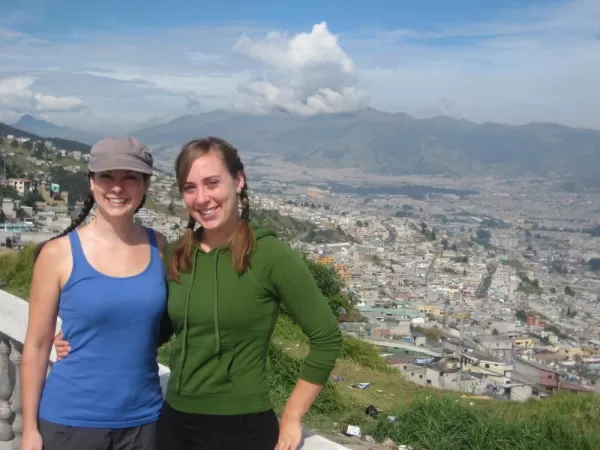 We picked up a local national park guide as we turned off the highway and headed to the registration area. (The bathrooms there were some of the most disgusting I have ever seen in my life!!) We continued to an interpretation area where Luis showed us a map of what we would be doing. We had a cup of Coca tea to help with the altitude since we would be hiking to 4810 meters- almost 16,000 feet - and had just been at sea level yesterday!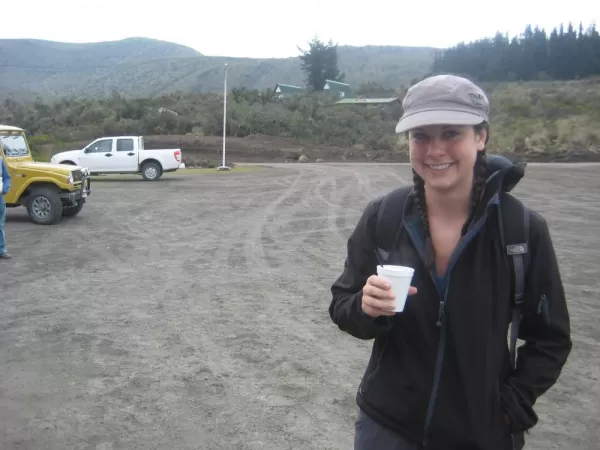 The road was long and super bumpy since it was under construction. The sun was shining on the mountain and we were very excited to get a photo from the top!
We parked the bus and got ready to hike the Refugio Jose Fribasst. It didn't look that far away, but it was almost straight up the mountain.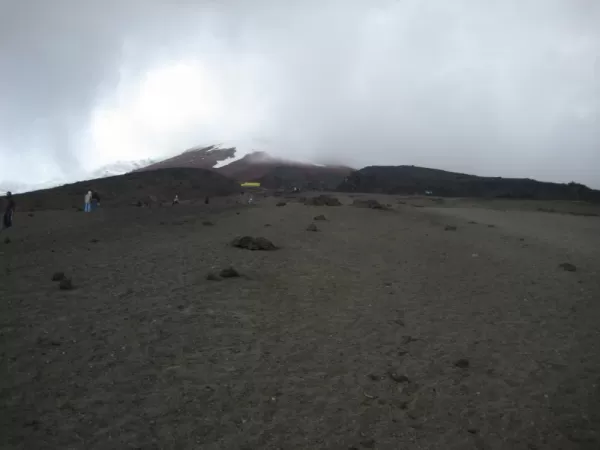 As we started to hike, giant clouds rolled in bringing hail and snow and blocking our views below. The altitude hit harder than I expected. I needed to stop every few feet to catch my breath. The dizziness set in next, which made the climbing so much harder. I felt like every time I blinked it took a minute for my eyes to adjust again. By the time we reached the top, nausea had also set in! We thought we had been super slow, but Luis told us that we made it in about 30 minutes... apparently it normally takes 1 to 1.5 hours! I wish we had known this, we might have slowed down a bit!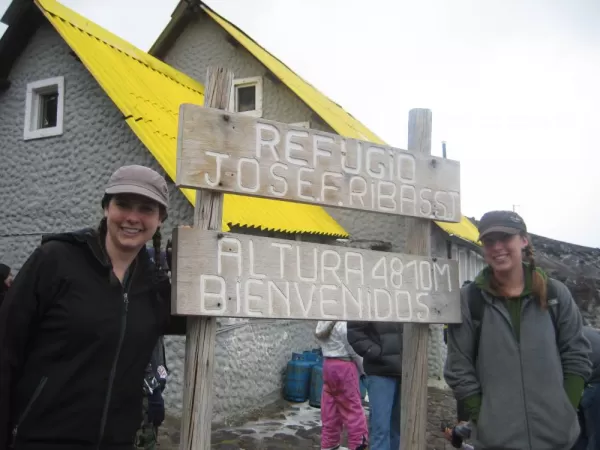 At the top, it was hailing pretty hard and we were in the middle of a thundercloud. The Ecuadorians were all super excited- many of them had never seen snow before since they live at the equator.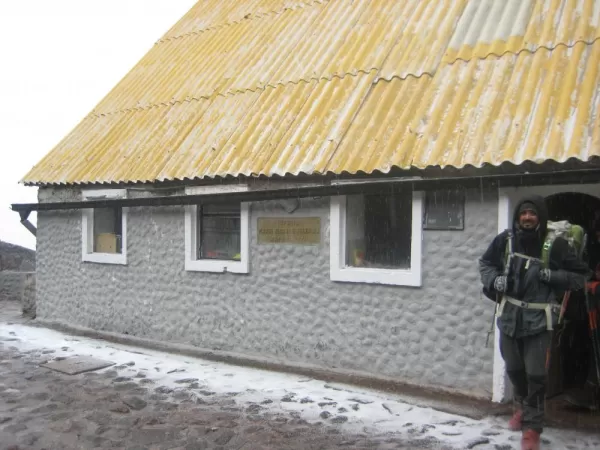 My nausea was pretty bad, so we decided to head back down to escape the altitude, rather than continue on further.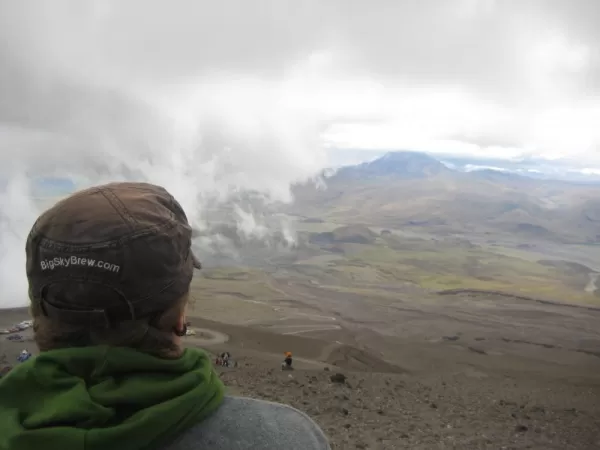 As we got closer to the car, we spotted an Andean wolf. It came to the parking lot to try to get food from the tourists, and many were happy to oblige.
Next, we drove to Lake Limpiopungo to do some more hiking.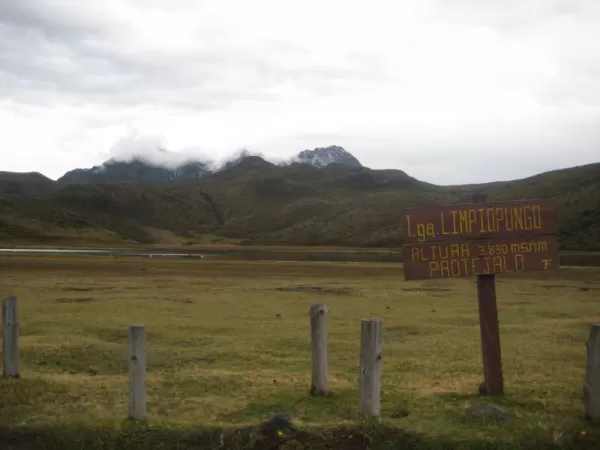 We had the option of just taking photos from the viewing platform or hiking around the lake. We were freezing and starving, but we opted for the hike. It was kind of marshy with low plants everywhere. Our guide stopped every so often to tell us about a plant's uses or have us smell unique ones (one smelled like spearmint, another like chocolate). We saw lots of birds and an Andean rabbit.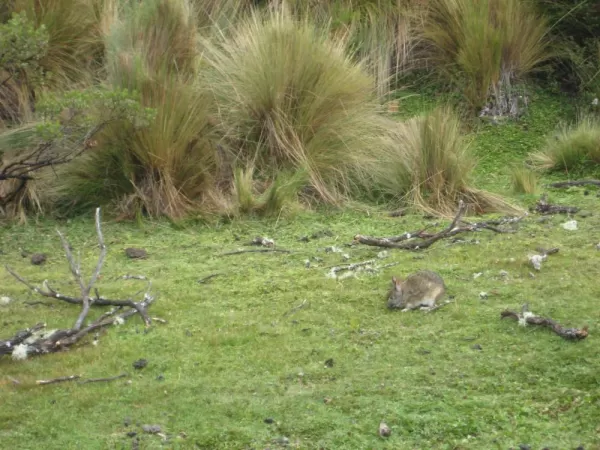 It was beautiful and we were glad we decided to do it.
After the hike, we headed down the long road out of the park and dropped off our park guide at the entrance. We went in search of a restaurant that would serve cuy (guinea pig) but it was father's day and everyone was sold out already. Instead, Luis took us to his favorite local restaurant and helped us order our meals. Amanda and I shared a couple of options that were delicious and had amazing fresh squeezed juices.
On the way back to Quito, we got stuck in a terrible traffic jam which almost doubled our drive time! The drivers here are crazy. We did get to see an amazing sunset over the mountains. I can't describe how much Ecuador looks like Ireland to me. The shades of green are stunning! The only big difference is that Ecuador is warm.
Once back at the hotel, we realized we were super dehydrated and needed to get some water. We set out in search of a convenience store. It was only about 7PM, but the sun sets at 6PM every day, so it seemed much later. Everything already looked shut down for the night. We met a couple from Minnesota along the way but didn't find a convenience store that was still open. We did find a bakery where we bought giant waters and one of each kind of cake instead! We went back to the hotel, piled on my bed and devoured the cakes while watching a little tv before bed.