After finishing packing just after midnight, the 4AM alarm came a little too soon! Groggy and excited, I started my long journey to Quito. My flight from Missoula to Minneapolis was plagued by a 2 hour screaming tantrum compliments of the toddler sitting directly behind me- but my Minneapolis to Atlanta flight was much nicer and I was able to get in a much needed nap.
In Atlanta, I met up with my sister, Amanda, who I had not seen in 7 months. She flew in from Michigan.
We immediately set out to find my favorite restaurant that doesn't exist in Montana- a must anytime I visit the south (Thank goodness it isn't Sunday when this restaurant is always closed). We gorged ourselves on deliciously greasy food and then wandered the airport for a while to stretch our legs.
We grabbed a couple of giant sandwiches for the flight and boarded our plane. The Delta flight was AWESOME- we were bumped to an Exit row and there were dozens of movies, tv shows and music stations to choose from. They also served us giant sandwiches...so...4 hours and 4 giant sandwiches later (that's right, waste not...), we landed in Quito! After going through customs, we were met by Betty and Marcelo (they run our office in Quito). It was so nice to be greeted by such wonderful people after a long day of travel! They drove us to Mansion del Angel, our home for the night.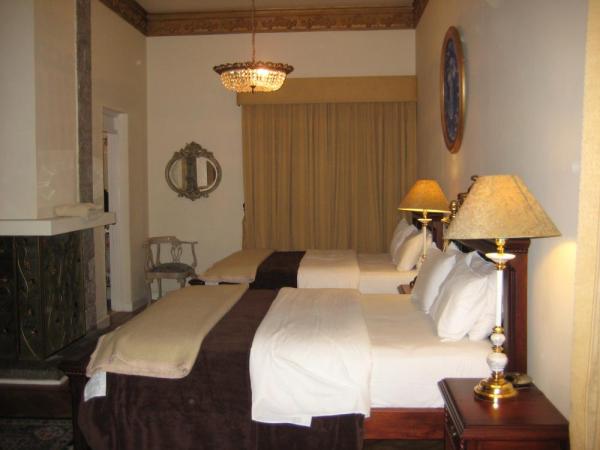 We felt like VIPs as we pulled up to the beautiful hotel and went through the wrought iron gate and up the spiral stone steps. Betty helped us check in (my Spanish isn't what it used to be) and we were shown to our room. The room was fabulous!! Super spacious, clean and very comfortable. There was a fireplace, a living room and a huge bathroom. Our beds even had heated blankets! We were sad to only get one night here!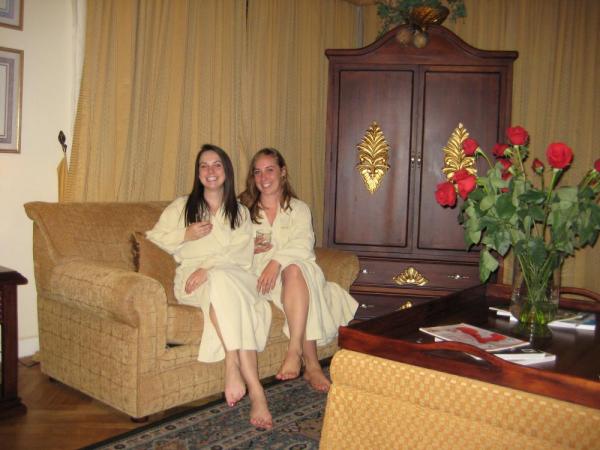 After taking silly pictures of ourselves in the fancy robes provided, we settled in to rest up for our Galapagos flight.