Ros woke us up at 6:00 this morning we could pack and be ready to go by breakfast at 6:30. We ate quickly, said our goodbyes to the crew and brought our bags downstairs. We hopped in the pangas and rode away from the Millennium for the last time. We headed to a different dock tucked in the red mangroves and unloaded there.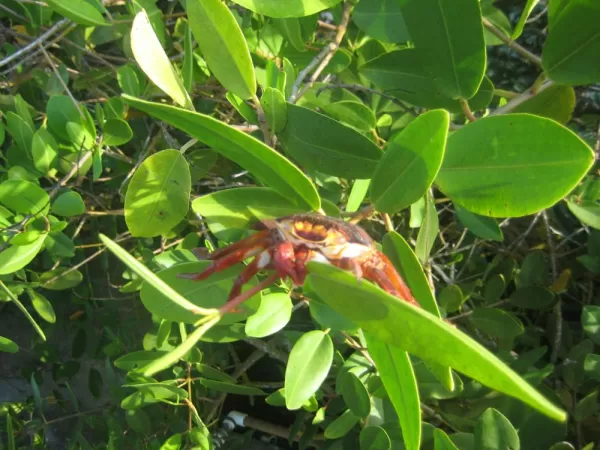 We walked to the Charles Darwin center where we got to see giant tortoises from all over the islands. Some were twice the size of the ones we saw on San Cristobal!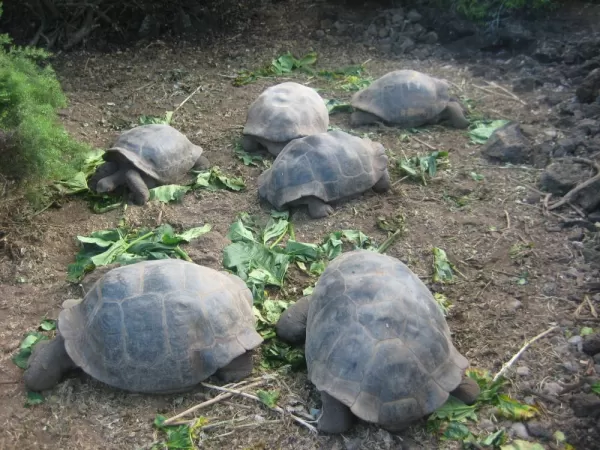 We saw Lonesome George, the very last tortoise of his species.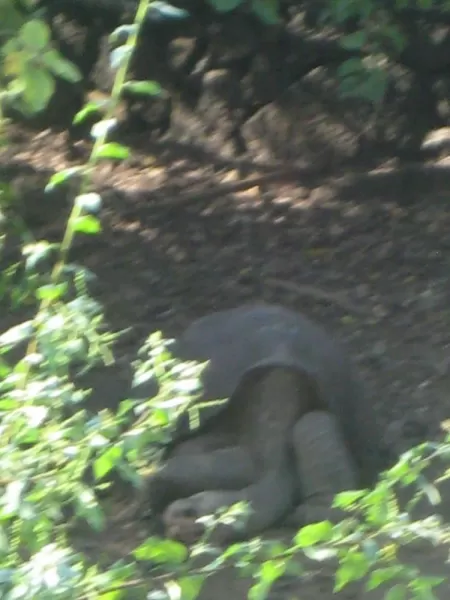 We also got to see the baby tortoises that were hatched in the past couple of years. Some of them were SO tiny and adorable.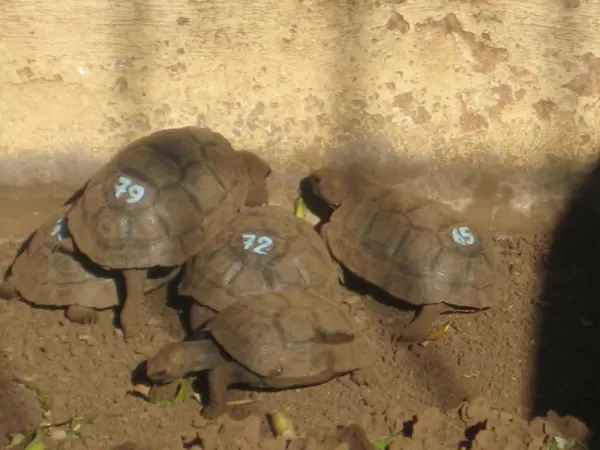 It was already swelteringly hot outside and the sun was beating down on us as we left the station and walked to the bus.
The bus took us to the town center where we dropped off anyone who was staying in the islands. We said good bye to most of our traveling companions and then road for about an hour across Santa Cruz. The island was so lush compared to the other islands we had visited!
When we reached the northern end of Santa Cruz, we hopped onto a ferry to take us across the Ibathaca Channel to Baltra Island and then onto another bus that delivered us to the airport.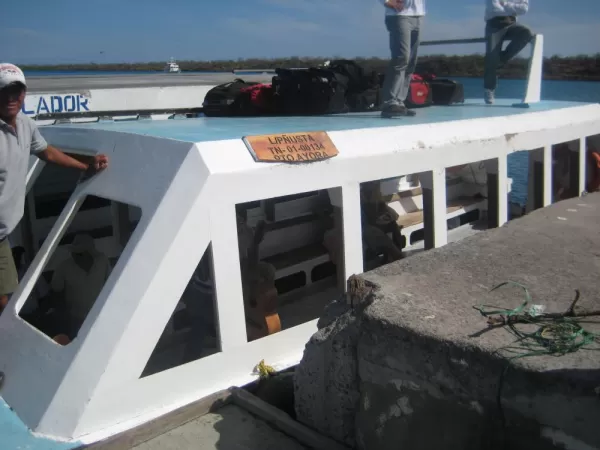 Leonidas helped us check in and showed us where we could get our passports stamped. We had an hour or so until our flight, so we did a little more shopping and then went through security and waited for our flight. It was an open air airport and it was strange to see the planes sitting less than 50 yards away!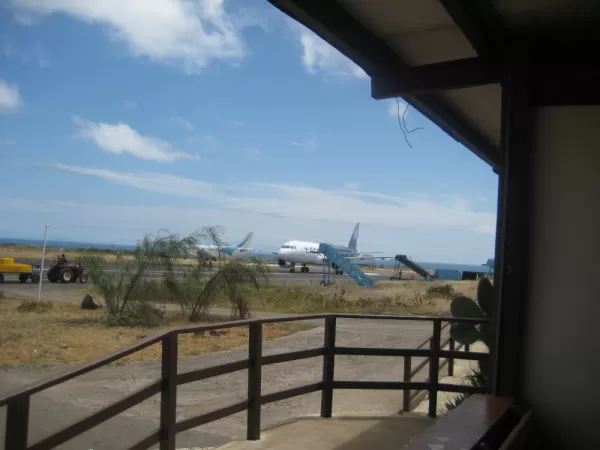 We were on LAN this time and again had an exit row! I passed out as soon as I hit my seat and only woke up long enough to eat the plantain crisps they gave us while watching a prank tv show.
When we landed in Guayaquil, we collected our bags, found our driver by the exit and headed to Oro Verde. They treated us like VIPs starting with the drive! We knew we had been upgraded at the hotel, but we didn't realize how nice it would be! Apparently, they upgraded us to the Executive floor at the top of the hotel and you needed a special key to get there. We weren't even allowed to check in at the normal front desk. We had our own special reception area on our floor, right next to our lounge that had 24 hour snacks, sandwiches, drinks and a whole buffet of desserts.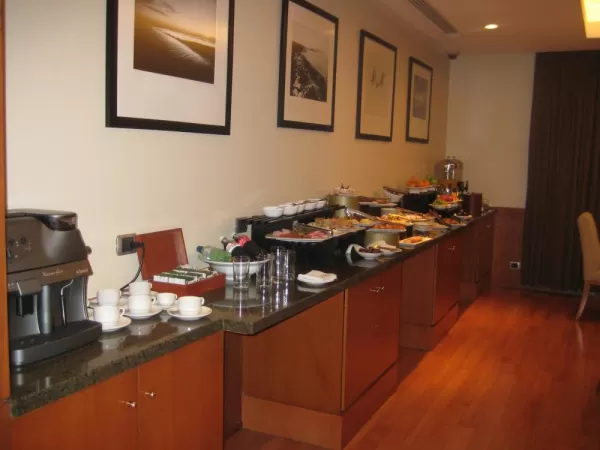 They helped us get settled into our room and even gave us a laptop to use during our stay. We were so out of our element that we might have giggled out loud a few times as they showed us the room! We took advantage of the chocolate buffet and mini bar in our room right away.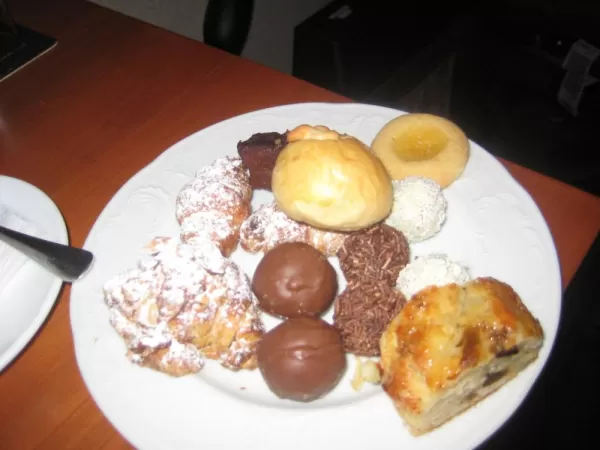 After the cruise, I was excited for a good shower, and boy did I get it! Our room had a GIANT shower with 3 shower heads on the ceiling, 3 more on the wall and a hand held shower head as well!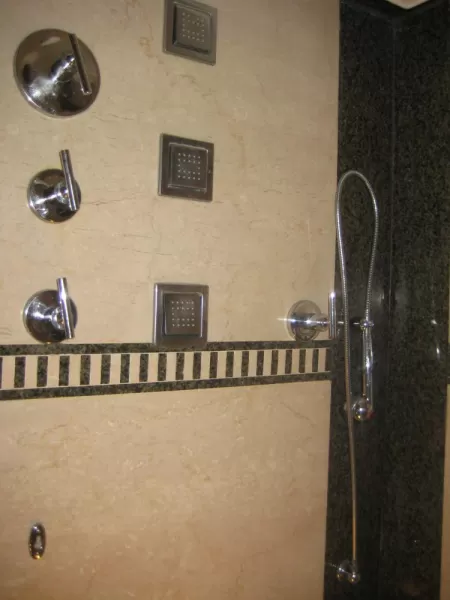 I took an amazing shower and then got dressed up for the IGTOA welcome dinner. The IGTOA dinner was ridiculously amazing. It was big banquet room at the hotel set up with dozens of tables covered in food. There were so many fabulous foods, including crab!!, constantly flowing drinks (the featured drink of the evening was a 'Momma Mia') and an unbelievable dessert bar including a 3 foot tall chocolate fountain!
We mingled for a few hours with the IGTOA members and the hotel staff. The chef came out and took great pleasure in showing Amanda and I each of the different foods and explaining why it was special. The potato cocktails were amazing, but the risotto took the prize! It was made in a giant wheel of parmesean that costs thousands of dollars! As you stir the risotto, bits of the parmesean melt into it! We were so full from all of the savory food that we could barely eat dessert.
Since there were only a few of us there and easily food for 50-100 people, there was so much left over. The owner and chef urged Amanda and I to take some with us. We looked at each other, giggled, and loaded up plates of desserts to carry back to our room!
The one thing no one had warned me about with cruising is how you feel after the cruise. On the ship, we were fine and had gotten used to the rocking. Once we got off the ship, the rocking didn't stop...except that it was just us! I would take two steps forward and another back and everytime I leaned a bit, I lost my balance. The room constantly looked like it was moving and it felt impossible to walk in a straight line. Ooh, I was ready for that feeling to go away!!