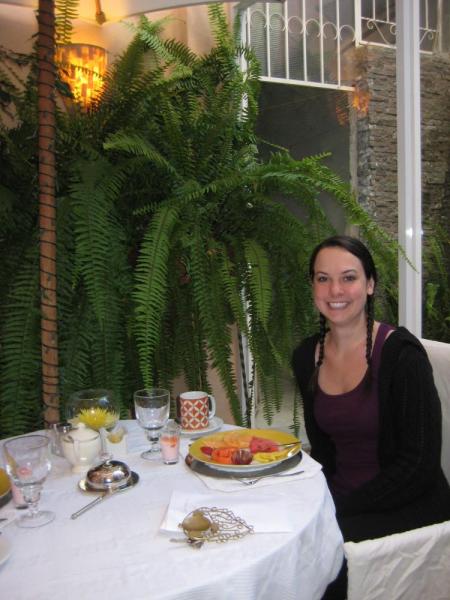 Our wake up call cane at 6:30 today and we got up and enjoyed the nice shower. We went down to breakfast in the indoor patio (beautiful!) and were met by plates of fresh local fruit and a shot glass full of yogurt. While they made us fresh eggs and bacon (yum!), you poked around the buffet spread of cheeses, fancy deli meats, cereal and pastries. We listened to the birds in their cages next to us as we ate. After breakfast we strolled through the small garden area behind the hotel that leads to the spa.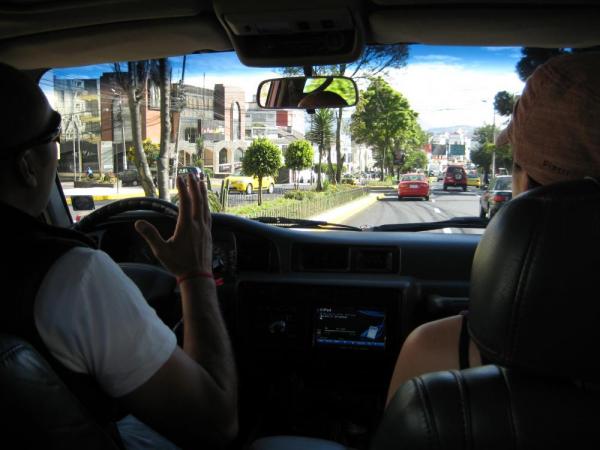 Our guide, Daniel, picked us up at 8:25 and we were off to the airport. Daniel was a lot of fun to talk to and he told us all about the area and its history. He got us to the airport and sent us through security. There are only a few gates and they all share one waiting area. When it was time to board the plane, we actually boarded a bus first that took us to our plane.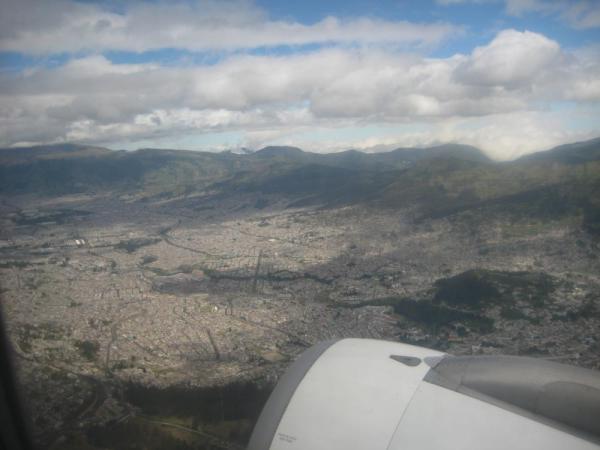 We boarded and flew to Guayaquil, waited in the plane for about 30 minutes while they changed out some passengers and then flew on to the islands. Once in the islands, we went through immigration and then waited as an older man unloaded each of our bags, one by one. After the 'food dog' sniffed our bags, we were free to go. We headed to the doors where we were met by Leonidas, our guide for our cruise. He loaded us on to a bus and we rode to the dock.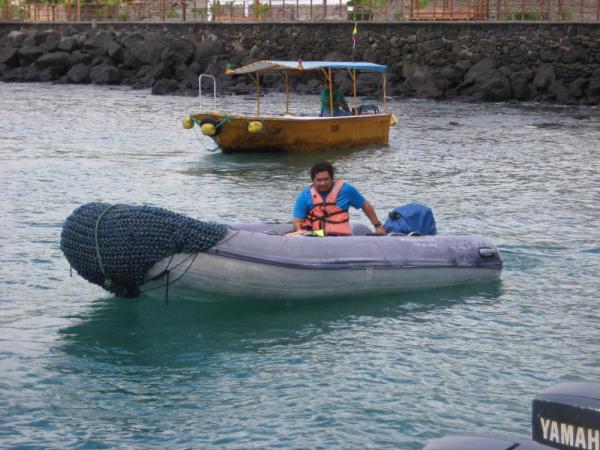 We were apparently the only 2 adding on to the cruise today. We hopped off the bus at the docks and then loaded into a panga for the quick ride to our boat, the Millennium.
Once at the boat, Leonidas showed us to our room- the Owner's Suite - and gave us brief safety instructions before bringing us down to lunch where we met the rest of our traveling companions. There was a grandmother and granddaughter from Ohio (Adventure Life travelers), a couple from Sydney and the rest were Israelis in their early 20's. Lunch was some tasty fish, potatoes, fruit and veggies. During lunch, Leonidas explained the plan for the afternoon. We changed into walking clothes and hopped into a panga.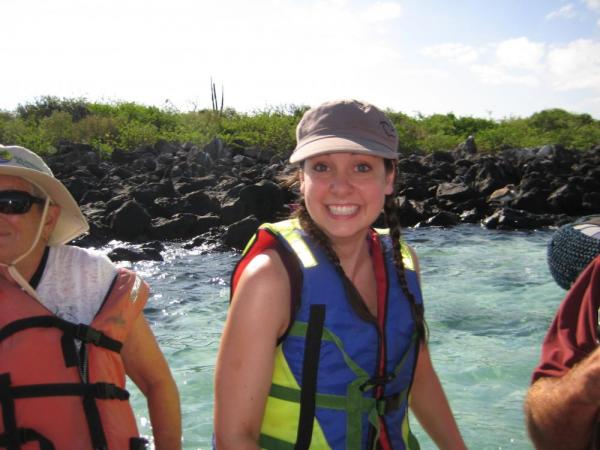 We first set out on a panga tour to check out birds and other critters along the cliffs. Within minutes, I saw my first sea lion- I was like a little kid at Christmas!! 15 minutes into the ride, I saw sea lions chasing our boat, blue footed boobies resting in the trees, frigate birds puffed up trying to attract a mate, and Sally Lightfoot crabs dotting the cliffsides. All the things you hope to see in a week, and we saw them in the first few moments of our trip!!!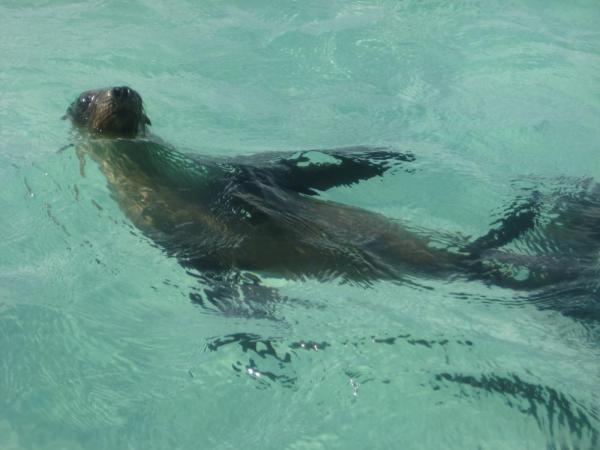 Leonidas took us to a few nesting sites for the frigate birds and boobies, so we saw plenty. There were dozens of sea lions who kept curiously coming up to play with us in the panga and all the while we were surrounded by a flock of blue footed boobies and a pelican that kept diving into the water in masses to try to fish!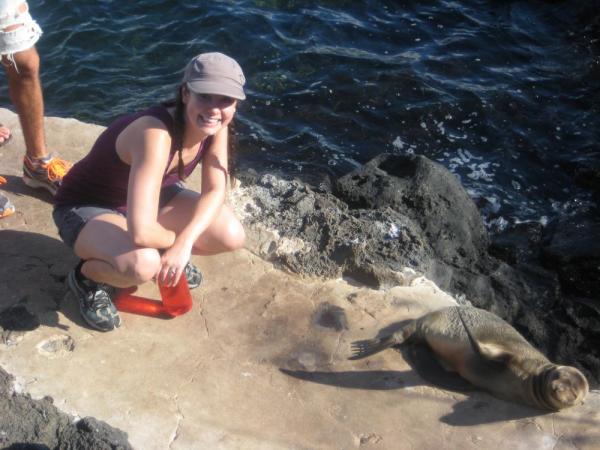 We finally pulled ashore by a rocky dock and got out for a walk. We walked along the rocky shore for about 40 minutes, stopping to watch baby sea lions play, male fight for dominance on the beach and marine iguanas saunter by. We had to constantly move off the trail to make was for blue footed boobies nesting on the ground and protecting their eggs.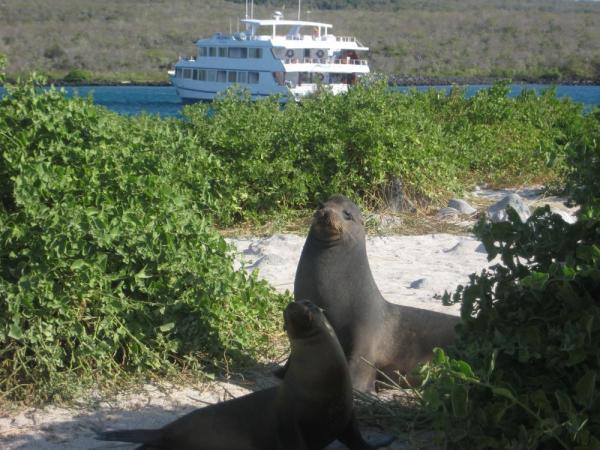 On our way back to the panga, a male sea lion tried to advance on the group a few times. Leonidas jumped to our defense and had to smack him with his hat to get him to back away.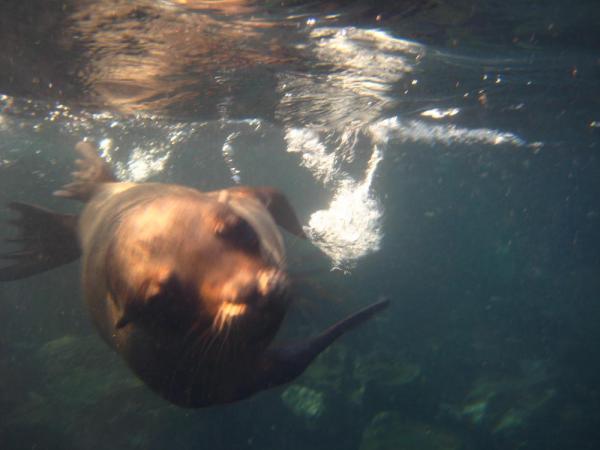 We returned to the boat and suited up for snorkeling. They brought us back to the area where we had seen all of the sea lions and dropped us off. It was AMAZING!!! All of the rumors proved true- those curious sea lions wanted to play! They would swim right at your face, upside down, until they were nose to nose with you, and then, at the last second they would dive down a bit and swim right underneath you, blowing bubbles up at you. They loved my camera and it almost seemed like they were posing for it, constantly swimming right up to it(I am SO glad I bought an underwater case!). It was such an UNBELIEVABLE experience!!
We stayed and played with them as long as we could, barely even noticing the colorful fish, and then climbed back into the panga and returned to the ship. Before changing out of our suits, we joined the Israeli boys in ''cliff jumping'' off the top deck of the ship into the ocean.
After a quick shower, the dinner bell rang and we practically ran to the tables- we were starving! Before dinner, we all sat in the common area while Leonidas explained the plan for the next day. Dinner featured chicken, shrimp, potato wedges, salad and fruit. For dessert we had a toasted caramel flan-type thing.
After dinner, most of the travelers gathered in the common area to watch a movie so my sister and I decided to join them. I lasted about 5 minutes into the movie before falling asleep! We both woke up as the movie ended and headed up to bed.