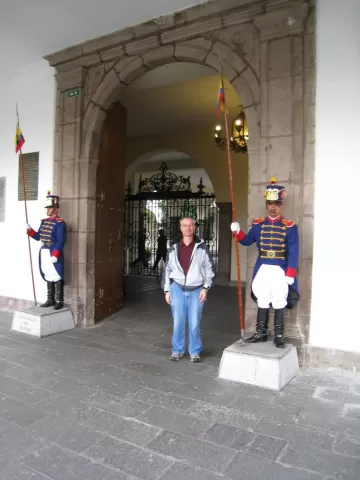 This morning our wake up time was 5:30. Our wake up call is a knock on the door and a pleasant "Good Morning.". Julio told us we needed to rise early and hope for no rain or sun so we could see the birds in action on the Canopy Walk. It sprinkled intermittently, but from two of the towers we were able to see a variety of birds in the distance. We probably wouldn't of spotted them ourselves, but with Julio and our Native guide, Angel, they seemed to be able to pick them out by bird calls. The best sighting of all was two toucans. When I think of the rainforest, I always think it will be just like The Great Kapok Tree, with wildlife everywhere for me to see. I wasn't disappointed because I thought just being up in the canopy walk was exciting, climbing up to the top without any problems (I did count the steps on the way down but I'm not going to tell you how many), and when we descended, waiting to flutter by in a grand show was an iridescent Blue Morpho butterfly. Spectacular!
Enjoying our snack after our morning hike, Julio came in and asked if we saw the monkeys. "What monkeys?" we exclaimed and zipped out onto the boardwalk, followed the sounds, and came upon Spider and Black monkeys, up close and personal, jumping from tree to tree over the boardwalk. It was non-stop entertainment. Spectacular again!
After lunch we were waiting in our cabin for our canoe trip along Anaconda Creek. Resting on the back porch, we heard a commotion in the jungle that sounded just like the monkeys from the morning. Following the sound behind our cabin, our third spectacular of the day. We spent 20 minutes watching spider monkeys all around us. Some were high up, some lower, and crossing right by like we weren't even there. What a high! Later we had no luck spotting Anaconda's, but it was peaceful and beautiful, especially with a light sprinkle of rain hitting the water.
On the night walk tonight I found that Angel is one amazing wildlife spotter. Especially great was the teeny frog on a giant leaf.
Tomorrow morning is up at 5 am. I'm wiped out.