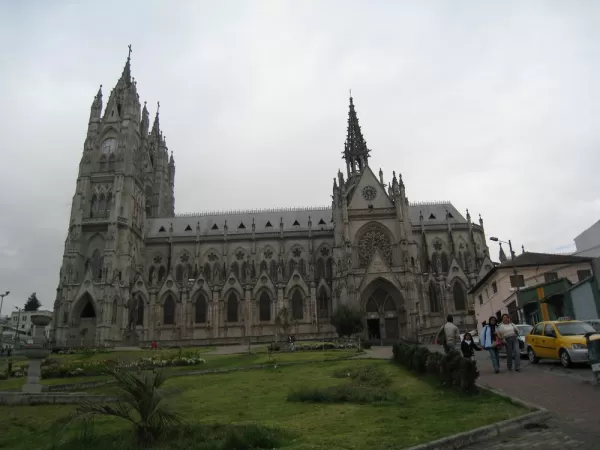 I've never been to South America before and that made today and the start of our vacation all the more exciting, giving me the adrenaline needed for the getting up at 4 am for the first leg of the journey. Now that we're here, looking forward to the next two weeks sends shivers up my spine.
The first two flights were perfect, on time and smooth. Just one small problem in Miami; everyone was in their seats but workmen needed to fix the door in the ceiling that holds the life boats so it wouldn't clunk open during the flight (you learn something new everyday!). The Captain apologized and stated it would only take about ten minutes to fix. Everyone clapped for the workmen when, sure enough, just ten minutes later they head down the aisle, job completed. Then mysteriously, then plane still didn't move. The Captain came back on the intercom to apologize profusely; it seems that no grounds crew had been assigned to our plane so we were all on the plane but our luggage wasn't. Loud moans erupted and passengers peered out the windows, maybe in hopes of encouraging the missing grounds crew to appear. An hour and a half later we were finally cleared for take off. Always have a good book along for just such situations.
As soon as we were level, the drink cart came down the aisle. Surprise! One free drink of each passenger's choice. I had water anyways. The flight grew from bumpy to really bumpy to extremely bumpy. The captain came on repeatedly to ask passengers to stay in their seats. The stewards/stewardesses buzzed up and down the aisles reminding passengers to please sit down; then, "You need to sit down!" They must have been pretty frustrated because the Captain came on and gave a small but serious talk about the dangers of flying in turbulence for passengers who are not doing what they are supposed to be doing. He ended with, "If I need to, I will come back there and make sure you are staying in your seats." I have to admit, I had a small chuckle and thought he sounded just like me when my children were little and I was frustrated with their behavior.
In Quito, they had a great system for going though customs, better than other countries we have visited. From the organized line, a small screen directed us to the next available agent. It went pretty fast until we reached the other side and a line that resembled a massive blob, waiting to have a heat sensitive picture taken (at least we think that is what is was because the person coughing between Jon and I was sent off to another area). I clicked into my teacher mode, and started thinking of how to organize all the people to get in line without blobbing in. Of course, I told Jon my thoughts and he kindly reminded me that I was on vacation and I should leave it alone. Good idea, I'm going to remind myself on the rest of the trip if needed.
In the blob line, I was thinking of the poor driver who was waiting for us with our late flight. Coming out we saw the "Curti" sign, and behind it a welcoming smile. In the packed crowd waiting, tired from a long day, and speaking little Spanish, she was a breath of fresh air. The driver loaded up our suitcases and on the way to the hotel, Valerie told us about Quito. She got us checked in to the Hotel Eugenia, where the last thing I remember is falling asleep to the music of the drive by band on the bus.