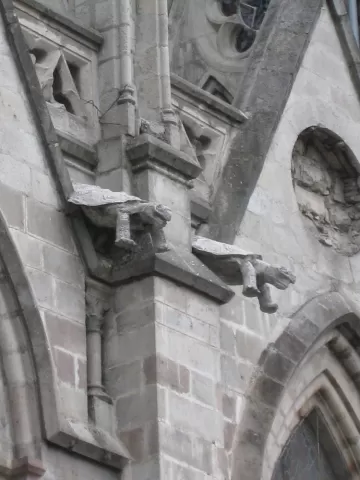 This morning our tour guides picked us up for our trip to Sacha Lodge, dropped us at the airport after connecting us with the Sacha Lodge representative, who got us organized, told us the airport and Coca were closed so we would be flying to Lago Agrio and taking a bus to Coca, pointed us in the right direction for our flight and off we went. The next challenge was trying to figure out when our flight was going to take off. With the help of another traveler we met on the van, we learned the passengers had already boarded and we had to hop on for a short bus ride to our plane. On arrival, the plane was only about half full. About 20 minutes later, the rest of the passengers arrived – seems they had not understood when the plane was boarding either. The flight was smooth, the attendants were helpful and efficient, and the box lunch was tasty and there was no charge. Jon and I thought that perhaps some of the American airline companies could learn from the Ecuadorian companies.
The one stall for each sex bathrooms had long lines while we waited for our luggage. Onto the toasty bus and off we went. The beginning of the ride was hilly, filled with curves, and marked with a yellow line. After two petroleum trucks with large FLAMMABLE signs on them passed us on a hill and corner, I became grateful to have a side window to look out of. About halfway there, the land became flatter and small towns filled with colorful adobe or concrete buildings appeared. Large oil company complexes that seemed out of place from the rest of the buildings were near some of the towns. At first I found myself slightly grumpy at having to take a bus but found it was almost like a gift. It offered me a glimpse into the countryside in the Amazon area, something I would have missed completely if not for the bus ride. Houses were on stilts for protection from the critters that live around them. Many houses looked to be one room, some with no windows, some with bars on the windows. Colorful laundry was flapping on the line and along the roadside snaked an oil pipeline. We recognized corn growing as one of the crops, some homes had the most beautiful flower gardens, and chickens dotted yards with chicks racing after them. But most of all, it was the children. Three kids were working together with a stick three times taller than they were to get something out of a tree. One kid was swinging another in a hammock. Ahead of us in a delivery truck with an open bed were a group of five children riding in the back. They were perched on different items in the back and I was worried they might fall out. They had a system down pat, what to grab when there was a curve or a speed bump, and there were a lot of them. They were engaged in a cheerful conversation, smiles lighting up their faces and lots of laughter. At a police checkpoint on the road, I looked up and they were gone. As we inched forward for our turn at the checkpoint, I would see part of a head pop up and quickly down again, then another head. They passed through the checkpoint, and two seconds later they resumed their same positions. When our bus passed them on the road, they all smiled and waved to everyone.
We arrived in Coca, had a quick lunch, and boarded the motorized canoe for our trip down the Napo River to Sacha Lodge. I found myself amazed that the whole way there, the river was so incredibly wide. River traffic included other motorized canoes, small canoes paddled by families or children, and barges with trucks and supplies. About an hour into the trip we heard a clunk, felt a jerk, and shortly thereafter pulled up at a sand bar along the river, and off came the motor. Quite skillfully and looking like they had done it before, two of the three Sacha Lodge employees in charge of our trip had the motor repaired and we were back on our way in a short time.
We pulled up to the Sacha Lodge dock about two hours later and had our first rainforest hike. It was only supposed to take about 20 minutes, but most of us kept stopping to take it all. As small groups arrived at the dock, we were helped into a flat-bottomed canoe with small chairs with backs (quite comfy), and one host began paddling us down a small canal. Except for the music of birds and the dip of the paddle, it was totally silent. We were all savoring the beauty and experience. The canal opened up into a large lake, and we caught a glimpse of the thatched roof of Sacha Lodge. It can only describe it as magical.
We were welcomed into the lodge with jungle juice. After a short orientation, we headed off to our cabin, complete with a great porch with a hammock. We once again found ourselves saying, "Can you believe this is so great" even though we had read about it and seen pictures online.
Waiting for dinner, we met some of the other guests on the dock and enjoyed the sun, view, and conversation. I had my journal along, and wrote down all the great ideas for trips to go on in the future from the travel information from others. As the sun set, bats swooped out of the sky catching bugs, and we learned how to identify the southern cross in the sky. We met our guide, got fitted with gumboots, and had dinner with our group, Thumbelina, Karen, Jon, myself, and our guide, Julio.
As we got ready for bed, our conversation circled back to how incredibly lucky we thought we were to be here.