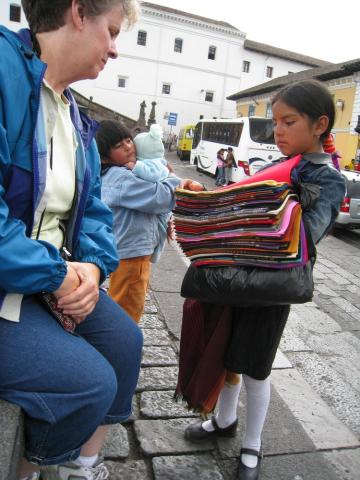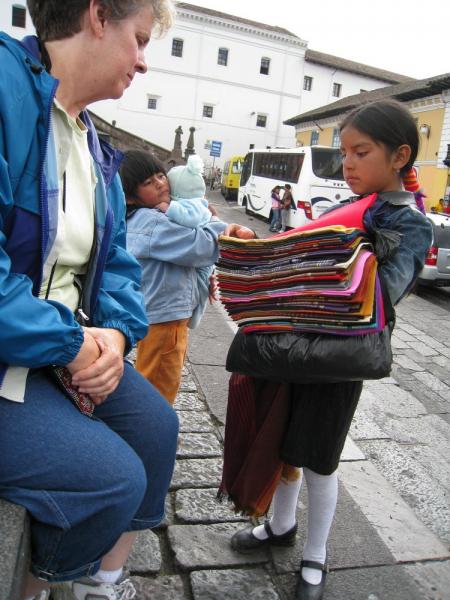 This morning we woke up to a steady downpour in the rain forest. I found myself thinking that this was great, it should rain in the rain forest. Yesterday was so sunny it was hard to imagine that it was a jungle – so much for another one of my preconceived notions. Over breakfast the rain slowed to a sprinkle, and by the time we reached the other side of the lagoon on our way to the Kapok Tree Tower, we only felt the drips from the trees. For an hour we saw brightly colored yellow, turquoise, and scarlet birds, eating the seeds from the strangler fig that will slowly kill the kapok tree in the next 70 years. What we thought was a termite nest in a tree turned out to be a wasp nest with a lot of action going on. We saw dark, ominous looking clouds approach, rain began, and within seconds it is a downpour. Angel had to bail out the canoe. The downpour continued on the 25 minute ride back to the lagoon with Karen bailing out the canoe. Even with ponchos, we were soaked through. Reaching the lagoon, the rain lightened, and as we stepped out of the canoe it stopped. Fifteen minutes later the sun was shining. Heading back to our cabin to change into dry clothes, we stopped to look at the raindrops glistening from the plants. With him so close by, we decided to visit the pygmy marmoset but he wasn't out. While we waited for him, two capybaras came through, playing a game of chase. There are big puddles on the way back to our cabin and as we stood in a puddle watching, thousands of ants scurried up and over the buttresses of trees, leaves and logs, following an ant superhighway route. We wondered if they were trying to get away from the puddles or something else.
It felt great to peel off our soaking clothes and hang them out on the clothesline. We have little hope of them drying.
In the afternoon we went back to feed our pygmy marmoset addiction and were rewarded with him being down close to the ground. Later, we headed out for a late afternoon visit to the canopy walk. We saw fewer birds than we saw the first time, but many rainbows. The best part was the hike out through the puddles. I learned just how great those gumboots were. We stayed a bit too long, and by the time we were down from the tower, night was closing in. It was a slow hike back to the lodge. Luckily Thumbelina and Angel both had flashlights to help us out.
Tonight we pack up our soggy clothes to get ready to leave at 6 in the morning. I find myself wishing I would have taken more videos of things I learned about to take back to my students. I will try to do that in the Galapagos.