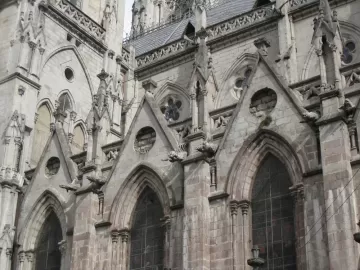 Last night we tried to go to bed at 9 pm but the band bus circled the block about every half hour with vibrant music and honking horns. To our surprise the phone rang in our room at 9:45. It was Betty from Adventure Life telling us our pick up time was at 3:50 am. I thought I didn't hear her correctly so I repeated it several times. I hung up the phone with relief, another half hour of sleep.
In the car on the way to the airport the streets were empty. Some cars beeped their horns and went right through the red lights. Ever wondering, we asked our driver why there weren't flashing yellow lights. He replied that at this time in the morning, people are worried about being robbed while stopped. Jon told him to feel free to go right through those red lights.
At the airport, everything was humming. We headed through a helpful check in and sat in the waiting room, exhausted from rising and sad to be leaving. From the window we saw the Andes and a great view of snow-covered Cotacoxchi with the sun rising behind. As we took off from Quito we had a clear view of more snow-covered peaks and fog-shrouded valleys. We picked out the Winged Virgin on the hill, looked back to see the Basilica, and thought of the first day our Ecuador adventure began.
I feel I have learned and seen so much but have so much more to learn and see. It truly was excellent.
On the flight from Miami to Chicago we met a man who works for a credit union in Wisconsin and was in Ecuador and Peru working to set up credit cards. He told us that Ecuador has had 13% inflation and people are really struggling. My heart sank when I thought of everyone out there like westerners saying charge it. A great part of the beauty of our trip to Ecuador is that it wasn't like home.
First stop at home was our list of vacation dreams. We checked off Galápagos and Amazon and added five more.
Wednesday, July 22nd
Today I delivered my Post Office Bay Galápagos postcard to an address on Gorham Street in Madison. I hoped the person would be home and the person who sent the postcard would be visiting so I could meet him or her and they would tell me about their trip to Ecaudor. I was disappointed when they weren't there. I can see that it won't be easy to get over such a fabulous trip.
TRIP ADVICE
1. Look for an open post office right away. I bought postcards to mail and sent them when I got home because I couldn't find an open post office. Postage runs from $2 to $5 depending on where you are mailing from.
2. At Sacha Lodge, always bring a flashlight on 4 pm hikes even if your guide doesn't remind you. It gets dark quicker at the Equator than at home in the Northern Hemisphere, and especially dark in the jungle.
3. If you want to try to avoid seasickness on the Millenium, sit on the deck in front of the Captain, look at the horizon, and breathe in the fresh air.
4. Bring slipper socks with grips for walking during rough seas.
5. If you have children, read Nim's Island by Wendy Orr together. I haven't seen the movie version, but I know the book is better. It will give you all a great reference for frigate birds, seal lions, marine iguanas, and volcanic islands.
6. To pack we brought a duffel bag folded up inside one of our suitcases. We used it as our second suitcase on our trip when we left behind a larger one at the hotel. It can also be used as the soggy, smelly clothes suitcase.
7. We brought older clothes and purchased inexpensive clothes at Goodwill for our trip. As we wore them, we left them behind. This made room for all of our purchases and we actually ended up with lighter suitcases going home than when we came.
8. Jon bought a pair of prescription goggles on ebay for about $30. We had checked in advance to see if they had any on the Millenium and they didn't. Other passengers were disappointed at what they couldn't see.
WATCH IT ON YOUTUBE
To watch video clips of wildlife and experiences from our trip go to youtube and type in the same title as this journal title or go to http://www.youtube.com/watch?v=XZRpem4YCQw
August 22, 2009
The postcard I sent from Post Office Bay was delivered to my mom on the 15th - exactly five weeks from the Galapagos to Madison, Wisconsin. She wasn't home at the time, but asked other residents of the retirement community she lives in if they knew who delivered it. Turns out a "nice young couple" tried to find her to deliver it in person - they really wanted to talk about their trip! More travelers with an excellent adventure!