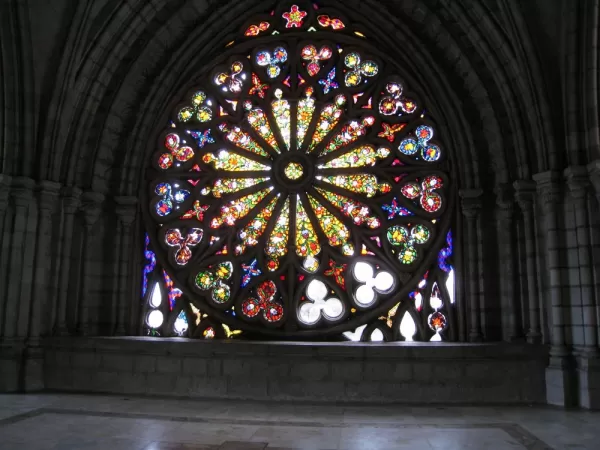 Alex, our guide for our tour of Old City Quito picked us up at 8 am. We hadn't stepped three steps out of the hotel when a older man with the most sincere smile stopped us with a friendly greeting in a combination of Spanish and English, took a small wrapped package out of his shoulder pack, and began to describe the scene from Ecuador painted on sheep skin. It truly was wonderful, filled with bright colors and small details, and seemed a good price. I felt bad when I decided I was sure to see more of the same in our travels and shouldn't jump into buying so quickly.
Out first stop was an overlook over a valley. As we viewed the scene he filled us with background knowledge about Quito and Ecuador. I found the information quite interesting, especially about one of Ecuador's main exports, roses. He explained that except on Valentine's Day and Mother's Day, roses can be purchased for a dollar a dozen. Since our anniversary is coming up, I mentioned to Jon that it sounded like a great time to buy roses.
After a short trip through the "newer" part of Quito, we arrived at the Basilica of the National Oath, built starting in 1892. We were surprised because it looked so much older, perhaps because of the style. The stained glass and building was beautiful inside, but the neatest part were the gargoyles, which were all the animals native to Ecuador. We spotted penguins, tortoises, iguanas, dolphins, anteaters, and monkeys.
The next stop was the Presidential Palace. After a few words with the guards, we walked right up to the front door! We were amazed as we had just visited the White House last summer and the security check was vastly different. I took Jon's picture with one of the guards at the door, who held their position much like the guards at Buckingham Palace. The guard was dressed in the uniform they wore from the time of their independence from Spain. Inside the door was a courtyard closed off with an iron gate, but we could still peer inside and see a meeting going on.
As we walked through the city we learned more about the rich history of Ecuador, the Inca influence, and their struggle for independence. We were surprised to learn that in the last 12 years there have been 18 Presidents, one serving for as short a time as an hour! We stopped to see Lady Liberty in the park across from the Presidential Palace, honoring their independence, and saw what looked like a number of small shops in the ground level of the Presidential Palace. When we asked Alex, we learned that because the old part of Quito has been designated a Unesco World Heritage Site, the outside of the buildings cannot be changed. In order to earn money for building upkeep, small shops are rented out in the lower levels of government buildings and churches. In a nearby museum of religious art, we saw beautiful paintings and statues from the 18th Century. Admiring the shine, Alex told us that the statues were polished with the saliva of a person and the bladder of a lamb over and over. It made me think more than once I had come to Ecuador mostly to see wildlife, and found that I was fascinated about what I was learning about their history.
Our next stop was the Church of the Compania of Jesus, built in 1605 and taking 160 years to finish. Everything was covered in gold leaf, which I usually think of as gaudy. But it wasn't, and I found myself enjoying just sitting in one of the pews and soaking in the details and the beauty. Taking our time as we wandered through, we stopped to look in the mirror near the altar, which makes it easier to see the domed ceiling. I felt like I was in a Harry Potter book, having dipped my face in and being transported to another realm through the pensieve. We stopped to look more closely at the statues that wore dresses. Alex told us that they were mass-produced in the 18th century and had only a head, hands, and feet. Here, they wore exquisite brocaded velvet dresses, made by nuns and stitched with silk and gold threads. Before we left, we stopped near the front of the church and Alex had us look at the back entrance. Our challenge was to find what was not symmetrical. Jon discovered it pretty quickly, but I'll leave the I Spy Mystery for you to discover the secret of when you visit.
Our next stop was driving up the crooked streets to the Statue of the Winged Virgin, itself beautiful, but also offering a spectacular view of the rooftops and expansiveness of the city of Quito.
Our morning tour over, we asked to be dropped off back in the center of the old city to have the afternoon to explore. We spent our time wandering the streets, stopping in small specialty shops like the plumbers or kitchenware. On the street, a young girl of about 10 was selling scarves, and I stopped to look at what she was selling, but since I don't wear scarves, apologized, saying no. In some of the little bit bigger stores, Jon was amazed that they would sell everything from washers, dryers, stoves, strollers, dishes, stereos, air compressors, and motorcycles. We went back to the Plaza San Francisco and sat on the steps, watching small children holding hands, filling their other hands with birdseed, and dashing off with smiles on their faces to feed the birds. Ice Cream was sold from a cart, with the cones made and resting on a chunk of dried ice. The same scarf seller found me, and with great, but polite salesladyship, said, "Please, nice lady. Would you like a scarf?" Then she showed me the colors available, "Blue, red, green, black…only $3." Jon thought it was pretty funny and suggested I take up wearing scarves so I picked one out. I handed her a five-dollar bill but she only had one-dollar change. So she quickly explained something to me in Spanish, of which I understood nothing, pointed to a group of people sitting on another set of steps, set her bag of scarves down by my feet and ran towards that group of people, returning quickly with my change. I put the scarf in my jacket pocket, and just a few minutes later was approached by another scarf seller, who I recognized as part of the scarf seller family. I took my newly purchased scarf out of my pocket and explained I had just bought one, and with the best smile on her face said, "Nice lady, you would like to buy one from me too." It was very tempting. I asked the family, who, dressed in traditional clothing, were busy knitting, winding yarn into balls, and selling scarves, if I could take a picture of them. They looked like they had such wonderful family spirit. I almost wished I could just sit down with them and work on what they were dong. Only $1 for a picture, a bargain.
We wanted to get more pictures of the gargoyles at the Basilica, so headed back up the hill. We noticed there were people in the towers, found out how to get there, bought tickets, and started up the steps. After a set of steps we came to a landing that led us to the wood bridge with rope handles which is over the curved ceiling but below the roof of the church. Then we climbed up a ladder, now we were roof level. To reach the spire was two steep ladders higher. On the spire platform felt like we were blowing in the wind, but what a view! Another visitor told us we could climb the other tower and how to find it. We went back across the ceiling, climbed spiral staircases and three sets of ladders (inside this time) were at the top and got to ring the church bells. What a fantastic place!
Back down the hill we stopped in at a grocery store for snacks. Water was 16 cents! A street musician was playing a pan flute hooked up to speakers – beautiful.
Alex had told us to make sure we took a taxi from the taxi stand he had showed us, and that it must have the red taxi emblem on the side. Back at the taxi stand, there were no taxis and no stand. It had been replaced by police cars, about 25 police officers with shields and batons, and the metal barriers I have seen put up for crowd control. It became more apparent to me I should have learned more Spanish when we asked one of the police officers where the taxi stand went. He was so gracious as to find another officer who spoke English and flagged down a taxi for us. Twenty minutes later and for only $2, we were back at the Hotel Eugenia. Outside at the stoplight I stopped to watch a juggler who was entertaining drivers as they waited in traffic.
We quickly packed our suitcase for the Amazon and headed out to look for a restaurant. Just a few short blocks away, we found Adriana Mariá Romero Valarezo. We didn't speak Spanish, the waiter didn't speak English, so we smiled and nodded our heads a lot, and had a great dinner.
I love it here and wish we could stay longer. In the old part of Quito, it looks like everyone appreciates what they have and the smiles are contagious.