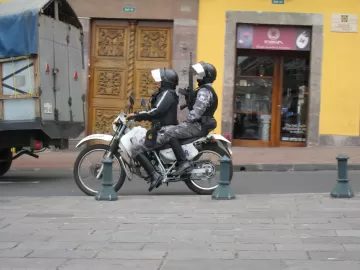 This morning we opened the curtains and found peacocks looking back at us. We decided to walk around the grounds again in the daylight and found we wished we had come earlier yesterday. If gave us a sense of tranquility.
Our gracious hosts/hostesses directed us to another dining room for breakfast. In it was a giant fireplace taller and wider than we have ever seen. The walls around the windows were two feet thick. We were in the older part of the Hacienda. Our breakfast discussion was thinking about life during the time of Simon Bolivar and thought it would be fascinating to read more about it.
Valerie was waiting for us when we returned so we grabbed our bags, admired the giant lock on the front door one more time, and waved goodbye to one of our hostesses. It felt like family was waving goodbye to us.
Our first stop was in a little village near Otovalo named Cascade de Paguche. We drove up narrow stone streets past well-kept adobe homes nestled closely together with a lot of dogs wandering the streets. Many of the vendors who bring goods to Otovalo Market live and work here and we visited a family. They had a store in their home and a workshop in the basement. One of the women showed us how the loom works, made yarn from alpaca fur, and showed us all the things from nature they used to dye their yarn, breaking open seeds and coloring the yarn. Our hostess wore traditional clothing that represented her indigenous group. It was intricate and beautiful. We learned that the hats of their traditional clothing meant that they were from a certain religious group and that during the occupation, the Spanish used this as a type of discrimination. In the Otovalo area, men traditionally wear their hair in a braid down their back. If they do something wrong, their braid is cut off. Now that's peer pressure. We also learned a little bit about a shaman's medicinal cures, focusing on natural medicine and added to our list to learn more about. I loved learning about history and traditions.
Otovalo Market was packed with vendors, but not many customers early in the morning. My plan was to look at everything first before I bought anything. It worked for about two rows of vendors. Jon pointed out to me I would never remember where everything was and I needed to find out the prices so I could compare so I started asking which led to dickering over prices and we were hooked. Our first purchase was a Panama hat for Jon to replace the hat lost at Sacha Lodge – only $12 down from a starting price of $18.
The vendors were always polite, always complimentary, I was called "beautiful lady" a lot, and always willing to negotiate. Mostly we paid about 60% of asking price. A few vendors wouldn't negotiate, but had started at a fair price much lower than others to begin with.
As we wandered through we watched embroidery floss bracelets being made with lightning speed and sweaters knitted. I now wish I would have asked one of the bracelet makers if I could film them – it was amazing to watch. The vendors saw Jon as a good target for buying. Maybe it was all the bags we were carrying, but I would turn around and he would have another coat on and be saying, "What do you think?" with a big smile on his face. The vendors would have another one in another color or style ready for him to try on. He loved to negotiate. We left the market after three hours, not quite getting through the whole thing. I could easily have spent twice that amount of time.
Before lunch, we drove to Cotacachi Volcano National Park. It reminded us of Crater Lake in Oregon. There is a 14 km trail that goes around the lake that looked like a great place to hike. We hiked up the path for about 10 minutes and really noticed the elevation change effect on our lungs – it was 3,450 meters high. Our home is only about 1,000 feet above sea level, and that's over 11,000 feet! One of the best parts of driving up to the park was what we saw on the way. Small groups of people dressed in traditional clothing were walking up the hill, a large load in a cloth that looked like a sheet slung over their backs. Children were holding hands, playing with joyful smiles, laundry was flapping from clotheslines, people were working in their fields by hand. On the way back down, we saw some of the same people walking up the hill. I imagined what great health they were in and how I would become a lot less materialistic if I had to put so much work into getting everything I buy home that way. I had asked to see a school and Valerie showed me one. It was surrounded by a fence topped with barbed wire. She said that was to stop break ins which made sense but made me sad. To me, it didn't create a very inviting place to go to school and learn – but I think that might be using my perspective in someone else's culture.
We stopped for lunch at a local restaurant in Cotacachi and I ordered cuy/guinea pig. They laughed when I asked if they took the innards out first. While we were waiting for our lunch to arrive, I saw a small band walk by. I asked Valerie to ask them if they could come in and play and they did! They played three songs of traditional Ecuadorian music and even children riding their bikes by on the street stopped to listen. It was muy bueno! I asked how much I should tip them, Valerie explained that the way they earn their living was playing music for free and having people buy their CDs. I had wanted to buy a CD of traditional Ecuadorian music so this was perfect! When my cuy arrived at our table it still had its head on. I gritted my teeth and tried not to think of a cute, furry little pet guinea pig, peeled off all the deep fried skin, and tried to find meat on the little ribs. It was paper-thin. I tried breaking off a leg and didn't find much meat there either. Luckily, Jon had ordered a meal that had three kinds of meat, so he shared some of his.
We stopped to check if the purse store was open, no luck. Before we hopped back in the van, we stopped to get a helado de fruitas, which we discovered on our drive down yesterday. It is made locally, means fruit with cream, and could be compared to a dreamsicle.
Many homes and fences have political ad signs written on them. Some have faces of the candidates, some only the slogan, but always vote. Jon thought it was a better and cheaper way to run a campaign than the millions spent in the U.S. I stopped to take a picture of one and had Valerie translate: Say YES to a new constitution for a better education, health, and life. This was from two years ago when the people voted yes for a new constitution. Depending on who we have talked to, there are mixed reviews on the success of the new constitution.
We think we have finally figured out driving in Ecuador. Our Adventure Life driver is wonderful, never taking chances. Perhaps he has sensed our surprise as we watch with amazement as people pass the car who is already passing while oncoming traffic is approaching on a hill. The road we are traveled on is two lanes, but about three lanes wide. We think the yellow line down the middle is just a line to divide the road in half. To pass, the driver gives two short beeps and begins to pass. The car being passed moves closer to the side of the road, where sometimes there are not shoulders and may even be a drop off for a drainage ditch. We have not seen one accident or even a dented car. They must have the system fine-tuned.
We stopped at a small roadside building and I wondered what we were doing there. It was the rose store! I picked out cream-colored roses and pale pink roses. They came in bouquets of 24 for $1.25! I had to get two bouquets because it was for 29 years. When we go back to the hotel, we borrowed two vases from the front desk, I arranged them, and we put one in the bathroom as an air freshener, where we had again hung out our soggy, smelly clothes to dry. We traded in the books we had finished at the little book exchange shelf in the Hotel Eugenia and picked out a new one to read on the next leg of our journey.