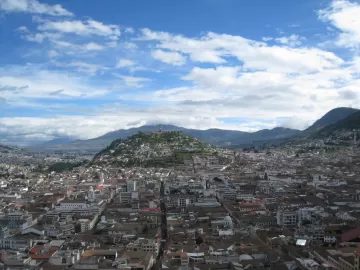 In the morning we had the choice between walking on the beach or snorkeling – it was a unanimous decision. Along with thousands of fish we saw two sea turtles and one ray. Somehow it wasn't quite as exciting because we knew it was all going to end soon.
After Galo gave all of us hugs goodbye and a quick stop to buy ice cream, we headed off to the airport at 10:30. For the nine of us leaving, it gave us a chance to chat some more at the airport about upcoming plans.
Back at the Hotel Eugenia we got our same room back. A few of the roses we left at the desk seven days ago are still looking good. We headed back to our favorite local restaurant and I ordered the exact same thing and it was wonderful again (shrimp cooked in lime and a spinach salad with apples and strawberries in a yogurt garlic sauce).
At the tiny corner store we bought snacks for our early breakfast at 2:45 to get ready for a 3:15 pick up. They asked us a question and we were not sure what it was they were saying, but they had big smiles on their faces and it reaffirmed that my language skills are lacking. Eventually I figured out that they were asking where we were from, and I remembered from my Junior High Spanish that we were from the Estados Unidos! This brought big smiles and, I'm pretty sure, words of welcome to us. Smiling is contagious, we left the store with big smiles of our own.