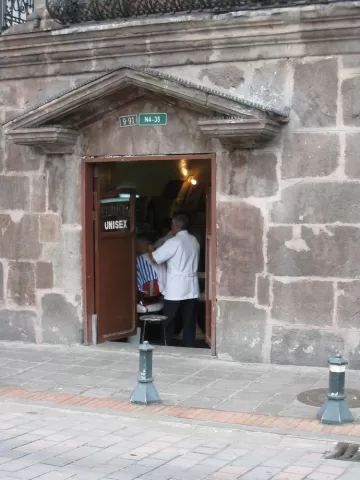 In the morning, we deliver two dozen roses to the front desk clerk at the Hotel Eugenia, bringing a smile to her face. When Valerie picks us up, we give her the other two dozen. She delivers us to the airport, and gets our forms ready and stands with us as we check in for our flight to the Galápagos. When we saw other people in line that were confused, she helped them out too. We feel so fortunate that our first trip to South America has been so worry free thanks to the help we have received from our guides.
Onboard the plane is a group of about 30 exuberant students who. On takeoff, they all throw their hands up in the air like we are on a roller coaster. Great food and friendly service onboard.
Stepping off the plane, each person needs to place both feet completely on a soapy looking mat that must be to prevent the spread of things that should not be coming into the Galápagos. After a customs check, we meet our host, Galo ("like the wine but with one l") from the Millenium, and head to the harbor by bus. We take the pangas to the Millenium and get shown to our room. We are upgraded from a twin bed room to the king size bed room, what luck. A daily meeting is at 6:45 and dinner at 7:00, so we have time to go back to town and explore for a few hours. On the way in we see pelicans sitting on a small rowboat, and sea lions inhabiting a fishing boat. We wander through shops and find a lot of goods from the Otovalo area, only at higher prices. I buy postcards to send to my students. The beech is filled with sea lions and it is so pleasant to sit along the water.
Back on the Millenium, we sat on the top deck and looked out over the harbor, watching a sunset. At the meeting before dinner, we met the crew and our fellow passengers from Switzerland, England, Scotland, Ireland, Holland, Norway, and the United States. Everyone was served a creamy drink and we toast to what Galo describes as "our new Millenium family." At dinner we learned more about our fellow passengers, many of who are backpacking through South America or even the world. I got out my notebook and recorded more travel ideas. It made me wish we could take off a year from work and travel just like they are doing. I wondered if I could be so brave and adventurous and could work out all the details.