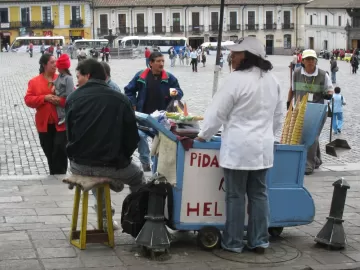 I slept like a log and got right up for the morning knock at 5 am, surprising, since I am not a morning person. We took another magical canoe ride back across the lake with lots of birds out in the early morning and set out on the hike to the Napo River. Ten minutes in, there is a large commotion in the trees. First, we see a squirrel monkey follow a branch high on a tree, disappear in the foliage, and then leap an incredible distance down to some foliage in another tree. As we all exclaimed how cool that was, we see another monkey heading up the same branch. Then another, and another. It was like a little interstate highway for monkeys – they must have followed the same path for ten minutes. Just when I thought it couldn't get any greater than that, Capuchin monkeys came through the same area! We saw lots of branches moving, heard something fall to the ground, heard a lot of chatter, and then we saw them. One stopped to try to pull a giant nut off a tree and acrobatically battled with it for a couple minutes. It was so entertaining we had to laugh, and then we laughed more because we were sure he was turning and looking at us. Finally, SUCCESS! He immediately sat down to work on peeling his nut, took one bite, picked it up and carried it under his arm, off to where we couldn't see him. We all turned and looked at each other in absolute amazement.
The short ride down the Napo to Yasuni Nacional Park was another kind of beauty. The river was foggy, and birds and trees appeared through the fog. By the time we got to Yasuni, the sun was shining. Along the way, Julio told us that parrots and parakeets eat a daily dose of clay to neutralize the toxins created in their bodies from the seeds they eat. I was so surprised to learn that they come from as far as 20 miles Our first stop was the Parrot lick. Only about eight parrots were there and small, even with binoculars. One of the other Naturalists with a group there let Angel use his spotting scope to take some incredible close up pictures for us. One of the rules is everyone needs to be quiet – it was so hard not to ooh and ahh.
Our next stop was the Parakeet lick. Along the way we were stopping to view flowers, native medicinal plants, and a giant leech along the path when Angel rushed back along the path to tell us the parakeets were there. Hurry! What a reward. There were 150 to 200 parakeets flying in and out of the lick. What a huge racket they made! We watched for 15 minutes when something scared them and in a mad rush, they flew out of the lick, toward the blind and up and over. Looking at them before they flew, we didn't realize there were so many because some were in a small cave that was part of the lick. They stayed in the trees above continuing their talking, and then, suddenly, they took flight into the sky. It was one of the most spectacular sites I have seen!
On the way back across the lake, we saw that they had all the gum boots out drying on the dock. We went back and hung our soggy clothes outside in hopes they might dry too.
Before lunch, Julio took us to a tree just behind our cabins to see the pygmy marmoset who lives there. He makes little holes in the bark and sucks out the sap. We caught a glimpse of him high in the tree and returned to our cabin. I tried to relax and read my book but that pygmy marmoset was on my brain. I took the short walk back out, and there he was. After watching for a few minutes, I knew Jon shouldn't miss it, so went back to get him. We spent the next half hour tiptoeing around the tree, getting great videos of him.
After lunch we went back to watch the pygmy marmoset again and then cooled off with a swim in the lake and went fishing for piranhas. Jon caught one so we got a close up look at the teeth. Good thing they don't like people. They are masters of nibbling the meat off the hook without being caught. Thumbelina thinks they work in a pack and I think she is right.
We hiked out to the swamp, and took a canoe ride in a search for wildlife and flowers. We spotted several great orchids, and a bright moon in the darkening sky with the trees of the jungle silhouetted, but best of all was the social spider web. Just before the canoe house was a spider web that was about ten feet tall, five feet wide, and 20 feet deep. It was covered in hundreds and hundreds of small (about the size of my little finger nail) spiders.
Night was a barbeque on the dock and a night canoe ride on the lagoon in search of a caiman. We saw the mom caiman and her baby.
Wow. What a day.