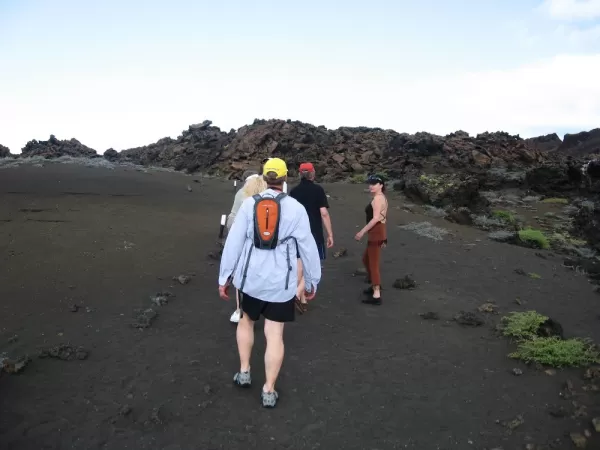 We spent the morning exploring the Charles Darwin Research Center. The center is definitely a working research station, rather than a visitors' center. In some ways, that was very refreshing to me - that it wasn't all dolled up and dumbed down for we tourists, but I was also thankful to be with our guide, who could explain the center's projects and aims. We saw Lonesome George, as well as many other tortoises in every stage of development.
Before heading back to the ship for lunch, we had some free time in Puerto Ayora. My dad used the time to explore more of the research station, and I used the time to inspect several of the yachts we work with that happened to be anchored in Puerto Ayora that morning. I saw the Coral I & II, Monserrat I, Valkiria, Millennium, La Pinta, and Cormorant II. It was fun to see the different styles and sizes of Galapagos yacht - each offers a very different experience.
In the afternoon, we took small buses up to the Santa Cruz highlands. It was interesting to see more of the island, as the landscape changed a lot as we moved up and away from the coast. The highlands tend to get more precipitation than the lower elevations, so there were a lot of tall trees and lush green vegetation. It was beautiful. We drove through several small communities and past several small farms and orchards - I loved seeing all of the exotic plants and trees... Sometimes in Montana, it's easy to forget where mangoes, bananas and coffee come from. We hiked through a private farm, where it's easy to spot giant tortoises. We saw a lot of them, and also learned a lot about farming on the islands. The farm was a great example of how locals can get involved in and profit from the tourism industry in a very practical and sustainable way.