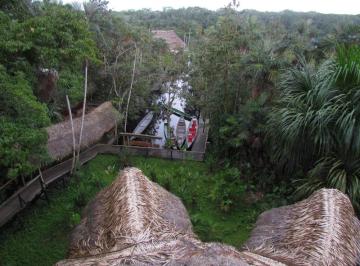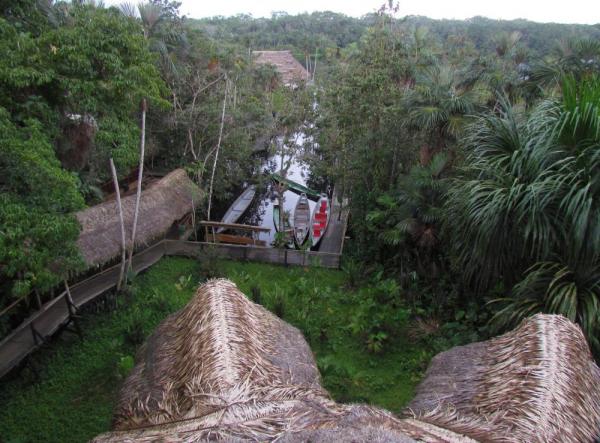 Our hiking companions needed to leave early to make their flight from Baltra so we left Isabela in a speed boat at 6:45. It was a remarkably bumpy 90-minute ride; a few times we smacked the water so hard I was surprised the hull didn't split.
Back in Puerto Ayora the bus dropped Helen and me off at our new hotel, The Divers Lodge, and took our friends across the island to the airport. Our accommodations were changed because we had been booked at the Red Mangrove, but it had been damaged in the tsunami that followed the earthquake in Japan.
As the staff prepped our room we had a second breakfast in the dining area. Our room turned out to be a suite, complete with kitchenette, sitting room, two bedrooms and bathroom, and we wallowed shamelessly in the luxury of it all.
We waited out a rain shower then headed into town for a little sight-seeing. At the public fish-cleaning station on the harbor I was captivated by the assortment of wildlife drawn to this source of free food. There must have been two dozen pelicans hanging around with their beaks half open. Also a couple of gray lava doves. I was amazed by a frigatebird that demonstrated its aerobatic skills by flying under the shelter's roof, snatching a tidbit on the fly, and exiting out to sea. Incongruously, a marine iguana waddled along the edge of the action and, despite being a vegetarian, gave a long look at a fish tail lying on the pavement before one of the pelicans slurped it up. My favorite, though, was the great blue heron that made a dramatic entrance flying right onto the cleaning table. The heron, with his dagger beak, clearly ruled the gathering. Whenever a pelican crowded too close he would give a mock charge and the flock would scatter.
Our wanderings took us to the beach by the Darwin Station and another quick visit to Lonesome George, who continued to merit the nickname Lethargic George.
We dined on pulpo (octopus) and spaghetti at La Garrapata.