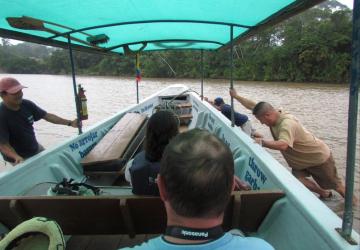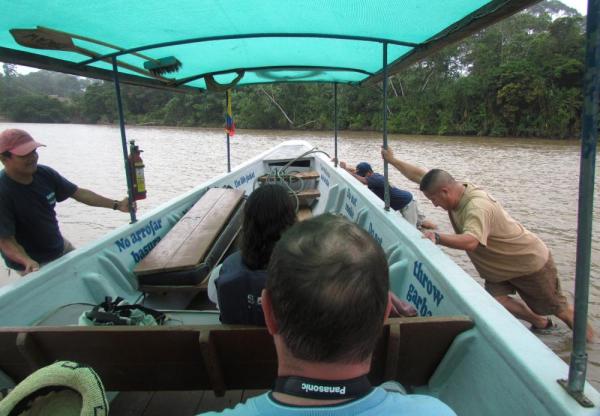 It's hard to believe we're spending our last day in Ecuador, the conclusion of a spectacular adventure.
At breakfast Gloria gave us directions to a sporting goods store, where we bought Liga (Quito's first division soccer team) jerseys for our grandsons. We spent a little time in the mall after our purchase; it's surprising how similar it is to any mall we are familiar with in the United States - same stores, same restaurant chains, even a lot of the same merchandise and paying with US dollars as well.
We paid a visit to the Confederate Bookstore, not far from La Rabida, to replenish our reading material for the trip home. Aside from the novelty of an English language bookstore in downtown Quito, it has an amazing diversity of titles - better than some I've shopped in at home. It was established years ago by an American ex-pat from New Orleans (hence the name) and has become an institution.
We bought a few items at an Ecuadorian products shop we stumbled onto and ate supper at Mama Clarinda's, a restaurant specializing in Ecuadorian fare that Gloria had recommended. I finally got to sample the Ecuadorian delicacy ''cuy'' that I had read about. In English, it's Guinea pig. I ordered the half portion so it appeared on the platter sort of flat; it is roasted complete with the head, making it look unfortunately like road kill. I found it pretty greasy and salty. It tasted a bit like - are you ready for this? - chicken.
We got to the airport well in advance of our flight time and everything turned bizarre. We passed through a fairly perfunctory security check and were immediately accosted by a young woman in some sort of official looking uniform telling us we needed to have our checked luggage shrink-wrapped for security. Beside her was a burly young man ready to do just that. After grappling with this unheard-of ''requirement'' for a few minutes I decided that there were too many scam-like elements involved and I declined. Then, shortly after we had checked in with the airline we were told everyone had to vacate the gate area while they performed a security sweep, which they did, and pretty thoroughly, too. Then one by one we were readmitted after a hand search of all of our carry-on luggage, even though it had already been scanned in the first security check. Helen had to surrender a bottle of water she had bought after the first check. All the while we were in the terminal the reader boards were scrolling a message to the effect that the airport was closed due to weather conditions.
Despite all the distractions they boarded our plane and we took off for Atlanta more or less on time for our 10:30 p. m. flight.