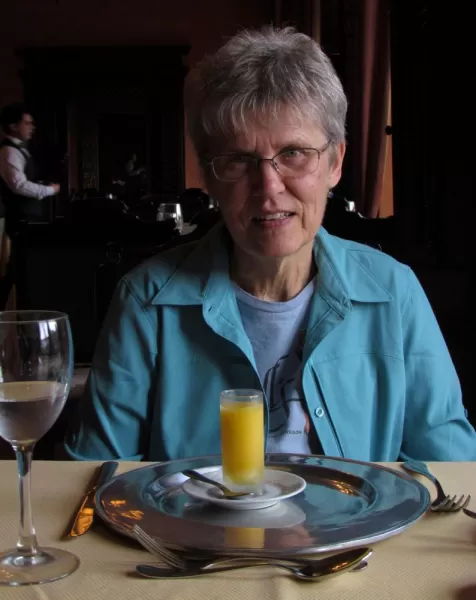 After another early wake-up and breakfast we canoed and hiked to Sacha's other above-the-canopy lookout, this one built like a tree house 150 feet up in a 700-year-old kapok tree. In an hour-and-a-half we saw 22 species of birds, most of which I had been at best only dimly aware existed, including toucans, oropendulas, euphonias, caciques, and my favorite name: purple-throated fruitcrow.
Canoeing back we encountered three species of woodpecker and a couple of caiman lizards (they're not caimans; they're lizards that look like caimans), including one sunning himself on a horizontal branch 20 feet overhead.
Shortly after we docked there was a great whooshing wind and we just had time to duck for cover before the torrential rain let loose. Conveniently, it rained through lunch and stopped in time for us to try our hand at piranha fishing from the dock. A couple of the guides managed to land a few small ones; the rest of us provided a free raw meat lunch to the pint-sized carnivores. It was fun to lower a hook baited with a scrap of meat and watch a dozen or so jaws-with-fins clean the hook in a matter of seconds.
Another canoe ride and hike took us to the base of a tall tree from which a pair of owl monkeys peered down at us with their huge, night-vision eyes. Approaching the dock again a couple of hoatzin were silhouetted against the sky in the twilight. These large exotic birds that make a noise like a panting dog need a PR makeover; they are generally despised and are known locally as ''stinkin' turkeys.''
Above our heads as we docked a colony of squirrel monkeys was on the move to their bedding-down spot. We watched fascinated as they leaped 20 or 30 feet from treetop to treetop. Parents with more than one offspring would ferry one baby across and then return for another, and the young ones hung on for dear life.
We celebrated our last night at the lodge with a romantic barbecue on the dock, prepared by Sacha's amazing kitchen crew.