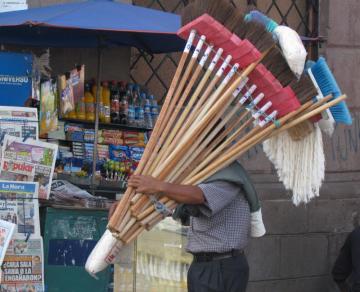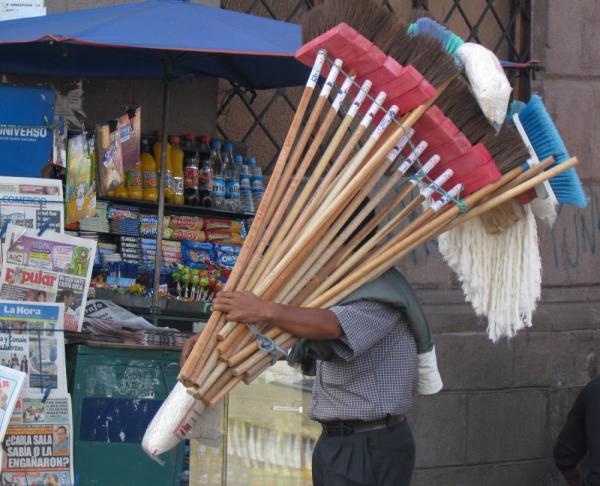 Our gracious hostess Gloria gave us recommendations for some of the nearby attractions and we set out to sample the flavor of la Mariscal and the historic district. We wandered through a crowded, covered marketplace full of local crafts, run mainly by colorfully dressed women, almost all of whom seemed to be tending small children.
The streets were teeming with pedestrians and motorists (who seemed to be operating under traffic protocols that I never fully decoded; I learned to look to all points of the compass before crossing a street).
Persons in police and military uniforms seemed to make up an unusually high percentage of the visible population. It may have been because of a labor protest by taxi drivers that was underway that day.
I was amazed at the entrepreneurial spirit of the Quitoans; snack kiosks on every corner, most selling the same candy bars and chips. Tiny shops selling shoes or handbags. Small children carrying handfuls of apples or pears or guavas for sale. One woman had a small army of 4-inch windup skateboard riders which she set loose on the crowded sidewalk of Plaza Grande. Amazingly, not a one was crushed underfoot while we watched. Another woman carried an enormous plastic bag of toilet paper which she seemed to be peddling door-to-door along the row of shops.
By mid-morning we had climbed the Panecillo (a Quito prominence named for its resemblance to a small loaf of bread) and enjoyed great views of the city, which lies below the volcano Pinchincha, squished into a valley 22 miles long and two miles wide.
Having received several warnings about the unsavory neighborhoods below the hill from solicitous residents we agreed to take a taxi back downtown; within a few seconds one appeared. Taxis are everywhere. Though we enjoy walking, cabs are a great way to cover a lot of ground inexpensively (they appear not to be equipped with meters; it's best to agree on the fare as soon as you hop in).
We treated ourselves to lunch at an elegant second story restaurant overlooking Plaza Grande called Mia Culpa and had the dining room almost to ourselves for most of the meal (an excellent seafood salad).
After a quick look at the neo-Gothic Basilica we took a cab to the Quito Botanical Gardens to sample the gorgeous and (to us) exotic tropical flora.