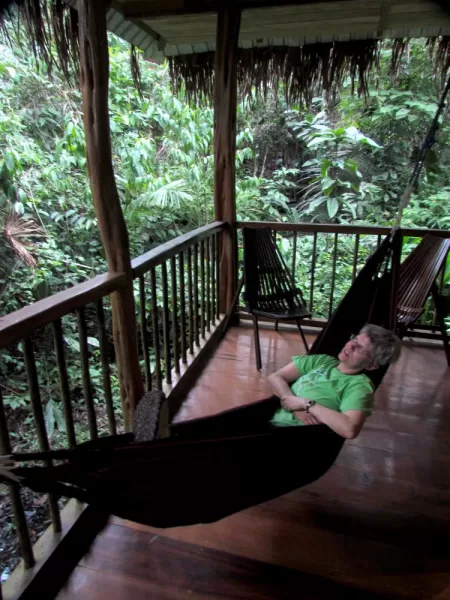 Our van driver had to bob and weave all over the heavily rutted road that took us 3,000 feet up into the highlands to the trailhead for the Sierra Negra volcano. We hiked for a mile or so as the trail climbed about 300 feet until we reached a short side trail that lead to a breath-taking viewpoint on the rim of the crater. The pit is shockingly immense (roughly six miles by four miles) and thanks to recent rains on the thin crust of solidified lava, the floor hundreds of feet below us was a sea of steam.
Our hike continued into the surreal lava fields of Volcan Chico, where islands of older, reddish rock rose between streams of black, more recent, lava (Chico's last lava flow was about 40 years ago). An occasional cactus or tuft of grass struggled to survive in the volcanic moonscape.
We peered down into deep, fern-lined fumaroles and saw where, prior to the establishment of the national park, efforts were made to mine the area's sulfur.
The rain began, as Murphy's Law might have predicted, just about when were were farthest from the trailhead. We were rained upon for about 90 minutes. Sometimes it poured, other times it eased off. When it poured, the trail became a great, ankle-deep linear mud puddle. Though we all had varying degrees of rain protection we all ended up thoroughly soaked. Our park guide, Nelly, knowing my interest in the local flora, pointed out a Galapagos orchid during one of the rain lulls. We also caught a glimpse of the brilliant vermilion flycatcher.
On the way down the mountain we stopped for lunch at a family farm/campground where we watched hummingbird moths gathering nectar and listened to the sounds of giant tortoises mating in the brush nearby.
With a couple of hours free before dinner I checked out Concha de Perla, a secluded bay just a couple hundred yards from the hotel. It is reached by a boardwalk through a stand of mangrove. On the way I watched a striated heron for 15 minutes as it stalked its prey just a few feet below where I stood.
The crystal-clear bay is a popular spot for local families. Young swimmers rested, clinging to the exposed roots of the red mangrove.
Going back through town, I strolled along the beach into the sunset. Along the way I had a close encounter with an American oystercatcher. I've tried before to get a good picture of this colorful shore bird, but they have always been unwilling subjects. This one was way more interested in the bugs it was digging out of the sand than worrying about an excited photographer.