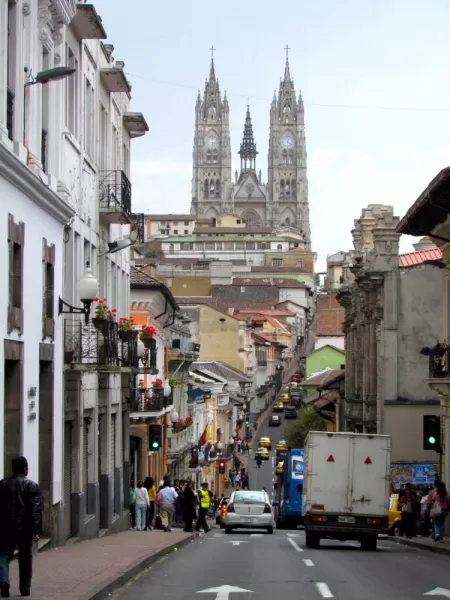 Our plane was a little late boarding in Quito so we had a chance to start getting to know the other three couples who would be our companions on the Hike Galapagos tour, and Andres, our guide, who lives in Quito and happens to be a doppelganger for a former colleague of mine.
We saw a little more of the diversity of Ecuador's geography as we flew south from the 9,200-foot elevation of Quito to Guayaquil, which from the air reminded me of New Orleans because of it's flatness and the abundance of water all around. It appears to be laid out only millimeters above the water table.
I spent a good part of the 90-minute flight to San Cristobal marveling at the incredible cloud formations that towered above the Pacific. Dramatic skyscapes continued to draw my attention throughout our stay in the islands. I'm sure my heart skipped a beat when I caught my first glimpse of the Galapagos - the coastline of San Cristobal - from the plane window.
The temperature was 86 and humidity near 100 per cent as we made our way through the airport's checkpoints (we had still been getting snow flurries a day or so before leaving Montana).
We checked into the idyllic Casa Opuntia with its view of Puerto Baquerizo Moreno's harbor right outside our window. We had a grand lunch (dinner is more like it) overlooking the harbor, several courses including fresh tropical fruit and soup flavored to taste with aji, a kind of local salsa that could easily become addictive.
Then for our Galapagos orientation we walked to the interpretive center where Andres outlined the volcanic origin of the archipelago. We were scheduled to walk up Frigatebird Hill but the path was closed for construction so we detoured to Darwin Bay, believed to be where Charles Darwin first landed on the islands in 1835, and where he is commemorated with an heroic bronze statue. We ended up on the beach where a female frigatebird perched on a snag just a few feet overhead.
We stayed on the beach for the sunset then strolled into town. In front of one cafe/bar about 25 men and boys were gathered in the middle of the street looking through the bar's picture window at a big screen TV that was showing a soccer match (Quito's popular team Liga was playing).
Sea lions were everywhere. At night they congregate on the beach by the score and bark themselves to sleep. On our way back to the hotel one male lumbered toward us in the middle of the street. Even though there was a lamppost between us he apparently resented my presence because he made an aggressive lunge in my direction and I yielded the right of way. Hey, I thought, it's his town.