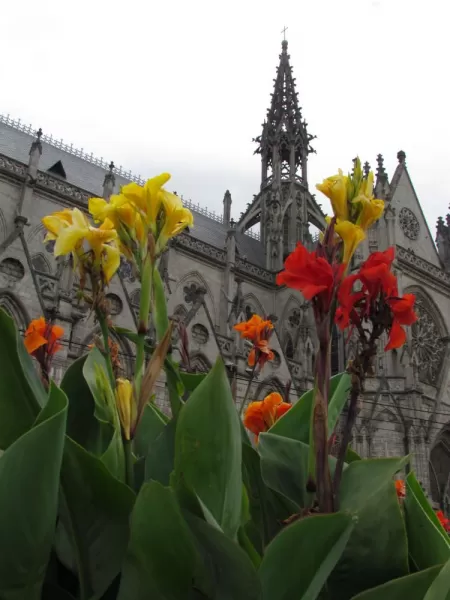 Not about to waste any daylight, I got up just before sunrise for a little pre-breakfast scouting on the waterfront. A couple of ruddy turnstones foraged among the sleeping sea lions. A great blue heron hunted in a little cove before flying off to light incongruously on a streetlamp.
A bus ride into the highlands brought us to one of the remaining patches of the miconia zone, once one of the islands' principal ecological niches. We walked around Lake Junco, a rain-filled volcanic caldera, and the islands' only body of fresh surface water. There were several frigatebirds skimming the surface; they have learned to come here to rinse off the salt they have collected in their feathers.
Near the easternmost point in the archipelago we visited La Galapaguera, San Cristobal's giant tortoise breeding center. And there, just inside the gate, as if to ratify the purpose of the center, were two tortoises mating. We observed as respectfully as one can such a spectacle and the tortoises appeared not to notice (much less mind) yet another busload of visitors.
We were told that the eggs of the free-roaming tortoises are collected and brought to the center for incubation to reduce mortality. We observed the babies in their age-grouped enclosures where they are kept until they are big enough to defend themselves against predators.
Poison apple trees are common in the compound. The shiny-leaved trees produce apples that appear like ordinary green apples, but which are fatal if consumed by humans. Tortoises, on the other hand, eat them without ill effect and are the reason the trees are so widely dispersed.
The tortoises here are Chatham tortoises (named for the island's English name), and the mockingbirds here are Chatham mockingbirds. They live only on this small island; other islands have their own distinct species.
After lunch were had our first snorkeling experience at Isla Lobos, off the west coast of San Cristobal. We were immediately joined by several inquisitive sea lions that performed aquabatic rolls and dives. We saw lots of colorful fish, and a sea turtle drifted by.
Another short boat ride took us to Kicker Rock where we saw lots of frigatebirds overhead, as well as Nazca boobies, and a swallow-tailed gull.
Snorkeling our way between the cliffs of Kicker Rock I was admiring the barnacles and sea anemones when I noticed a couple of four-foot Galapagos sharks swimming below me, and then a couple more sea turtles.