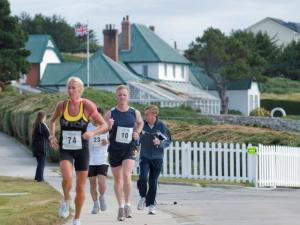 Our 2013
Falkland Islands Marathon trip
departs March 14, 2013. This 11-day trip is designed for participants and fans of the Stanley Marathon who want to explore the Falklands after the race. It includes two nights in Punta Arenas to rest and recover from your long international flights before continuing to the Falklands. After the marathon, explore the islands and their unique wildlife, culture and history. Includes Sea Lion Island, Carcass Island, Darwin and more. As always, this trip can be customized based on your interests.
Flights to and from the Falklands are only available on Saturdays. This means you have at least a week to enjoy and
tour the Falkland Islands
after your race.
The Stanley Marathon is on March 17, 2013. Officially, it's the world's southern most
AIMS-certified marathon
; unofficially one of the most wild and remote. Gradients, the threat of bad weather, and the Falklands' legendary wind make this one of the toughest marathon courses!
For guidelines and entry information
click here
!