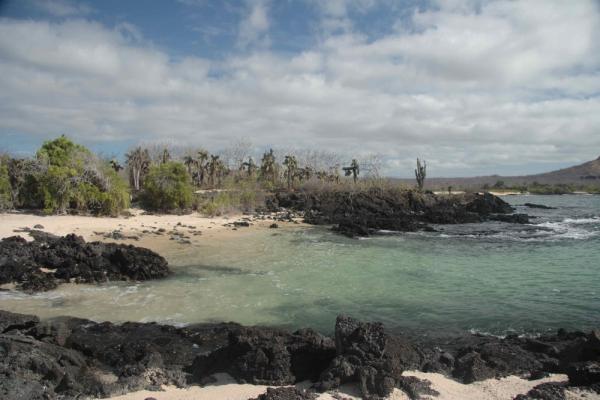 Wet landing today on the beach at Punta Cormorant. We leave our diving gear on the sand and take a walk across the island. There is an inland lagoon with flamingos feeding and nesting. We get pictures of flying flamingos and up close views of adult and (white)immature birds. Across the lake are nesting pairs. Continuing on, we reach the opposite beach and see multiple rays in the surf.
Back on the first green sand beach, we don our snorkle gear and swim along the rocky coast. Lots of sea turtles, sea lions and a few white tip sharks.
In the afternoon, we have a choice of a swim or a zodiac ride along Champion Rocks. Robin spots a nearly extinct Charles Mockingbird. We finally stop at Post Office Bay and leave some cards, as well as pick up a few to deliver back home. The ships crews entertain us with a pickup game of futbol.