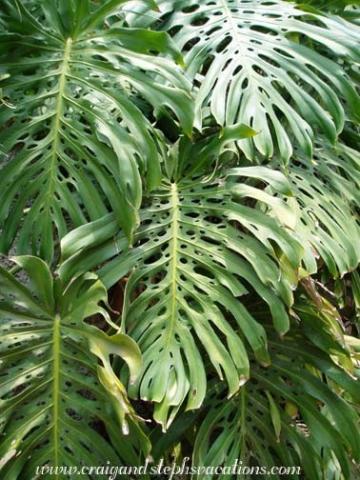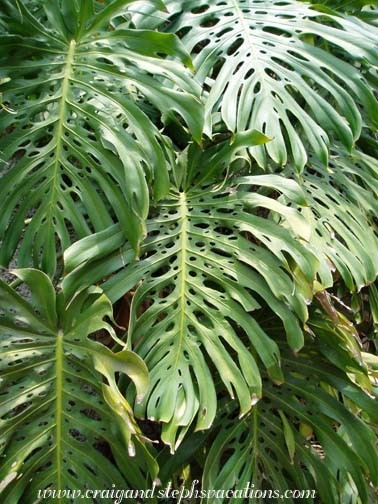 We woke up at 5 am and pretty much headed straight to the park. On the way we saw ocellated turkeys walking around in the parking lot. We admired how large they looked and commented on how different they look in the wild. We were happy to see one of them spread out its tail in the morning light but we wanted to proceed to the gate hoping to see a nice sunrise from Temple IV. Fotunately the morning felt cool in comparison to yesterday although it was still humid. We paid Q50 per person for re-entrance to the park, and we spent Q5 on a map of the ruins. We had to wait until the gates opened, which wouldn't happen until 6. While waiting we met Jennifer and John (both American, he lives in Antigua and she was visiting him). We walked with them to Temple IV and had a nice chat along the way.
Temple IV is supposed to have a spectacular view of the sunrise. This morning was rather foggy, so we didn't really see the sunrise, but there was still a beautiful pale yellow glow in the sky, reflecting off the fog. We saw some toucans from the top of the temple and although very tranquil and peaceful we decided that we only had a few hours remaining in the park and that we should use the time to see a bit more of what we were unable to see yesterday. We descended the temple and proceeded to Mundo Perdido, Temple Siete, and Temple V. Temple V is climbable but is also very steep, and we didn't attempt it because we wanted to try to cover more ground.
We had been hearing howler monkeys all morning, and when we arrived at the Gran Plaza, we finally saw some. There were five of them in the tree, eating, climbing, and jumping from branch to branch. You could see their tails wrapping around branches and it was so amazing to finally see these animals in their natural surroundings. We were very happy that we got to see them before leaving the park and we were also able to show them to a few other small groups of people that wandered along but hadn't noticed them. Feeling rather satisfied, but out of time, we headed back to the hotel. Tikal really is an extraordinary place and we were very happy to be there for an overnight. This gave us a chance to experience the park in the heat of the day, when there are so many other tourists, but also allowed us to enjoy an overnight and see the park in the tranquility of the morning light. It was amazing how few people had been in the park this morning. Quite a difference from mid-day yesterday.
We could have easily stayed at the park for at least another day and found plenty of interesting things to see but as always we needed to keep moving along. After a hearty breakfast of eggs, beans, fruit, biscuit, and plantains with Gerry and Judy, we got everything packed. This was the end of the Guatemala Easter trip for us but unfortunately we didn't see many of the folks in our group to say goodbye. We knew that we were to be picked up by a representative from Pook's Hill at around 10:00 so we needed to be ready. The front desk knew nothing of our plans but we were confident all would be fine. Soon after 10, Ben Cruz, our Pook's Hill guide, arrived. Roberto was our driver to the Guatemalan border. On our way out of Tikal we stopped at the visitor's center and converted our remaining 60 quetzales into 6 bottles of Gatorade. Making sure we were properly hydrated was very important after visiting Tikal and we were amused at the way we chose to convert our money before heading to another country with a different currency.