Have questions? We're here.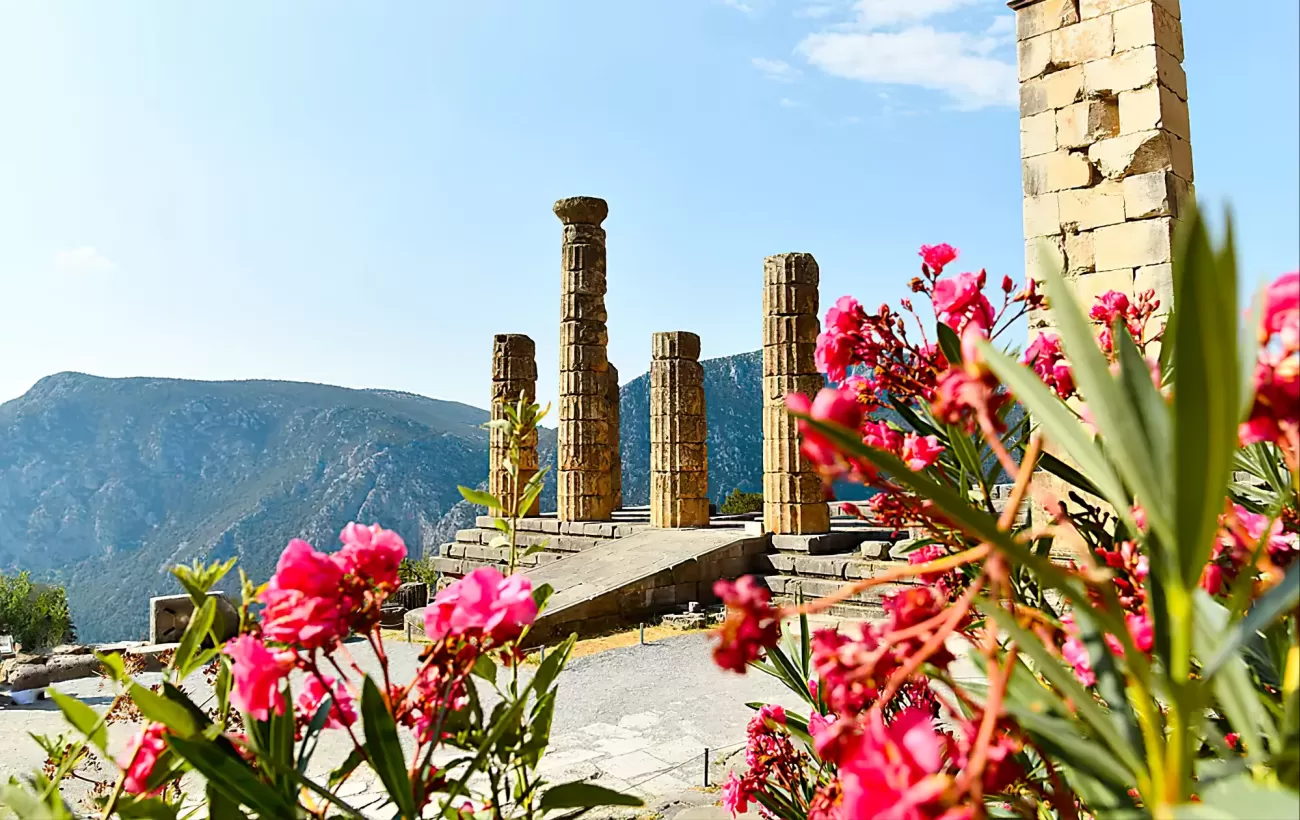 The Mediterranean: in the Footsteps of Great Civilizations
Antalya - Valletta - Example 11 Day Cruise aboard L'Austral
Get inspired by the possibilities.
Build your ideal trip.
Join this 11-day Mediterranean cruise from Antalya to Valletta aboard L'Austral in partnership with Connaissance des Arts. Discover the treasures of the Mediterranean Sea, starting from Alanya and exploring ancient sites like Perga, Aspendos, and the Ephesus archaeological site. Discover the tranquility of Greece with sites like Meteora, Athens, and Delphi. Explore the beauty of Corfu and Southern Italy with a visit to Gallipoli and Syracuse's island of Ortygia. Enhance the adventure with Connaissance des Arts through illustrated lectures discussing each country's highlights and artistic figures. With the beauty of the Mediterranean Sea and rich history, this cruise with Guy Boyer is a unique one.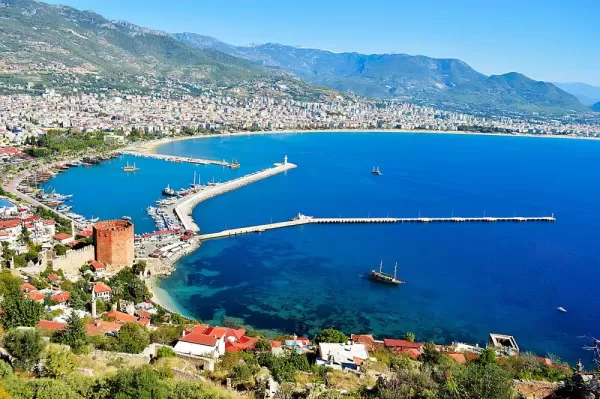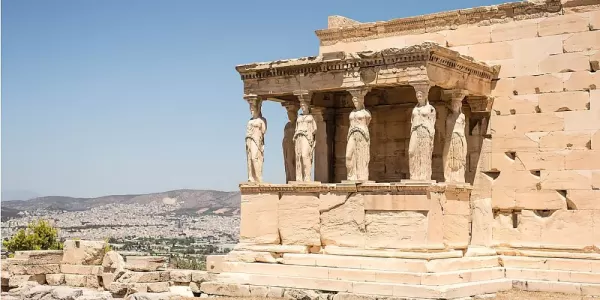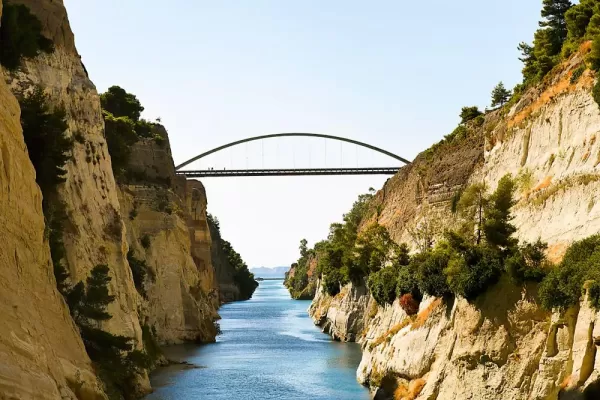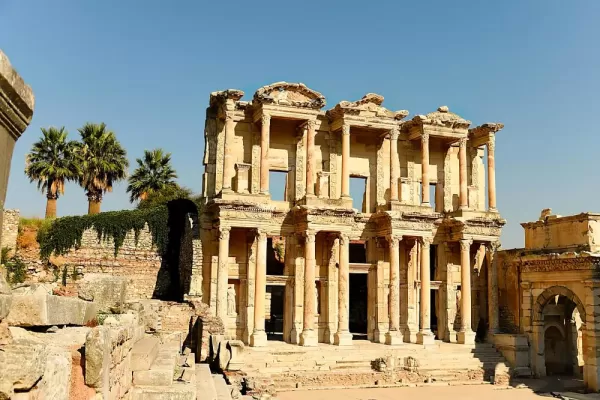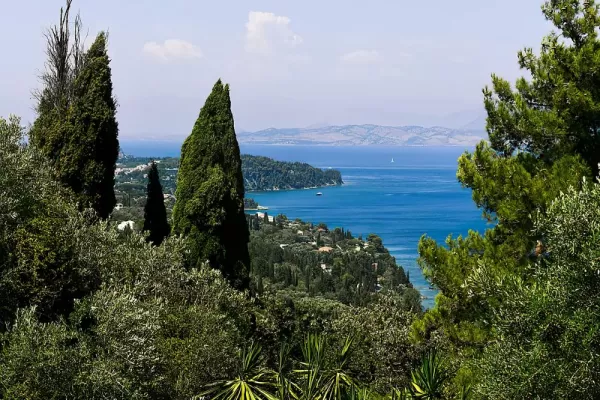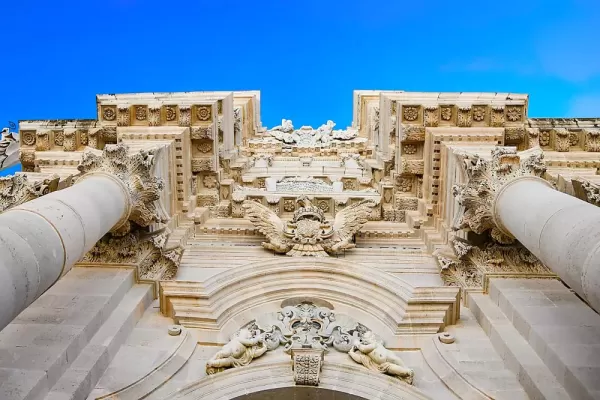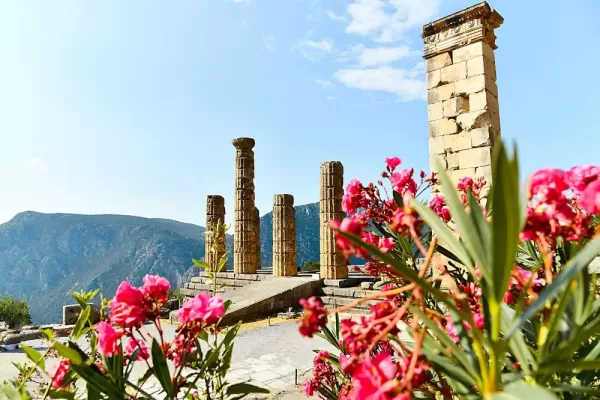 Discover some of the Mediterranean's most beautiful antique sites
Explore the Puglia region and discover the ancient history of Gallipoli
Illustrated lectures by Connaissance des Arts for an enhanced experience
Full Itinerary
Expand All
Day 1: Antalya | Embarkation
On the Turkish Mediterranean coast, discover the seaside resort of Antalya. While the city sports magnificent fine sandy beaches, it is also known for its significant historical heritage. Many vestiges bear witness to the importance of this former Roman port, such as Hadrian's Gate, built in the year 130 in honor of the visiting emperor. In the old town, it is possible to admire magnificent Ottoman houses with flowery gardens, as well as the broken minaret, built on the ruins of a former Byzantine church. The city's surroundings also provide an opportunity to discover major archaeological sites, such as that of the ancient city of Aspendos, renowned for its impressive Roman theatre.
Day 2: Alanya
1 Breakfast, 1 Lunch, 1 Dinner
On the Turkish Riviera, discover Alanya. This peninsula bordered by the Taurus Mountains enjoys a prime location in the Mediterranean Sea, which made it a strategic position for the rulers of the region during antiquity. Perched on rocky cliffs, its castle dating from the Seljuk period is an open-air museum overlooking the turquoise beaches. Also from the Ottoman period are the splendid, red-tiled villas and the octagonal Red Tower dating from 1226, the symbol of the city. Alanya is now a popular seaside resort, and you can enjoy the beach where Cleopatra - the most famous Egyptian queen - is said to have bathed.
Day 3: At Sea
1 Breakfast, 1 Lunch, 1 Dinner
During your journey at sea, make the most of the many services and activities on board. Treat yourself to a moment of relaxation in the spa or stay in shape in the fitness center. Depending on the season, let yourself be tempted by the swimming pool or a spot of sunbathing. This journey without a port of call will also be an opportunity to enjoy the conferences or shows proposed on board, depending on the activities offered, or to do some shopping in the boutique or to meet the PONANT photographers in their dedicated space. As for lovers of the open sea, they will be able to visit the ship's upper deck to admire the spectacle of the waves and perhaps be lucky enough to observe marine species. A truly enchanted interlude, combining comfort, rest, and entertainment.
Day 4: Kusadasi
1 Breakfast, 1 Lunch, 1 Dinner
The attractive seaside resort of Kusadasi is located in a gulf on the western coast of Turkey. You can bathe there in clear waters or stroll along the coastal walk, in the shade of palms. In the historical district, you can take a mosey down the narrow streets and explore the colorful shops in the bazaar. Close by, the Ephesus archaeological site in the hillsides provides an opportunity to discover the ruins of one of the most famous cities of Antiquity.
Day 5: Volos
1 Breakfast, 1 Lunch, 1 Dinner
Volos, one of the biggest port cities in Greece, is located at the foot of Mount Pelion. According to mythology, Mount Pelion was a place of celebration for gods and heroes and the home of the centaurs. The beauty of the place and the magical atmosphere that reigns here can indeed only have been inspired by the gods: the clear water that flows from a multitude of sources bathes the plane trees, apple trees, oaks, beech trees, gardenias, camellias, and hydrangeas that thrive in the fertile soil of Thessaly. Do not miss your chance to visit the picturesque village of Milies in the hills, and discover its traditional architecture.
Day 6: Lavrio | Athens
1 Breakfast, 1 Lunch, 1 Dinner
Near Athens, Lavrion is a peaceful port welcoming boats from around the world. The town has been known since ancient times for the silver-producing mines of Lavrion, which were major contributors to the wealth of Athens and to the Greek economy in the 20th century. Weather permitting, take a stroll through the town and discover the many vestiges of this industry that flourished until the 1980s: old Neoclassical-style constructions, industrial buildings, and worker houses. While at this port of call, also take the time to discover Athens and its acropolis, or Cape Sounion which stands for the magnificent temple of Poseidon.
Day 7: Crossing the Corinth Canal | Itea
1 Breakfast, 1 Lunch, 1 Dinner
The Corinth Canal cuts through the Isthmus of Corinth, turning the Peloponnese into an island as it separates the region from the Greek mainland. Inaugurated in 1893, the canal is a little over six kilometers long and enables merchant vessels and passengers to avoid a long 400-km detour around the peninsula. The two sides of the canal reach a height of approximately fifty meters. From the exterior decks, don't miss this unique opportunity to watch the ship as it navigates along the narrow strip of water encased between tall, ochre cliffs.

Tucked away in the Gulf of Corinth, this little port is situated in continental Greece, northwest of Athens. Take an easy stroll along the old cobblestone quays, while gazing at the summits encircling the Bay of Itea. We wouldn't be surprised if you are tempted by a visit to the Delphi Sanctuary. The sanctuary is located on a plateau on the slope of Mount Parnassus, just ten kilometers from Itea. A listed UNESCO World Heritage site, this is a once-in-a-lifetime experience whose ancient ruins are surrounded by steep mountains.
Day 8: Corfu
1 Breakfast, 1 Lunch, 1 Dinner
Named after the island, Corfu is the most famous city on the Ionian islands. Protected by citadel fortifications, its old city, designated UNESCO World Heritage, displays unusual Greco-Byzantine and Venetian architecture. Above the water stands Saint George's church, looking uncannily like a classical temple. The picturesque Pontikonisi, a stone's throw from the southern point of the town, is the legendary island where Odysseus landed.
Day 9: Gallipoli
1 Breakfast, 1 Lunch, 1 Dinner
Gallipoli, which comes from the Greek kalle polis, meaning beautiful town, is very aptly named. Located on the heel of the boot, the town known as "the pearl of Puglia" has many attractions. The whiteness of its façades recalls its Greek origins while its architecture echoes its multiple influences. Its old town, perched on a limestone island, concentrates the cultural heritage of this city with a thousand faces, alternately a Roman colony, then Byzantine, the property of the Popes, Norman, under the rule of Taranto… By itself, it tells the story of the different civilizations of the Mediterranean Sea.
Day 10: Syracuse, Sicily
1 Breakfast, 1 Lunch, 1 Dinner
Its undulating rocky coastline, the endless sandy beaches, the menacing form of Mount Etna which surveys its island like a patriarch, the flowery gardens on the hillside... Sicily lays out its varied landscapes like a shopkeeper displays his wares. Described by Cicero as "the most beautiful city in the world", Syracuse was one of the most prestigious cities in Sicily and at her height was even a rival for Athens. A central city of Ancient Greece, it was home to a succession of civilizations, each of which has left its mark. The blend of Arabic, Roman, Norman, Byzantine and Spanish cultures makes Syracuse a town that is extraordinarily rich in fragrances, colors, and flavors.
Day 11: Valletta
The whole of the Maltese capital Valletta is UNESCO World Heritage listed and occupies a peninsula in the northeast of the island. From the fountain of Tritons to Saint-Elme Fort, there are as many majestic streets as there are narrow staircase venues to explore. The painted loggia and carved corbels on the tall houses will accompany you in your explorations, and you'll rarely be bothered by traffic. You can visit the Grandmaster's palace decorated with coats of arms and frescoes. Saint John's cathedral and the ramparts which have guarded the city since the 16th century are also among the most emblematic sites of the city. Arranged in terraces, the Barrakka Gardens will punctuate your promenade with a green and floral experience.
Dates & Prices

Select a Date
Superior Stateroom
8 cabins, 226 sq ft, located on Le Champollion Deck. A/C, king or twin beds, seating area and private bath.

Select a Date
Deluxe Stateroom
28 cabins, 200 sq ft with private balcony. A/C, king or twin beds, seating area, private bath.

Select a Date
Prestige Stateroom - Deck 4
200 sq ft with 43 sq ft private balcony. A/C, king or twin beds, seating area, private bath.

Select a Date
Prestige Stateroom - Deck 5
200 sq ft with 43 sq ft private balcony. A/C, king or twin beds, seating area, private bath.

Select a Date
Prestige Stateroom - Deck 6
200 sq ft with 43 sq ft private balcony. A/C, king or twin beds, seating area, private bath.

Select a Date
Deluxe Suite
3 suites, 290 sq ft with 54 sq ft private balcony, located on the Le France Deck. A/C, king or twin beds, seating area, desk, minibar, private bath.

Select a Date
Prestige Suite - Deck 5
398 sq ft with 86 sq ft private balcony. A/C, king or twin beds, communicating cabins available. Separate living area, private bath.

Select a Date
Prestige Suite - Deck 6
398 sq ft with 86 sq ft private balcony. A/C, king or twin beds, communicating cabins available. Separate living area, private bath.

Select a Date
Owners Suite
484 sq ft with 97 sq ft private balcony. A/C, king or twin beds, communicating cabins available. Separate living, dining areas, private bath with large tub and shower, minibar, 2 flat screen TVs, DVD, CD, and IPOD, Video on demand, Satellite phone
10 Breakfasts, 9 Lunches, 10 Dinners
Accommodations as listed
Ground transportation as listed
Activities as listed
Meals as listed
Access to a 24-7 Emergency line while traveling
24-Hour Room Service and Breakfast in Bed
Traveller's Valet® Laundry Service
Airport meet and greet and transfers
Zodiac Excursions Led by Expert Naturalist Driver-Guides
All Gratuities, Port Charges and Taxes
Complimentary Wi-Fi on Board and in Hotels
Private Balcony with Every Onboard Accommodation and Butler Service with Every Suite
Maximum Personnel-to-Guest Ratio of 1 to 1.3
Culinary Program Featuring French-Inspired Cuisine, Including House Drinks, Afternoon Tea and Pastries
Complimentary Expedition Parka, Backpack and Water Bottle, and Use of Waterproof Pants, Boots and Trekking Poles
Enrichment program, lectures and presentations
Onboard Service from an English-Speaking Staff, Including an Accredited Physician
24/7 A&K On-Call Support
An Exclusively Chartered, All-Inclusive Voyage Led by A&K's Expedition Team
Port Fees
Unlimited Wifi
Onboard Entertainment
Captain's Welcome Cocktail and Gala Dinner
Gratuities to Onboard Crew
"Open Bar" (pouring wines, house champagne, alcohol except premium brands...list available upon request)
24h Room Service (special selection)
English-Speaking Lecturer
Highly experienced and bilingual (French-English) expedition staff
Park Entry Fees into Protected Areas
Water sports activities (except scuba diving) using the ship's equipment, when permitted by local authorities and confirmed by ship Master according to safety and sea conditions onsite.
Travel Insurance
Personal Expenses
Flight costs (please request a quote)
Fuel and transportation surcharges (when applicable)
Luggage Handling
Beverages other than the ones mentioned in inclusions
Pre- and/or Post-Cruise Stays at Stylish, Ideally Located Hotels and A&K-Led Excursions
Visa expenses and/or immigration reciprocity taxes if applicable
Visa Fees
Optional Excursions - Ponant allows you to pre-book your excursions approximately six to two months prior to the cruise* departure. Please note that this is subject to change. Please contact us for more details.
Any ground services before and/or after the cruise other than the ones mentioned
Laundry Services, Hair Salon, and à La Carte Spa Treatments
Pre or post cruise programs, overland programs or shore excursions
When to Go
Good to ideal period to travel, and many people choose to visit at this time.
Inquire
This was our first trip to South America and we were a little nervous. But Adventure Life made things so easy! All our questions were answered before we left, and our guide, Vidal, was amazing! He gave us enough space to explore without rushing us along. He also knew where the best picture taking opportunities were, which was great.
Lindsay Gompf
Mediterranean Travel Guide
Favorite Mediterranean All Trips