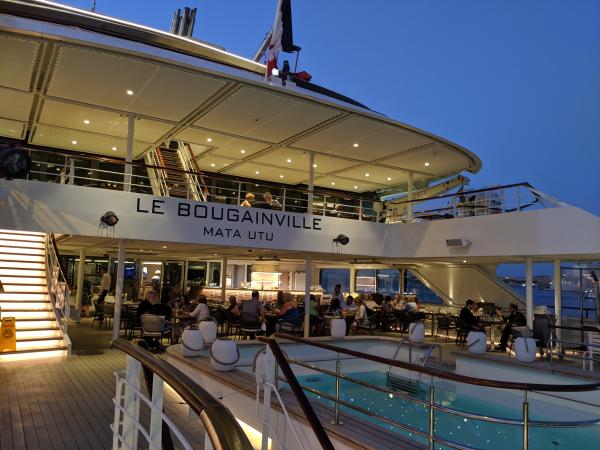 Le Bougainville is gorgeously designed with outdoor seating at the front and back, two dining areas, three lounges and a comfortable theater. The lounges offer three different atmospheres, including an upper deck observation lounge with panoramic windows facing forward and the Blue Eye, a multi-sensory lounge below water level with windows looking out to the sea and sounds from the ocean piped in.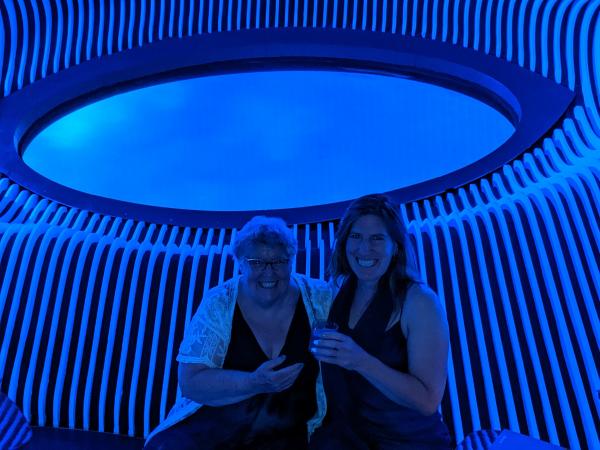 Dining options include the formal dining room upstairs with a small outdoor seating area and then the more casual outdoor restaurant that is poolside on the floor below. In a twist of irony, reservations are recommended for the casual dining area and we quickly learned why. With a weather forecast of nonstop sun, dining outside is heavenly! The food definitely leans toward French cuisine with a smattering of international options. I do wish that they incorporated more local products into meals. Thus far, breakfast has been my favorite with an ample selection of fresh and dried fruits, cereals, cheeses and baked goods in addition to the standard international breakfast fare - eggs, bacon, sausage, oatmeal, etc.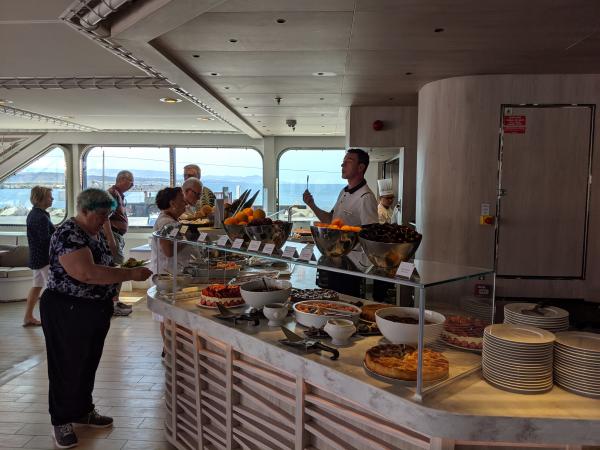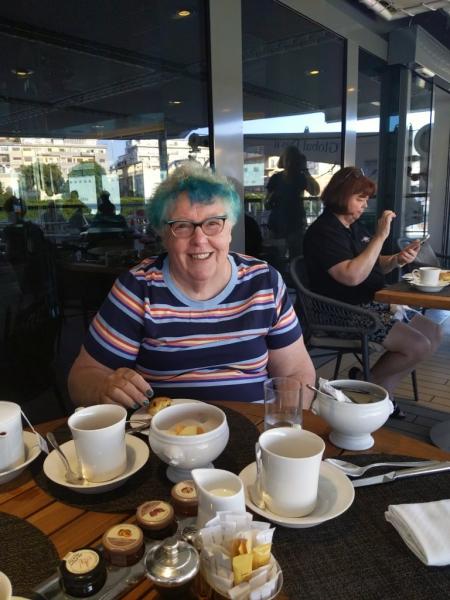 Cabins are wonderfully laid out with a set of drawers that actually fits most everything you need, closet space and ample storage under the bed. Every cabin has a private balcony, though I wondered how much we would've used ours with all the other beautiful areas to enjoy outside. Bathrooms are divided into a separate toilet and shower room so that both cabin mates can access a part of the bathroom at once.  My only complaint here is that the sink is in the shower room so you have to open the door of the toilet room with unwashed hands and move to the separate bathroom. Aside from this small detail, these are probably the best designed cabins I have encountered. There is even a DND (Do Not Disturb) button that you can use in place of traditional signage that silences the phone/announcements in addition to signally staff not to stop by.
Wi-Fi is free and surprisingly good considering that it is provided by satellite. Room keys are also modern and serve multiple purposes as they are used to scan in and out as you leave the ship and they contain passport numbers for easy check in at port security. There is also a heated saltwater pool and a gym with varied equipment and stunning views.