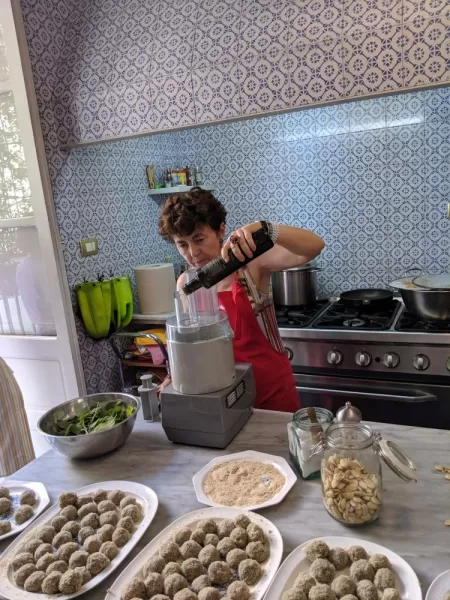 On this day, we joined a special cooking class. First stop was the oldest market in Palermo, Capo Market, to buy our ingredients. We met Nicoletta Lanza Tomasi, a Sicilian duchess who runs cooking classes out of Palazzo Lanza Tomasi.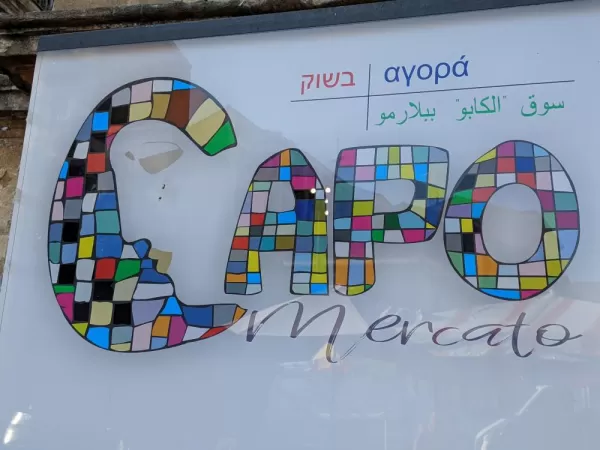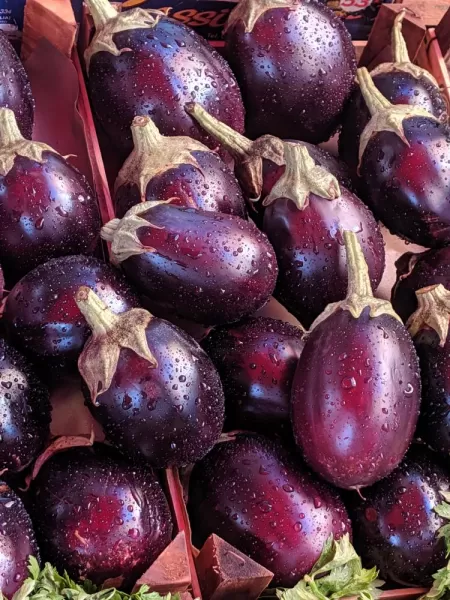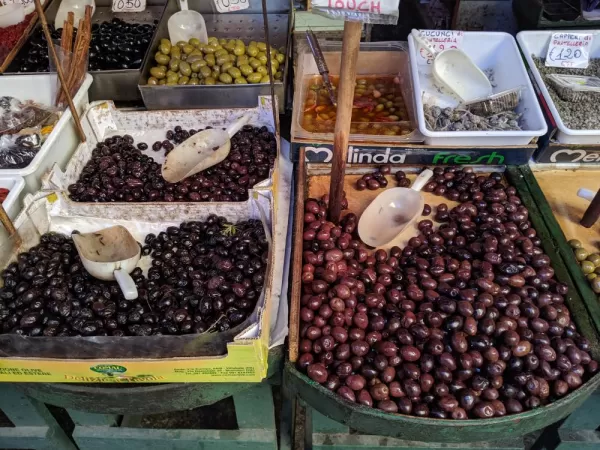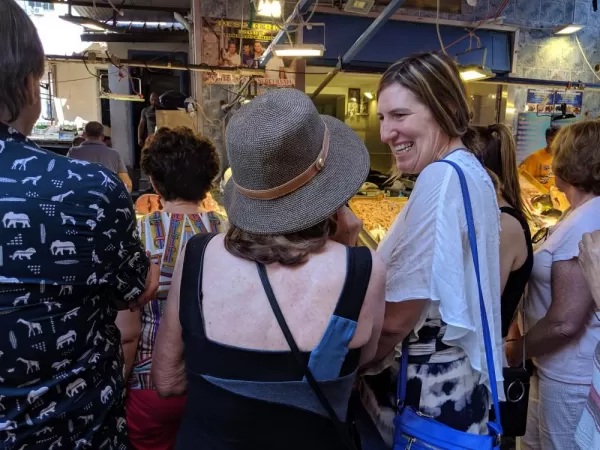 At the market, we visited a fish monger to see what had been brought in. Nicoletta was concerned as her plan was to prepare tuna, but it was at the very end of tuna season in Sicily. The fish monger didn't have tuna but did have a beautiful looking swordfish. Nicoletta was just in the process of discussing one traveler's allergy to swordfish before making the purchase when a fresh tuna arrived, literally right out of the boat. It was a small tuna, "just a baby" according to Nicoletta, but it probably weighed at least 40-50 lbs.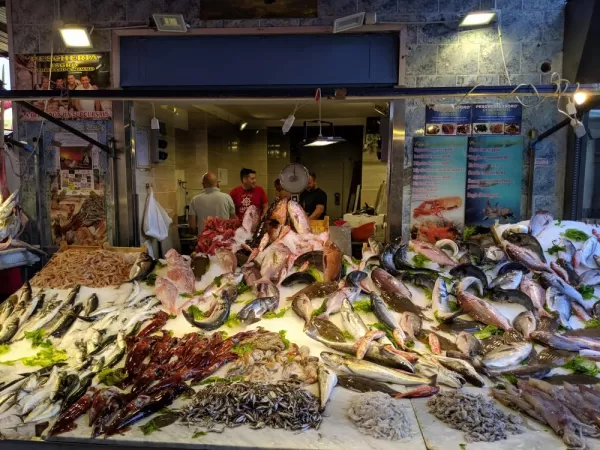 After purchasing our tuna, we next scouted for some beautiful produce- tomatoes, lemons, eggplant, onion, a few herbs, potatoes and garlic. Then we stopped by the bread vendor to buy bread for the meal.
From there it was off to the Palazzo where we headed into Nicoletta's herb garden and watched her gather fresh rosemary, bunches of sage, bay leaves and mint.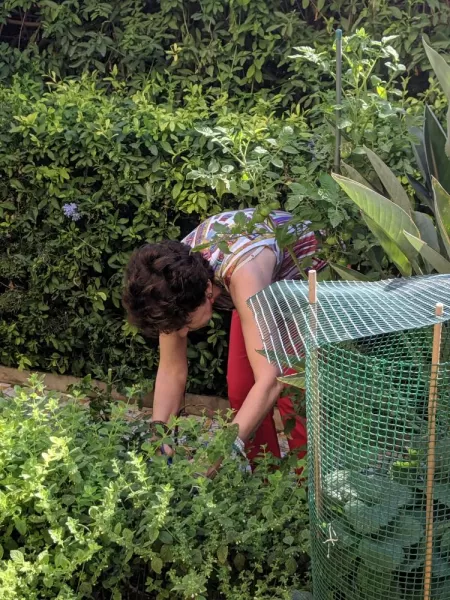 Back inside we were welcomed with coffee and tea on gorgeous china.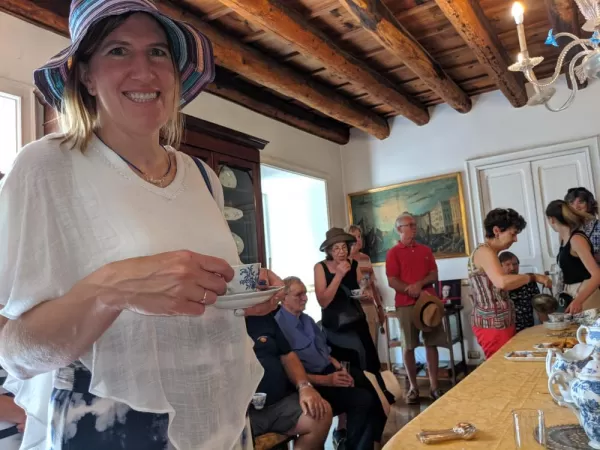 Then we split into two groups of 12. The first group started on the meal prep while our group headed back into the city for a brief walking tour. Nicoletta told us her kitchen was large, but not 'that large'. 
On our tour we visited a church with beautiful mosaics, another example of Norman Arabic architecture in an island that is a melting pot of Europe. We also wandered into the 'newest' market of Palermo, dating back to the 1200s or so.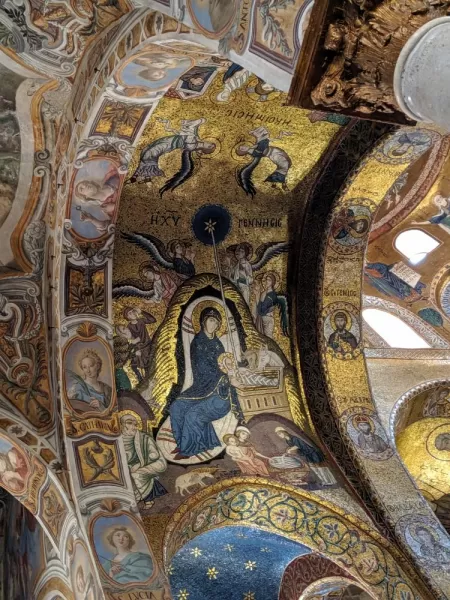 Back at the Palazzo, we were given Williams Sonoma aprons (Nicoletta is very well traveled and lived in NY for awhile) and headed to the kitchen. Nicoletta is a force in her kitchen, shooing her husband out when he came into the kitchen and poured himself a glass of white wine from the fridge. Sighing, she shakes her head, 'he comes in to get himself wine and doesn't even offer any to our guests' she laments. I comment that he's a 'smart man' and she replies in a snap, 'no, he's just a man!'
The class was probably 75% demonstration and 25% hands on. Nicoletta is used to perfection and snapped at a few guests- "don't break the garlic, no don't peel anymore, you don't need to stir it the whole time." Her irritation was almost a part of her character. With a slight build, perhaps 65 years old, and not much more than 5 ft tall, she had a commanding presence. She speaks six languages, definitely knew her way around a kitchen, and she also runs a B and B out of the Palazzo. The Italian state does not provide any money to maintain the historical estate and most of Palermo was destroyed in WWII so she started welcoming guests as an innovative way to fund restoration.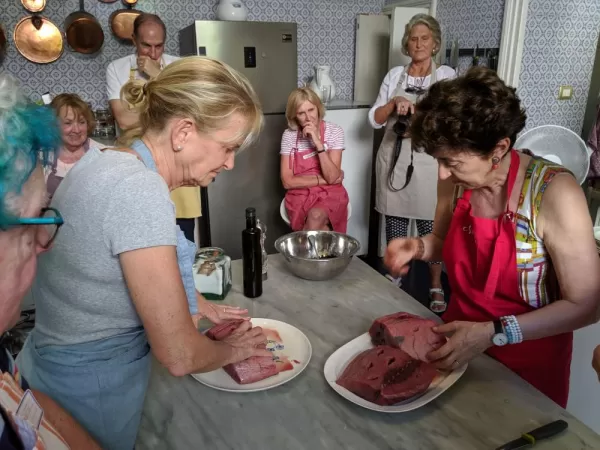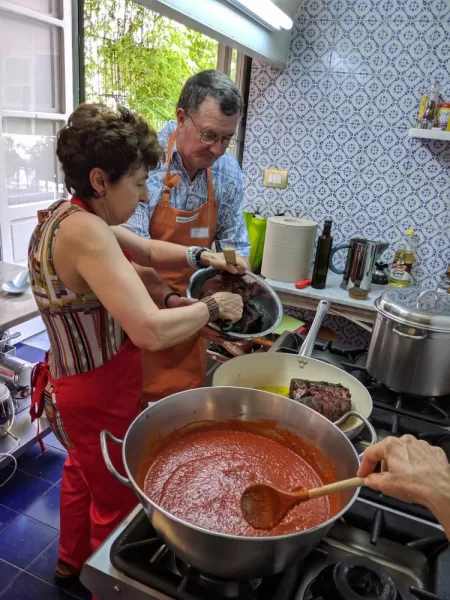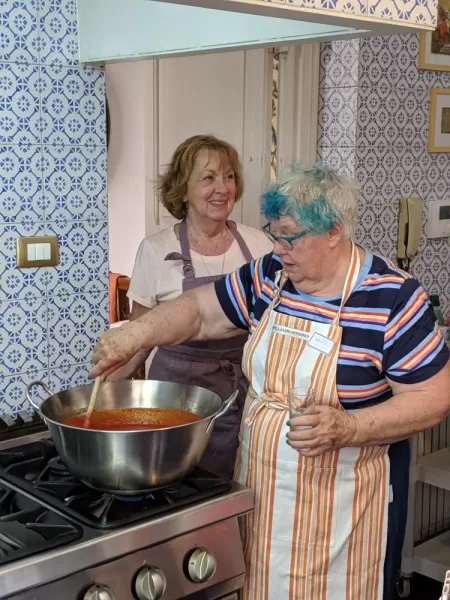 Once our mint infused tuna was simmering in a pot of tomato sauces and spices, we started to work on the eggplant croquettes. The earlier group had already cooked and drained the eggplant so our job was to mix it with garlic, mint, cheese and spices, then form it into balls and roll it in breadcrumbs. At this point, I started to see Nicoletta relax a bit and I recognized a bit of myself in her. The earlier snappiness was a sign of perfection and wanting to make everything just right for her guests. Now that the meal was well under way, she smiled and asked if we wanted to hear the story of the Palazzo.
Most notable in the story was that Giuseppe Tomasi di Lampedusa, author of one of the most famous books of all Italian literature,
The Leopard
, adopted Nicoletta's husband, a cousin, to carry on the family name and property. The novel,
The Leopard
, was written at the Palazzo shortly after WWII and is about Giuseppe's great grandfather, Giulio Fabrizio. You could see Nicoletta's pride in both the author and the Palazzo itself, a labor of love that has been restored in huge part due to her dynamic efforts. 
We headed out into a lavish dining room with freshly polished silver and fine china that had the family crest on them. Nicoletta's husband, Duke Gioacchino Lanza Tomasi, joined us at our table while Nicoletta sat at a similarly decorated table in the library with the other half of our group. I instantly liked Duke from his first visit to the kitchen when he nipped the wine and gave a sly smile. You can almost tell that he loves causing trouble and they seem to make a good match.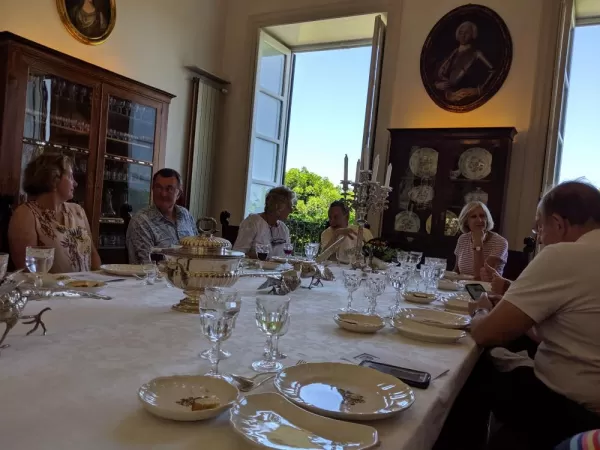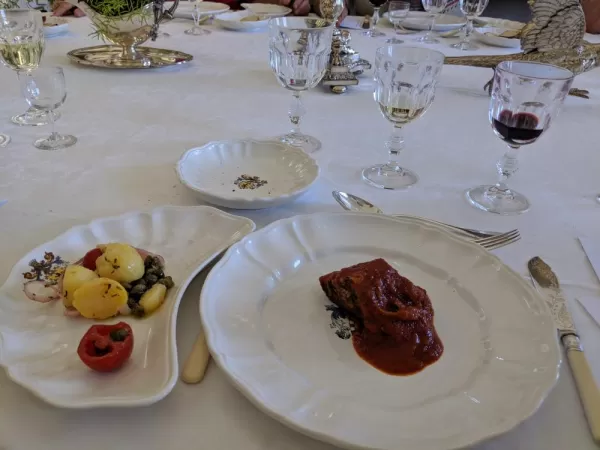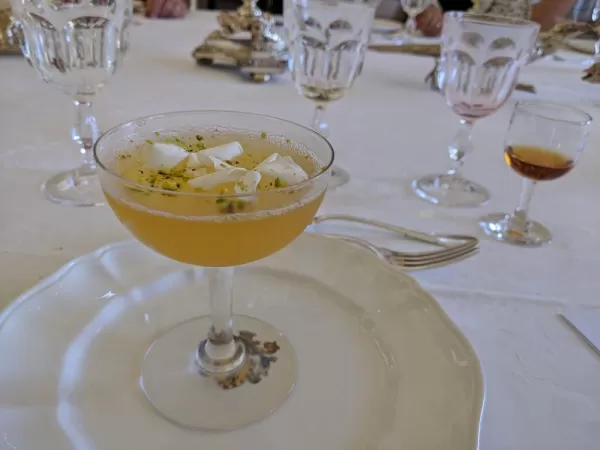 Lunch was truly phenomenal, definitely the best meal we had on this trip. All of the flavors were incredible and I was thankful for the recipes Nicoletta sent home with us. After lunch, she also gave us a tour of the Palazzo and showed us the original manuscript of
The Leopard
 that was on display.